How customisable is an outdoor fireplace?
Posted by
Ashley Lawry
on
September 24, 2020
When choosing a fireplace for your outdoor area, the main objective that everyone has in mind is to create a one of a kind focal point for you and your outdoor living experience. With a strong focus on design, quality and durable New Zealand made materials, an outdoor fireplace can be constructed not only for residential homes but also commercial premises and businesses looking to add that edge to their overall customer experience.
The idea of creating a one-off design for an outdoor fireplace is not as far out of reach as one may think. To achieve that unique feature you may believe you need to start your outdoor fireplace design from scratch, but this is not 100% necessary. It could be as simple as adding a custom colour or a schist finish to an existing fireplace or using a rare stone found in the Southern Alps. A feature fireplace can be achieved by building on an existing firebox to unlock the benefits of an engineered heat displacement system and coupling that with your own personal touch.

So just how customisable is an outdoor fireplace? In this article, we explore some of the Trendz fireplaces we have created and delivered over the 14-years we have been in business. Some have been customised by our in-house designers, others have been finished by specialists in their field. In every case, each has a story to tell!
Our team has worked with a range of architects and landscapers over the years to bring their outdoor fireplace visions to life. Below are a couple of architecturally inspired projects that we have worked on that we want to share with you.
Custom fireplace with side chimney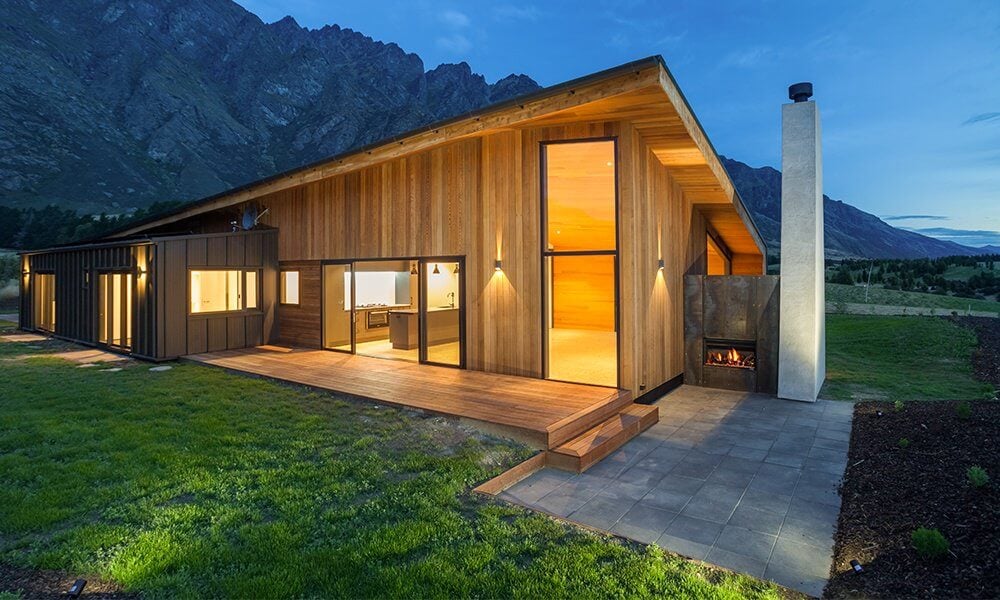 This home was designed by Delia Bellaby from Design & Make Architects. Her goal was to create something truly spectacular by adding an outdoor fireplace which was to be built as an additional, yet integrated feature to the house. The challenge was the chimney design. Aesthetically it would sit to the side of the fireplace, a stunning feature but one which presented a challenge when optimising the draw of smoke up from the firebox. Smoke much prefers to go upwards, rather than sideways!
If there's too sharp an angle in the chimney flue the smoke will build up and spill from the nearest exit - the front. The solution was to create a hidden 'kinked' chimney flue that darts upwards and right at a 45-degree angle. This allowed the visual perception of a side-mounted chimney whilst allowing for the smoke to be drawn up and away from the entertaining area.
While the firebox in this project was standard and derived from our Burton fireplace the surround, supports and chimney were custom fabrications.
Custom Fireplace Wall
We're incredibly proud to have had one of our Burton fireplaces featured in the award-winning Belfast Terrace home designed by Mason & Wales Architects and built by Trinity Developments. Although, you wouldn't know that there's an entire fireplace behind all that schist.
This Queenstown home, which is a work of art and truly worthy of the awards it has won, took home three regional awards and has achieved press acclaim for the cutting-edge design. When it came to the outdoor fireplace the design team wanted a fireplace structure that would be able to be built into the wall making this feature a real show stopper. Our Burton Fireplace was a great choice as it is large in scale and didn't lose its presence within the large scale wall. The steel firebox was placed within the burton concrete structure before the structure of the wall was built around it, with the custom wood-boxes. It was then finished with the stunning schist and polish concrete hearth and framing.
The advantage of building around the fireplace is structural support and heat-shielding. With the firebox and chimney supported mostly by the fireplace shell, the wall's engineering didn't need to be heavily adjusted to accommodate integrating the fireplace.

Extra-large Outdoor Fireplace
This South Island fireplace is the largest free-standing fireplace that we have ever worked on. The client wanted a big firebox that could throw out a generous amount of heat to keep the large entertaining area warm, especially during the cooler months.
This project was a ground-up custom solution. From the Trendz TF1600 extra large firebox to the double chimney feature to ensure effective smoke draw and consultation on the free-form surround. Trendz Outdoors worked alongside Bennie Builders to create the fire, and by lending our expertise on the fire-related aspects James from Bennie Builders was able to focus on building the stunning surrounding structure.
What if I want a designer fireplace, but not a custom project?
We have four fireplace styles which form our main product range which still offer exceptional opportunities for individualisation. These 4 designs are the Mini Burton, the Burton, Hudson and Douglas. These designs can all be customised by picking from our range of accessories or by adding individual finishings which can transform these designs making them highly unique.
Take our Burton and Mini Burton fireplace, for example, these are two of our most popular designs amongst both residential and commercial customers. They are versatile when it comes to their finishes and accessories meaning that two are rarely the same! They can be installed on their own, like the image of the full black design below, which can be great for small floorplan areas.
They can also be installed with steel woodboxes like the following image. This sleek and modern look explores a range of different materials and colours which can really complement an area and become a stunning focal point. This design also incorporates a polished concrete hearth which adds another element to the fireplace.
If you would really like to get creative and make the most of a functional entertaining area, then you can also add built-in features such as a wine and beer fridge, like this Burton below. The options really are endless.
Not only can we work to deliver unique and custom outdoor fireplaces, but we pride ourselves in being one of the country's leading suppliers of wood-fired outdoor fireplaces. From design, construction, installation and building consent support, our team have the experience and knowledge to make sure a job isn't just completed on time but also to the highest quality. If you are interested in viewing our range of products then please download our current brochure by clicking on the following link.