Home improvement & landscape ideas for 2021
Posted by
Ashley Lawry
on
January 25, 2021
Home is a sanctuary, not just on the inside but also outside. It's the place we retire to at the end of a long day and it's a space where family comes together and batteries are recharged. Being cooped up at home over the lockdown period has made many households realise just how important it is to have a space that brings calm, enjoyment and relaxation into our day to day lives. Nothing quite brings this to the front of our minds than being asked to stay at home for several weeks straight!
The extra time spent at home has led many to question whether their personal spaces have received quite the attention they deserve. So while the functionality of our outdoor area hasn't changed much over the past year, it may not come as a surprise that this year's outdoor design trends are striving for an outdoor space that is comfortable, multi-functional and has a connection with nature. All while creating an oasis of calm for those unable to venture out to the great outdoors.
If you're looking for some home improvement and landscape ideas that can help transform your home's outdoor space into one you can't get enough of, then read on for our favourite outdoor home trends we expect to see in 2021. Not only will this explore large spaces, but we'll also take a more focused look at the more modest backyards and patios and how to maximise the impact of these areas.
Clusters of Pot Plants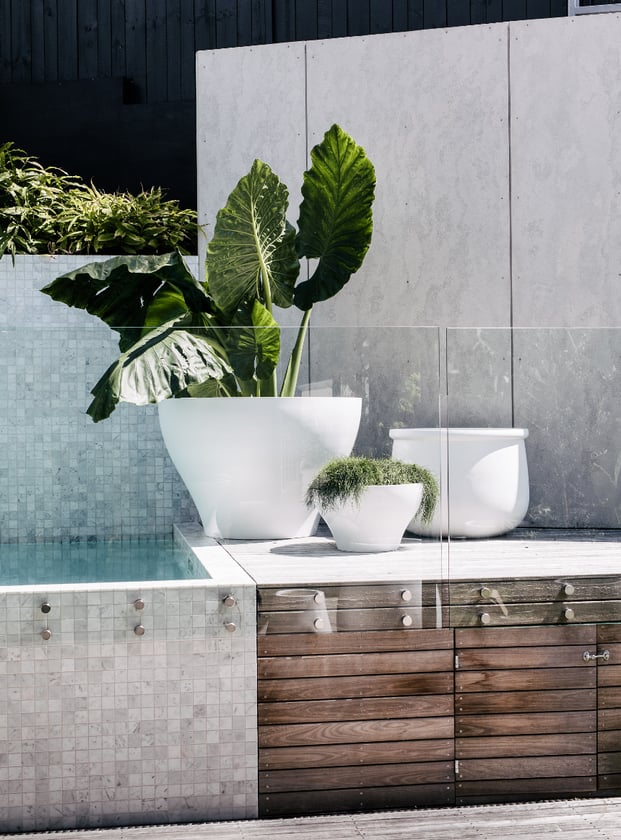 Image via Pinterest

The layering of pots and plants in different sizes can add depth to your outdoor area making it feel more full and established without seriously adding to the maintenance planter beds require. Using different shapes and sizes not only helps showcase the different plants on display, but it is also a great way to create depth through staggered heights.
A general rule of thumb when making the perfect pot cluster is to make sure you use odd numbers of pots, as well as using the same coloured pots. Plants, on the other hand, don't need to match and your creative freedom and possibilities can be endless. It does pay to talk to someone who knows a thing or two about what type of plants to place in your designated area so you can make the most of the available space.
Decorative Walls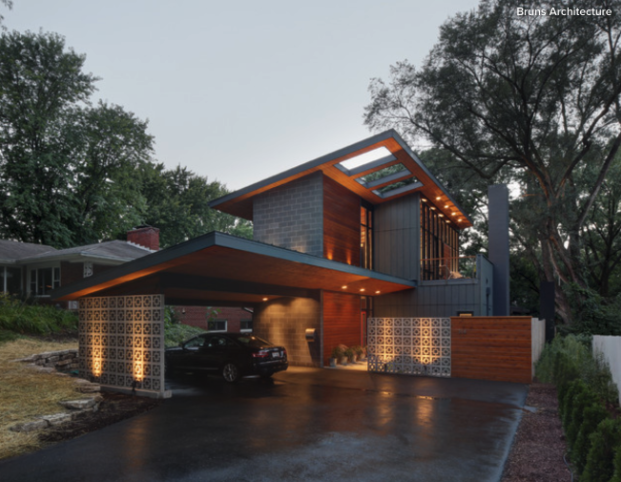 Image via Pinterest

Decorative walls add privacy to your home as well as style and structure and can come in many styles, shapes and sizes. A popular trend we expect to see pop up this year is the use of besser blocks (also known as cylinder blocks) due to their utilitarian and semi-industrial appeal. Used for many different functionalities, these blocks come in many different styles and can complement modern as well as older character homes well. They can be plain or patterned and can come in a range of colour and textural options. They are also a more affordable option for exterior walls, scenes or fences.


Bordered Gardens and areas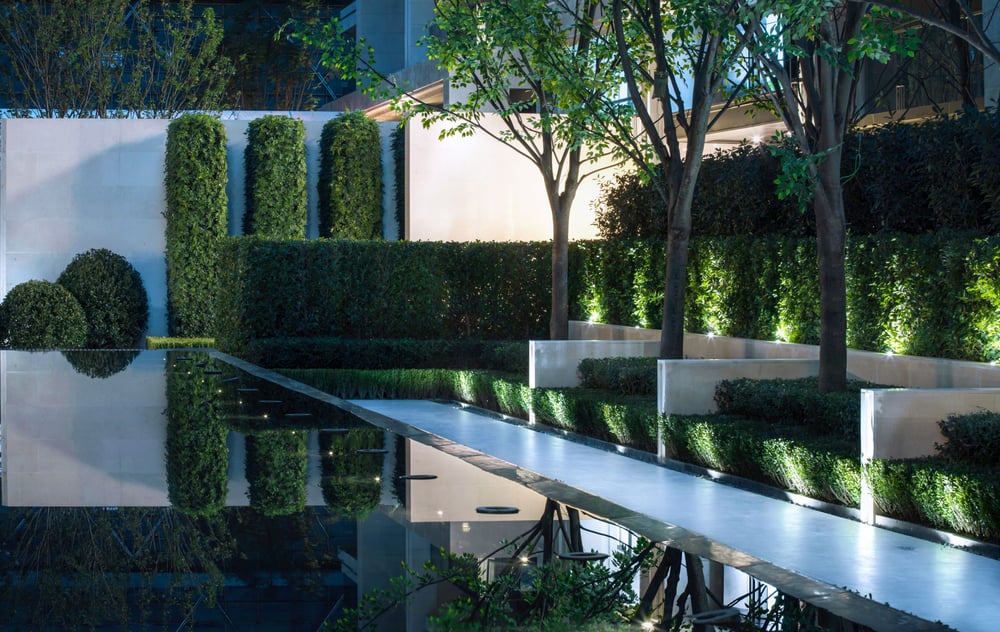 Image via Pinterest

When we are planning our outdoor areas, especially our gardens, we tend to focus our time on the plants and landscaping rather than how we frame our outdoor space. Being mindful of the way we border specific zones can have just as much impact on how the overall space looks and feels. There are many options which can be considered, such as:
Utilising planting boxes whether in the form of a pot plant or even a built-in structural plant bed to zone off areas and create visual separation.
Adding climbers to fences or a trellis can create a luscious, green verdant edge to any outdoor space as well as help cover up ugly or bland fencing. Teaming this up with planter boxes can add scale, layering and depth to your garden while also giving you the option to explore a range of different types of greenery.
Boxed hedges are a classic and simple way to add more structure to your garden. Hedges can be used in many different shapes and sizes adding height as well as low borders helping frame paved areas.
Using different colours and designs with paving slabs can help create visual accents to walkways and create additional depth to even small spaces.


Outdoor furniture and entertainment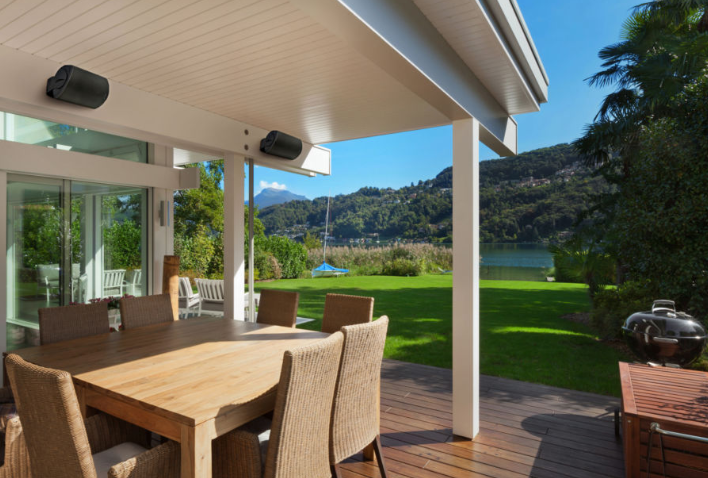 Image via Pinterest

If 2020 has taught us anything it's that we need to make sure we have an area to relax and unwind. Having an outdoor space where we can enjoy some fresh air has never been more important and can provide a welcome respite from being indoors for longer than desired. Furniture plays an important part in making sure you are comfortable when relaxing outside, while also creating a space that invites guests to go outside when you can entertain. Complement this area with technology such as outdoor speakers or motorised louvres to make the most of this area whether it's rain or shine.


Paint it black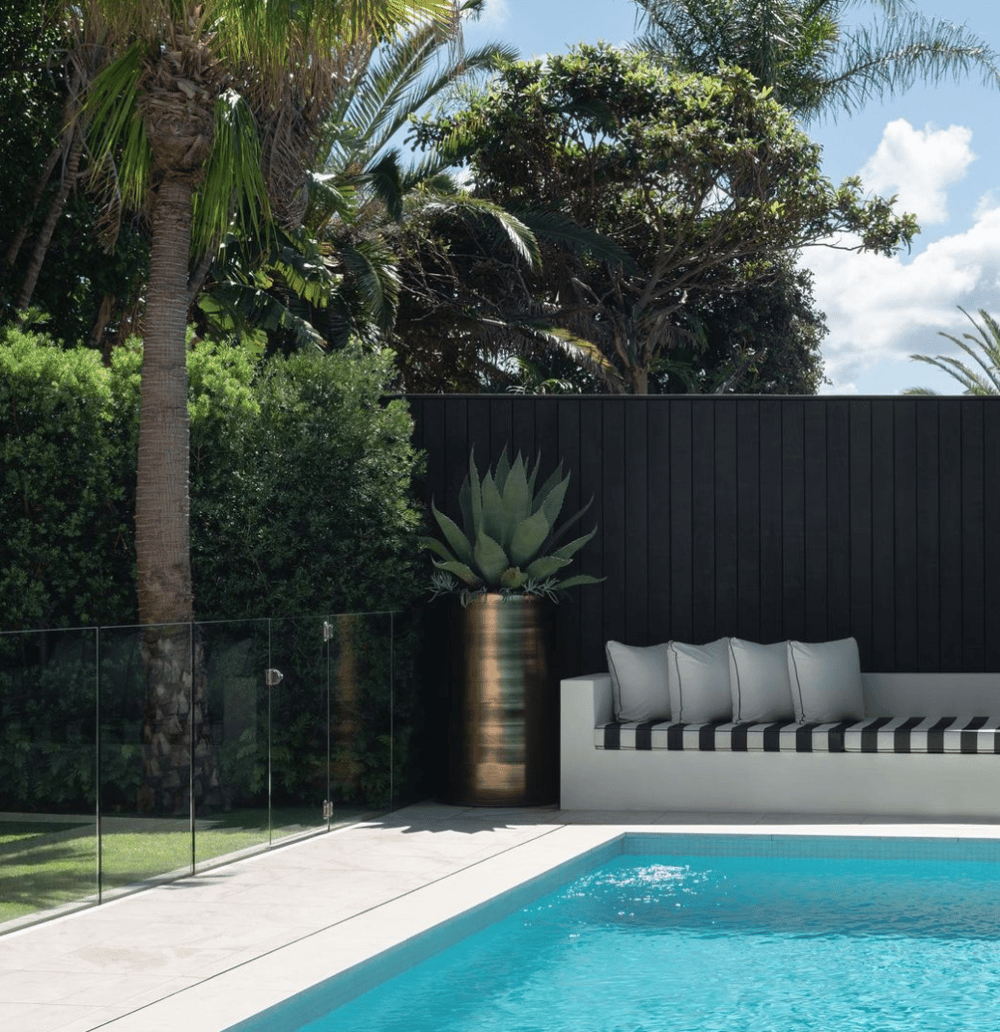 Image via Pinterest

The use of black has been a popular interior design trend for a while and now it is making its way outdoors. The idea of black, especially when used on fences, walls or on large objects is to help draw the eye beyond the garden and make the space feel larger than it is. Paired with vibrant green plants and juxtaposed with white furniture or pavers this combination really gives any space a modern and clean feel with relatively minimal effort.

Or paint it white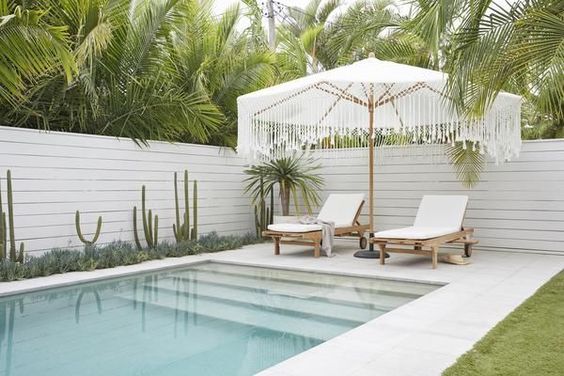 Image via Pinterest - Harpers Project
In contrast to the black and at the opposite end of the spectrum, painting your walls and fences in crisp white can bring a sense of pureness and airiness. The only problem with white is that the upkeep contains more work than most outdoor areas thanks to the elements that come with being situated outside. When clean it's without comparison, but allow it to get dirty and you'll quickly wish for something a little less hard work!
There is no denying that white looks fresh and clean up against lush green plants and grass, teamed up with the blue of a pool or sky, it really creates a relaxing, expensive and timeless feel.
Play with scale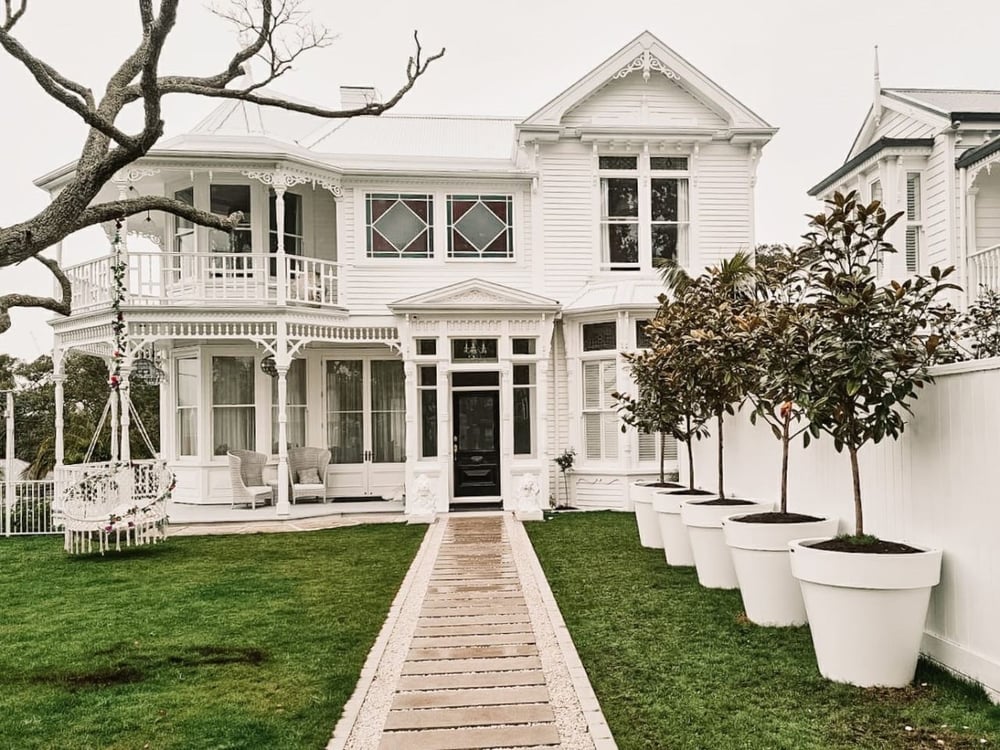 There are many cases when size does matter. Dramatic, impressive and commanding attention is all achieving by over-scaling a key feature. Going big and bold can really make a simple area with a lot of wanted space stand out. If you're looking for something truly impressive, the use of oversized pots can be a real show stopper. Pots are also great as they can be moved from one location to another so you're not limiting yourself to one design trend should your tastes change. We are loving the above pots from Modscene purely for this reason.
Outdoor heating solutions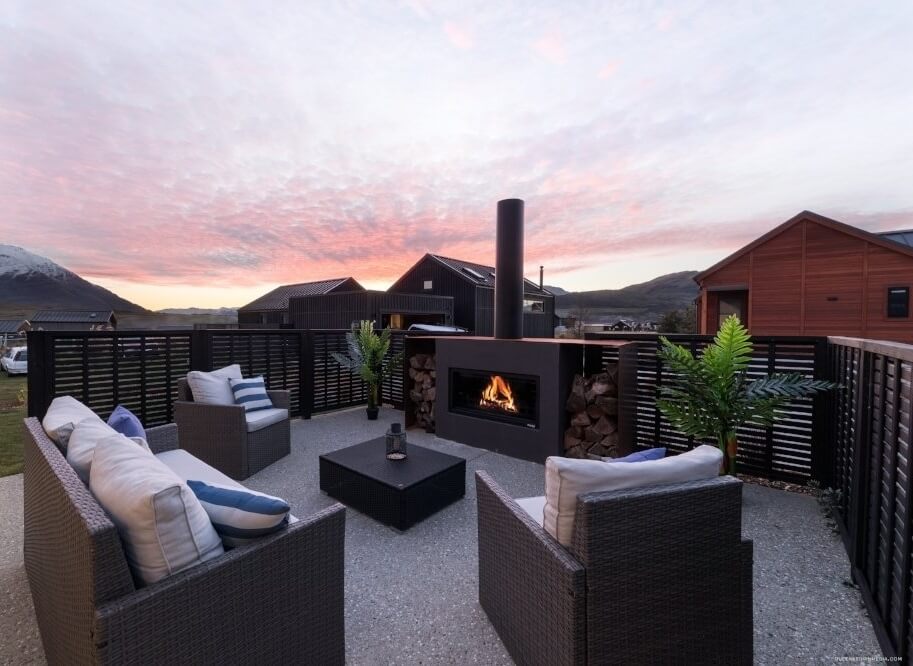 Not only can outdoor fireplaces act as a functional and ambient heat source, but they can also function as an outdoor cooking solution, offering a truly impressive focal point but also a functional point of difference in a home. Outdoor fireplaces can come in many shapes and sizes, which is a bonus for those who have a more compact space. Heating options don't stop there. Outdoor pizza ovens and fire pits can be another great addition to a home while also offering unique entertaining opportunities with food as the focus. Even better, all can be found here at Trendz Outdoors.
More and more homes throughout New Zealand, no matter if it's the far north or in the deep south, are embracing a renewed interest in their outdoor area and bringing them up to a standard worthy of another lockdown! An outdoor fireplace is a low effort and effective way to add immediate value to your outdoor area and maximise your outdoor space.
To explore our range of outdoor fireplaces, pizza ovens and fire pit why not download our brochure and find the perfect fireplace for you.