What to expect when buying a pizza oven kit
Posted by
Charlie Lawry
on
September 17, 2019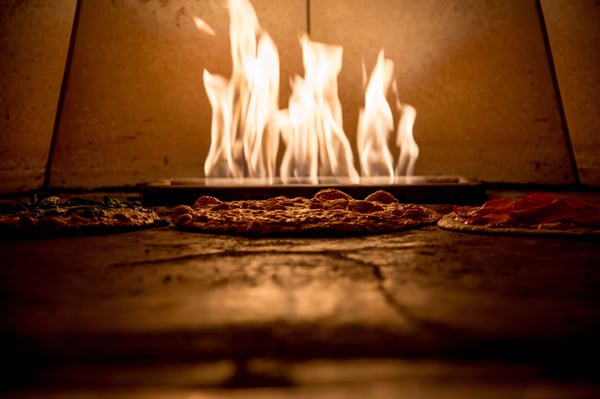 Pizza ovens come in many shapes and sizes but a pizza oven kit is commonly made up of only 4 simple elements:
Chimney, Oven dome, Oven floor and Base.
These elements are often made from different materials and should be as they each play a different role in creating the perfect pizza oven.
There are several kits on the market for building your own pizza oven and they range in complexity and quality. In this article, we'll compare two different kits, and explain what you can expect to do when buying each type of kit.
DIY wood-fired pizza oven kit
The DIY pizza oven kit is a hands-on approach to building a pizza oven. You'll need a wide selection of tools, a decent trip to the hardware store, and a couple of days to dedicate to building the pizza oven.
Firstly you'll need to think about a base for your pizza oven. A DIY pizza oven kit won't come with one so you'll need to build this. You can use timber, brick, welded metal or stone but it needs to be able to hold the weight of a concrete oven, so make sure it's strong! You can think about storage in your stand and leave space for wood and tools, or make it simple, the choice is yours.
We won't go into too much detail on creating a base as this is a separate topic entirely but make sure you do this first!
A DIY pizza oven kit will likely require the following:
Insulation tiles for the pizza oven floor.
Bricks for the mouth of the pizza oven.
Mortar.
Flue tiles.
Brick for the oven.
Pumice insulation for the dome.
Bricks for the dome cap.
Oven foil.
Exterior render.
Chimney.
Render paint.
The process for creating a DIY pizza oven goes something like this (although each kit varies):
Step 1
Place insulation tiles on the base and build out the brick arch for your oven. Many kits recommend you cut an MDF semi-circle to map and support the arch while the mortar dries. Place bricks and mortar to form the arch of your pizza oven. There should end up being an inner arch for the oven and an outer arch which is 'prettier' and forms the main mouth of the oven. The flue tile will sit within the inner arch.
Step 2
Working from either the left or the right side of the newly formed arch begin to lay the bottom level of bricks for the oven dome. If needed cut bricks to ensure they fit properly. As you work up the layers the bricks should begin to form the lower part of the dome. Stop at the third layer and move on to step 3.
Step 3
If all this is already looking like too much work then check out our range of pre-made pizza ovens. Otherwise, soldier on!
Add in the bags of pumice insulation and form the desired shape of your pizza oven dome. Some DIY pizza oven kits will include this, otherwise you may have to buy them yourself. Once you have the desired dome-like shape continue laying the bricks, finishing with the dome cap.
Step 4
Now that the brick is in place wrap the oven in foil, add the chimney and then apply the exterior render. Achieve the desired effect using a trowel for a smooth look or different material for a rougher finish. Once dry apply your favourite paint colour and fire up the pizza oven. It's often recommended to take the oven to full temperature before you use it for cooking to ensure the oven is hardened correctly and any excess materials are burned off or cleaned out.
Sound like too much work or you aren't confident that you'll achieve a picture-perfect look? Don't worry, we have you covered!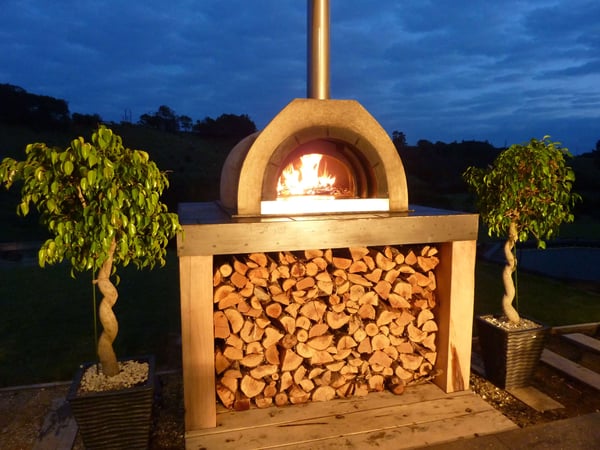 What comes in a Trendz Outdoors pizza oven kit?
The Trendz pizza oven kits, whether it be the Bambino Elite or the Grande come in a very simple kit for you to assemble:
Pizza oven shell and base.
Chimney.
Steel stand.
Assembly is simple. You can place the oven on the stand provided and insert the chimney into the pre-cast oven to have a ready-to-go pizza oven in no time at all. Or, if you're slightly more adventurous, add a personal touch by placing the precast oven on your own stand. Below is an example of a customer who chose to do exactly that.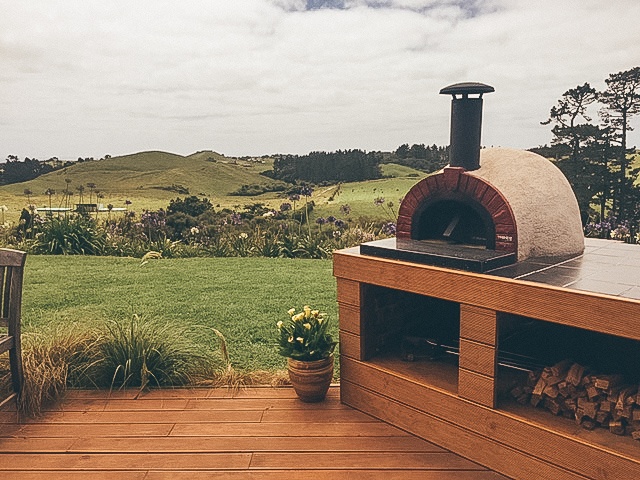 So if you want a stunning pizza oven but don't want the hassle of building one from scratch talk to the friendly team at Trendz Outdoors and we can ensure you're enjoying a slice of homemade pizza sooner with our pizza oven kits.