Must-have outdoor kitchen features
Posted by
Ashley Lawry
on
April 8, 2021
Outdoor kitchens are a relatively new concept but one that's growing in popularity year on year. The perfect spot for entertaining and delighting guests they used to consist of a BBQ, a chilly bin, an outdoor table and a set of chairs and not much more! When the weather played ball this was enjoyed by friends and family for many memorable hours in the summer months. Over the years a lot has changed, homes are now transforming their backyards into outdoor oases that can be enjoyed all year round, no matter the season.
Spending time with family and friends is an essential and enjoyable part of life. If you love entertaining and have an outdoor space that is crying out to be enjoyed, then utilising your outdoor area is a smart move. An outdoor entertaining area has now become an expected feature for many New Zealand homes, which is why we have chosen to explore some of the must-have features if you're thinking of adding an outdoor kitchen to your property.
Outdoor kitchens provide extra practical space for hosting friends and family but, above that, they can add significant value to a property. By creating a practical and premium feature for your home you're setting yourself up for future success.
So let's explore some of the key features seen in an exceptional outdoor kitchen area.
BBQ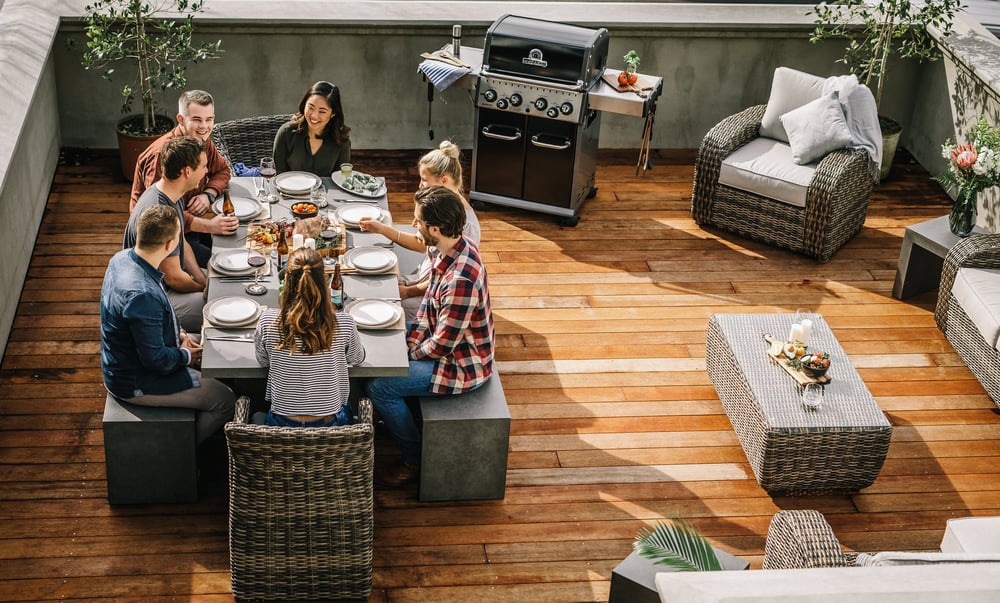 Image via Broil King
It's no lie that BBQ's are a national summer pastime in New Zealand. Throwing a sausage on the barbie before slapping it on a piece of bread and squirting some Watties tomato sauce on top is what childhood memories are made of. Owning a BBQ is also one of the more affordable options if you're looking to simply cook outdoors. You can buy a two grill burner for as little as $139 from The Warehouse, but if you're looking for a top of the range BBQ then you can't go wrong with the range from Broil King, their options are vast and their quality is next to none.
Alfresco wine and beer fridge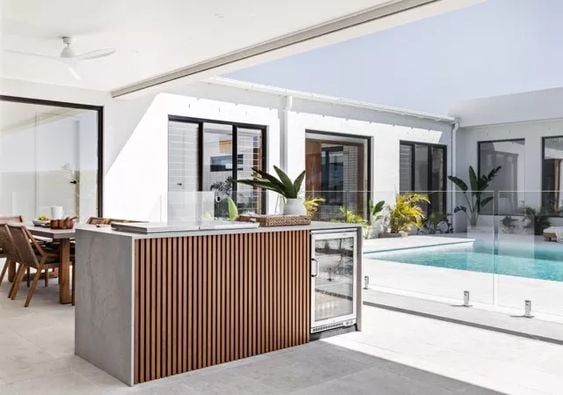 Image via Pinterest
Cold drinks are the best complement to warm days and long evenings outside. Throw away the chilly bin and stop those endless trips indoors to get cold drinks. A convenient outdoor fridge ensures beverages are nearby and ice cold, perfect for those stunning summer sessions outside. It can be tricky keeping everyone's drinks at the perfect temperature. Look for fridges with different temperature zones so the fruit juice can be kept at the perfect temperature while the beers sit a few degrees cooler.
Beer and wine fridges are a nice clean way of keeping things cool. No need for a quick trip to the service station for ice and no annoyance at warm bevvies once the ice has melted. This is the proper way to do poolside refreshments.
Outdoor pizza oven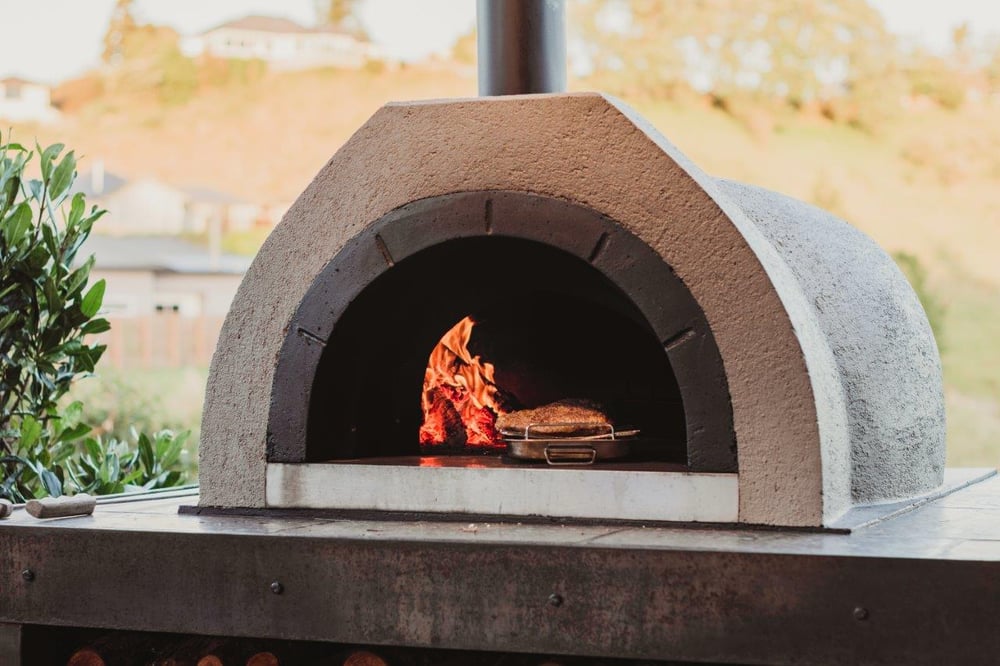 A pizza oven can be a fun addition to any outdoor area. An authentic wood-fired oven also brings a whole new dimension to pizza night! Portable pizza ovens are available for those on a tighter budget or limited to space but built-in, wood-fired pizza ovens will be sure to impress your guests and really take your outdoor kitchen to a new level. The great news is that a pizza oven can cook so much more than just pizza! You can also roast succulent meats, bake loaves of bread and create slow-cooking stews. Keen to learn more about the possibilities with a pizza oven? Here are our top tips on how to cook the perfect pizza oven pizza.
And if you're keen to check out the types of pizza ovens available in New Zealand you can check out the Trendz Outdoor range of pizza ovens.
Good shelter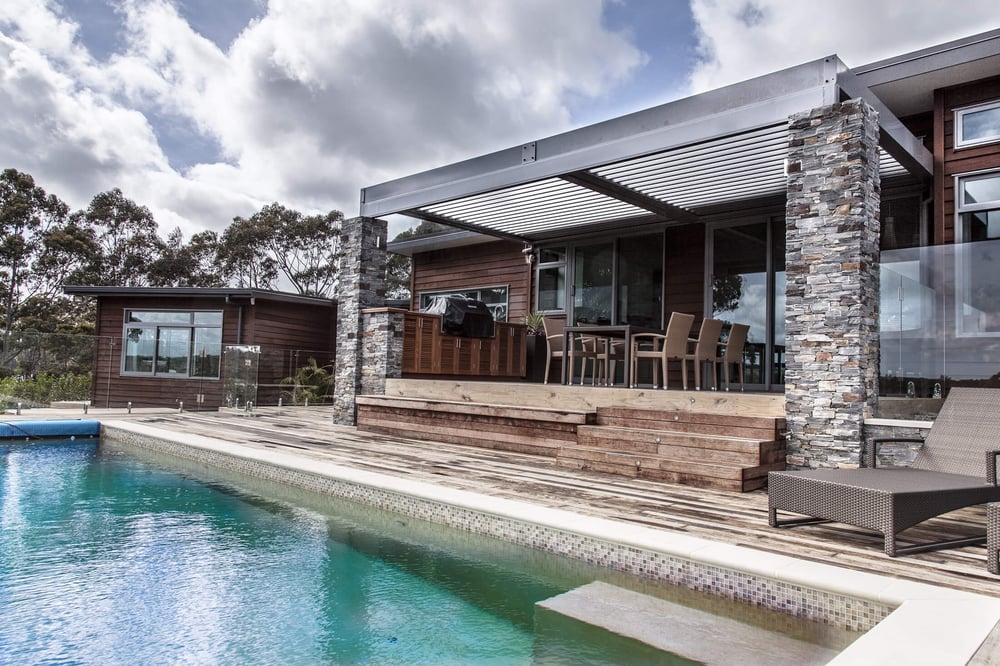 Image via Aurae
Don't let New Zealand's unexpected weather conditions dampen your hosting experience. There are plenty of options to keep the festivities alive even when the rain sets in, or the sun becomes unbearable!
Need some shade during the hottest time of the day but also don't want a roof over your outdoor kitchen? An opening roof louvre can be the ultimate complement to your outdoor kitchen area. Its versatility can give you the ability to open your roof to take advantage of natural sunlight, coupled with the option of closing it to provide a weatherproof shelter when weather conditions are unfavourable. Check out the range of opening louvre roof options available over at one of New Zealand's industry leaders Aurae.
Custom pergolas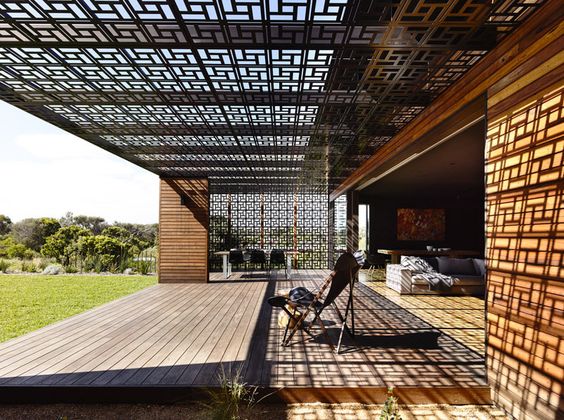 Image via Pinterest
Geometric screens have never made privacy look so good. If you're looking for something to really make your outdoor kitchen area stand out from the rest, then the range of Dapple perforated screens from Aurae could be the perfect addition to your space. Used on the exterior of a home or property to not only add a unique design element but can also be used for privacy purposes as well as for sun shading. Create a truly unique space by customising your own pattern.
An enclosed outdoor room can be problematic with an outdoor fireplace as you need to ensure good ventilation at all times. Both opening louvre roof systems and perforated screens provide a stylish option for closing out the weather while ensuring there's plenty of airflow within.
Storage drawers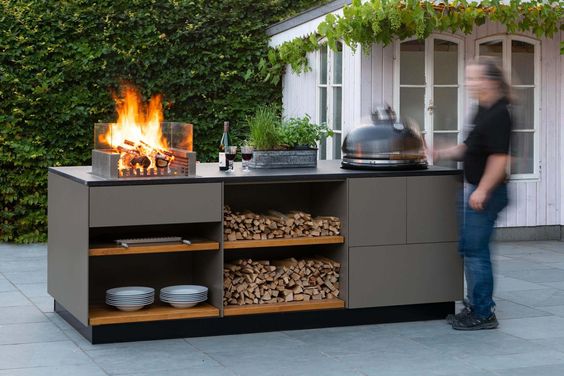 Image via Pinterest
When cooking outdoors, it is handy to have everything you need within arms reach. With at least one or two storage drawers, this can allow you to keep cooking utensils, knives and serving dishes close at hand.
Built-in outdoor kitchen options enable you to have a stylish entertaining area using the space available. Companies like Love Kitchens offer design and build solutions for custom outdoor kitchen areas. You can ask to have a Trendz outdoor fireplace or pizza oven included for a premium finish that offers full practicality.
Outdoor lighting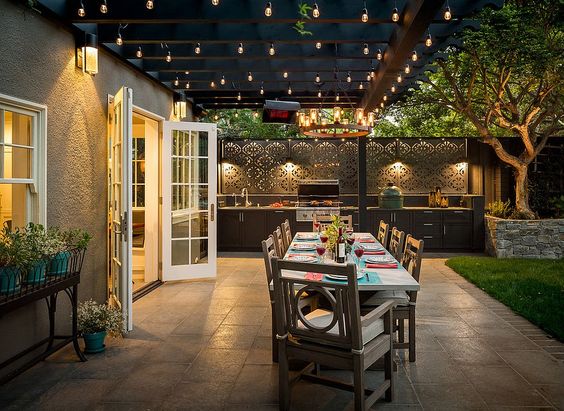 Image via Pinterest
With the popularity of outdoor kitchens growing year by the year, the need to think about how best to light these outdoor spaces has also been a hot topic and an important feature to factor, not only for aesthetic ambience but also for safety.
Under cabinet lighting can offer a subtle and moody effect while at the same time adding additional lighting once the sun has gone down. If you're looking for stronger lighting options such as spotlights and built-in wall lighting, installing dimmers is a great way to go from practical lighting to mood lighting with the turn of a knob.
If your outdoor kitchen area is located a hop, skip and jump from your home, pathway lighting should be considered to help lead yourself and guests back to the house safely, especially if there are uneven surfaces or stairs along the way.
If looking at a more inexpensive option that can enhance the starry sky, then the use of string lights (also known as festoon lights or fairy lights) are on-trend and are an easy way to create a magical and relaxing atmosphere for social gatherings and outdoor enjoyment.
Outdoor fireplace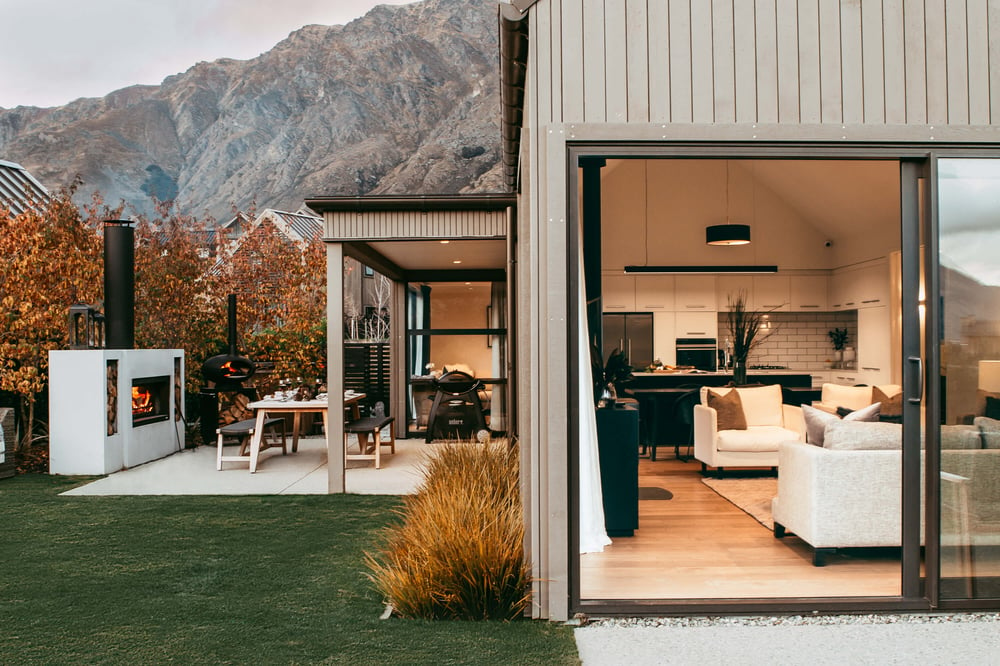 An outdoor fireplace is both a focal point and a gathering place when nestled into an outdoor area, while at the same time bringing comfort and warmth to your space. An outdoor fireplace can blend with any outdoor area thanks to its custom finishing options. Reflecting the taste and style of your home and landscape, your outdoor fireplace can be painted to match the colour of your house or landscape boundaries. It can also be finished off in a stunning South Island schist or left in its natural concrete form. An outdoor fireplace can come in a range of different sizes and styles and no doubt be a reflection of the taste and style of your home and landscape.
Another benefit of adding an outdoor fireplace to your outdoor kitchen is the delicious flame-grilled food it can cook. Sausages, steak and fish as well as the kids' favourite toasted marshmallows, can all be cooked on an outdoor fireplace.
As you can see, there are many elements to consider when designing your outdoor kitchen area, they can add value and offer plenty of customisation options when done right. We suggest contacting the experts before finalising your design just to make sure you have thought about all the elements.
If you're interested in checking out our range, then you can download our free digital product brochure by clicking on the link below.