What is an outdoor fireplace?
Posted by
Ashley Lawry
on
August 12, 2020
New Zealanders love to get outdoors, soaking up the Summer Sun and enjoy the fresh clean air that our country has to offer. There is something about fresh air that makes you feel relaxed, energised and helps you feel better overall, as fresh air is guaranteed to do the body good.
Utilising your time outside, especially at home, is possible all year round with an outdoor fireplace, especially during those colder months. Outdoor fireplaces are the ideal centrepiece for family get-togethers and social gatherings.
Fire has been a focal point for humans since the dawn of time. As a gathering point for cooking, telling stories and enjoying time as a family, these pivotal societal moments first emerged under the glow of burning embers. It's amazing how nothing has changed, apart from the fireplaces themselves. With small stone circles replaced with elaborate concrete structures, the stories still flow, the food still sizzles, and the memories grow before a different type of social hub.
In basic terms, an outdoor fireplace is a place where you can build a fire outside of the home. An outdoor fireplace not only complements outdoor entertaining areas well, but they also provide a natural place to gather with friends and family all while adding value to your property. Whether you're adding one to add value to your home or add value to your social life, an outdoor fireplace can be a life-changing component. While indoor fireplaces are traditionally designed for heating alone, an outdoor fireplace can also be used for cooking. However, many use an outdoor fireplace as a decorative element, which allows homeowners to enjoy a crackling fire while entertaining in the backyard.
Outdoor fireplaces are growing in popularity in New Zealand, and it's getting even easier to see how one may look before you buy. Here at Trendz Outdoors, we have a great tool which can help you understand how one of our fireplaces will look in your backyard. Simply take a photo of the location where you would like to place a fireplace and use our configurator to build your ideal dream outdoor fireplace.
Trendz Outdoors has four outdoor fireplace options to choose from, each with their own unique features. Check them out below.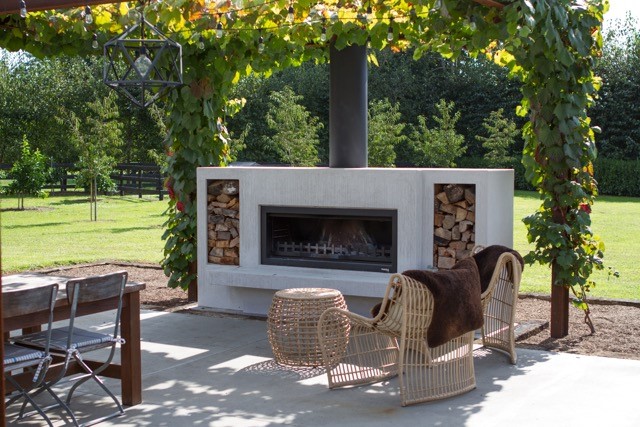 The Burton Outdoor Fireplace
Sometimes bigger is just better, and the Burton fireplace is just that. This design has a larger box-like surround and firebox. The wider firebox will keep more guests warmer for longer so provides practicality, as well as unrivalled style. This style is great for larger areas, and its chimney stands strong with an attractive looking stainless steel flue. The design is modern and can suit many styles of outdoor living. If you would like to learn more about this design click here.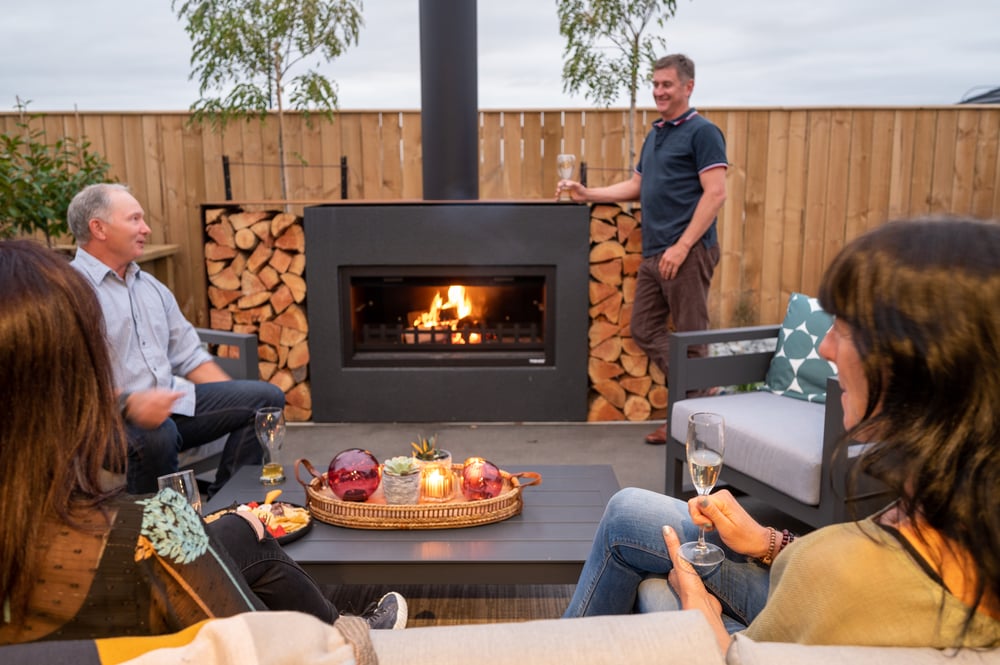 The Mini-Burton Outdoor Fireplace
With the same great look, the Mini-Burton is sleek and modern but scaled down in size compared to its big brother the Burton. Its size is perfect for spaces that are a little more limited or compact. This modern-looking fireplace gives a contemporary finish to any outdoor space, and the optional metal woodbox surround gives the Mini-Burton a modern edge. With its black flue, this style is a popular choice and can look equally at home amongst the alpine expanse of Central Otago and beachside in the far north on the sunny shores near Kerikeri. If you would like to learn more about this design, click here.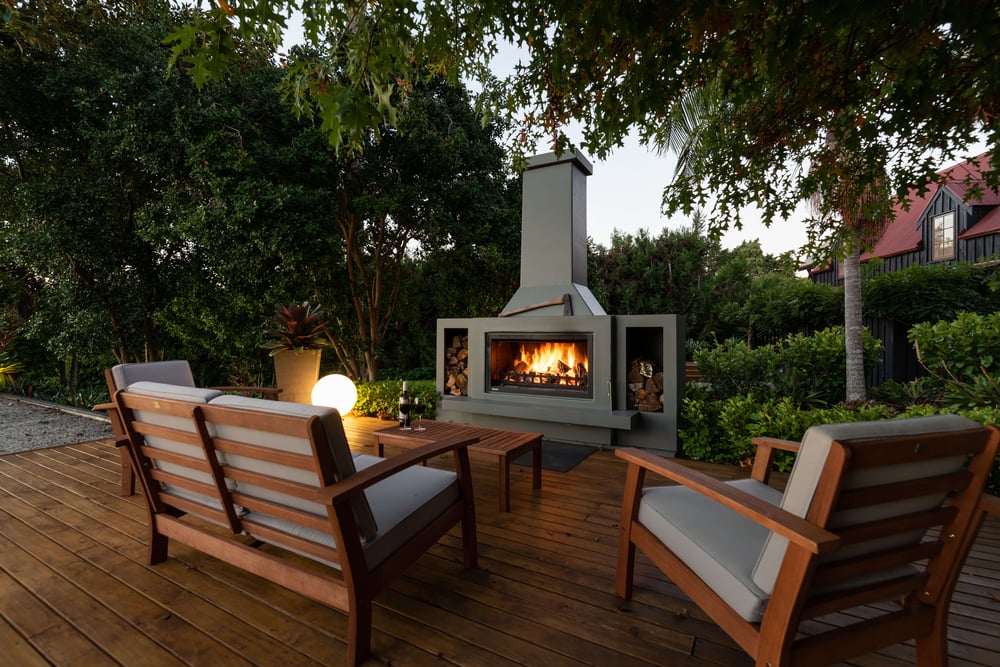 The Douglas Outdoor Fireplace
The Douglas is excellent for bringing more heritage into your outdoor area. It has a unique concrete chimney structure, and depending on the finish you select; you can turn this fireplace from a country centrepiece to a contemporary masterpiece. This design has the opportunity to become very versatile, from sleek and modern to chunky and rugged; the Douglas is your canvas to paint as you wish. The option to finish with a simple render, or clad in brick or stone can help the Douglas blend in, or stand out. The choice is yours! If you would like to learn more about this design click here.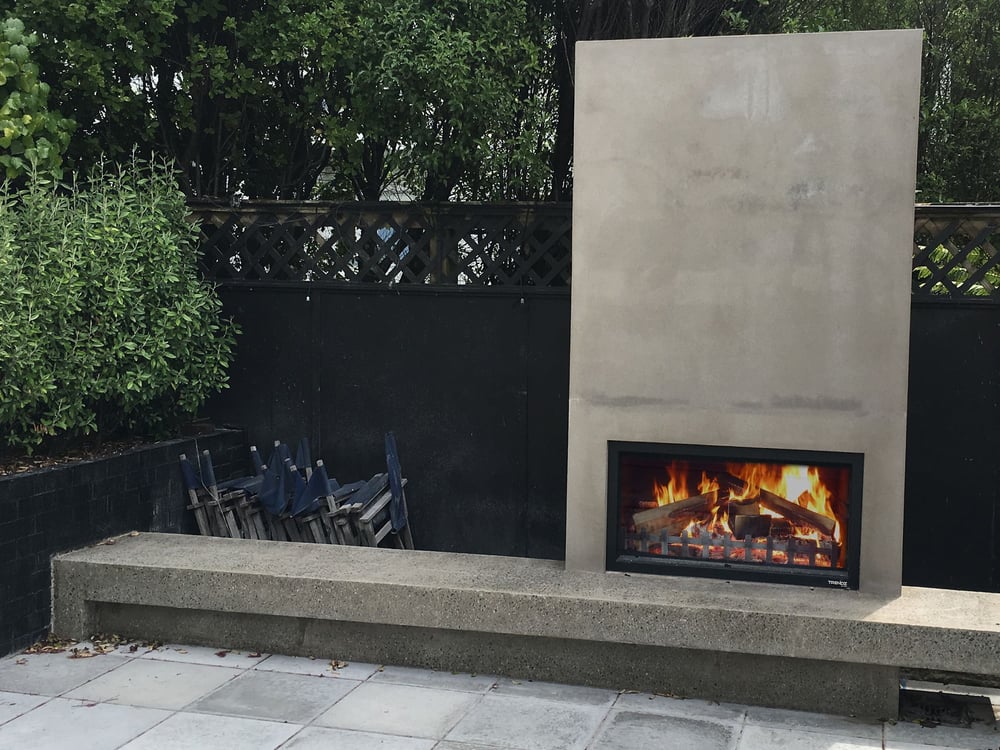 The Hudson Outdoor Fireplace
The Hudson is the more minimalistic design of the four. Its tidy and straightforward structure is perfect for a more compact outdoor entertaining area or for those seeking a fireplace that creates a more intimate setting. The square structured body is complemented with a thicker statement concrete structured chimney. This design offers endless possibilities to add your style by selecting your finish. Whether it is keeping it simple with a coat of paint, or cladding it in brick or stone to help the Hudson blend in, or stand out. If you would like to learn more about this design click here.
"Fantastic fireplaces. This has made a huge difference to our outdoor entertainment. Friends and guests love it and have literally gone "wow". It really throws out the heat and is stunning when it's cranked up and roaring." - Bert H
All Trendz Outdoor Fireplaces are more than a social hub; they all come with a stainless steel cooking grill that enables you to BBQ, roast or even cook pizza.
Choosing an outdoor fireplace is more than about adding value to your home or a statement piece to your outdoor area. It's about creating a focal point for social gatherings, a place to enjoy the crisp night air while basking in the fireplace's warm glow. It's about creating memories, sharing stories and connecting on a deeper level than this digital age typically encourages. It's a journey back to social settings of old, even if the only thing of notable age present is a bottle of wine with a worthy vintage.
If you would like to learn more about our fireplace, you can contact us here or download our latest catalogue.