New Zealand's hottest outdoor design trends
Posted by
Charlie Lawry
on
June 24, 2019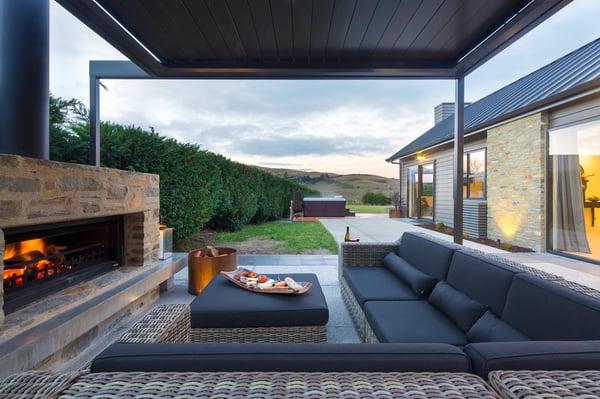 Winter is the best time of year to invest some time and resources into revamping your outdoor area before summer arrives. Yes the days may be shorter and the desire to sit inside and enjoy a Netflix series may be high, but the effort you put into your outdoor space in winter will pay dividends when it comes to that first gathering in the sunshine.
Landscape architect Melanie Sparks says "Indoor-outdoor flow, outdoor rooms, and low maintenance are timeless trends but how they are articulated in landscape and design is changing. What used to be far more formal is now softening to incorporate a mix of native vegetation, permeable surfaces, edibles and textural plants in varying hues of green."
If you really want to immerse yourself in some brilliant outdoor designs then why not download our outdoor fireplace style guide and see, in rich detail, the possibilities for your outdoor space when an outdoor fireplace is the centrepiece. To help beat the winter blues, and provide inspiration for your outdoor entertaining area we've compiled a list of some of New Zealand's hottest outdoor design trends.
Vertical decking
Used as a screen, a feature wall or a climber for plants, these feature fences are an interesting design trend that bridge the gap between style and practicality.
Go beyond creating a simple fence and discover the ease with which your outdoor entertaining area can be upgraded with the softness of this feature.
If you're a fan of The Block NZ you may recall Hayden & Jamie's herringbone deck, which ran up the wall of their outdoor area. Combine a great deck with a wooden feature wall to create a vertical deck feature.
Sail away
The summers in New Zealand can be brutally hot, and offering some protection from the sun's relentless rays has a practical benefit if you're looking to enjoy your outdoor area this summer.
Shade sails also offer the styling benefit of a canopy to accentuate some feature lighting, which you can enjoy when the sun goes down.
Consider making these easy to remove so you can clean them regularly, also ensure they offer some UV protection, and consider hiding the poles with climbing vines to create a more integrated look.
Green with envy
Green walls offer many benefits. From utilising a potentially unsightly or neglected wall to adding sound-deadening and an interesting living feature in an enclosed area, they're ticking a lot of boxes!
This style trend isn't the easiest to achieve but the results can be spectacular when done properly. They're low maintenance and create an instant talking point for guests.
This concept also works well in outdoor rooms or partially covered areas as they accentuate the feeling of an indoor-outdoor flow.
Illumination
Lighting up your outdoor space may seem like a no-brainer but the approach you take can make a huge difference in keeping guests outside rather than gathering indoors.
Orb lighting creates a stunning feature within your outdoor space, while looking like a piece of art rather than a simple lamp.
If you are going to use more traditional lighting options why not opt for something with a pop of uniqueness. Using materials like brass and brushed metals add a touch of style to your outdoor space that go beyond more typical options.
If all else fails then you cannot go wrong with string or fairy lighting in your outdoor area. They have the benefit of being quick to install and easily removable in winter if needed.
Photo by Tim Davies Landscaping | Perth - Discover garden design ideas
Outdoor living room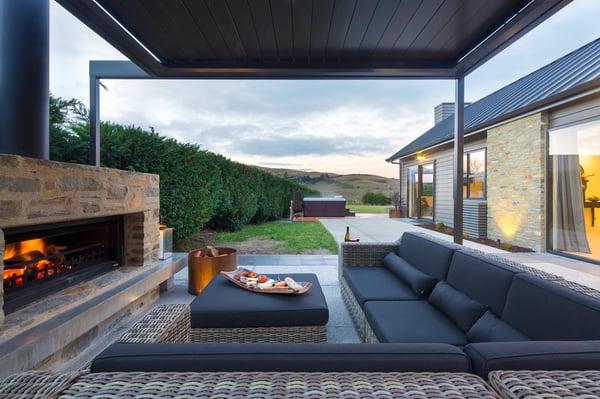 All-season outdoor living rooms are becoming even more popular as they add more useable space to a home.
Utilising built-in fireplaces, louvre roofs, and dining areas to create a versatile space perfect for any occasion - it's no wonder they're fast becoming the perfect addition to many homes and investment properties.
Think about using operable louvres to provide shelter when needed but also giving you the option to open them up to enjoy some of that summer sunshine too!
Adding an outdoor fireplace to the space helps create a focal point for social gatherings and creates some much-valued warmth in the evenings or winter months. Combining the louvre roof and fireplace helps the heat remain within the outdoor room, creating a bubble of cosiness for all to enjoy.
With winter being the perfect time to think about your outdoor area we've created a style guide for you to find the inspiration you need to get started. Obviously, we think no outdoor area is truly complete unless it features a designer outdoor fireplace or practical pizza oven. Our style guide shows you how you can create the perfect outdoor area with an outdoor fireplace as the centrepiece.