Outdoor fireplace trends in 2022
Posted by
Ashley Lawry
on
March 24, 2022
2022 is looking like the year we can reconnect with loved ones, whether at home or abroad. With the worry of lockdowns behind us, we can plan to see friends and family with some certainty. If you're looking to host some company, creating lasting memories around a fireplace is a surefire way to wow your guests.
The last few years have seen Kiwi households invest more into their homes. While some have opted to sell in hope of a more spacious abode or better lifestyle, others have chosen to stay put and invest in their property. As people were forced to reevaluate their lifestyle and spend more time at home, we saw an increase in outdoor fireplaces and pizza ovens added to houses, helping homeowners create an entertaining hub perfect for creating lifelong memories.
If you're also considering an outdoor fireplace for your home, then what you end up with will likely be determined by the space you have to work with. The design aesthetic you are going for will also be a factor, as will your budget. There are many options to consider, and choosing the right one for you can be overwhelming. To help you get inspired we've highlighted a few of the outdoor fireplace trends we expect to see in 2022. From minimalist fires that maximize space to food-focused hubs. As people prepare their outdoor areas for socialising, we explore some of the trends we expect to see.
Statement outdoor fires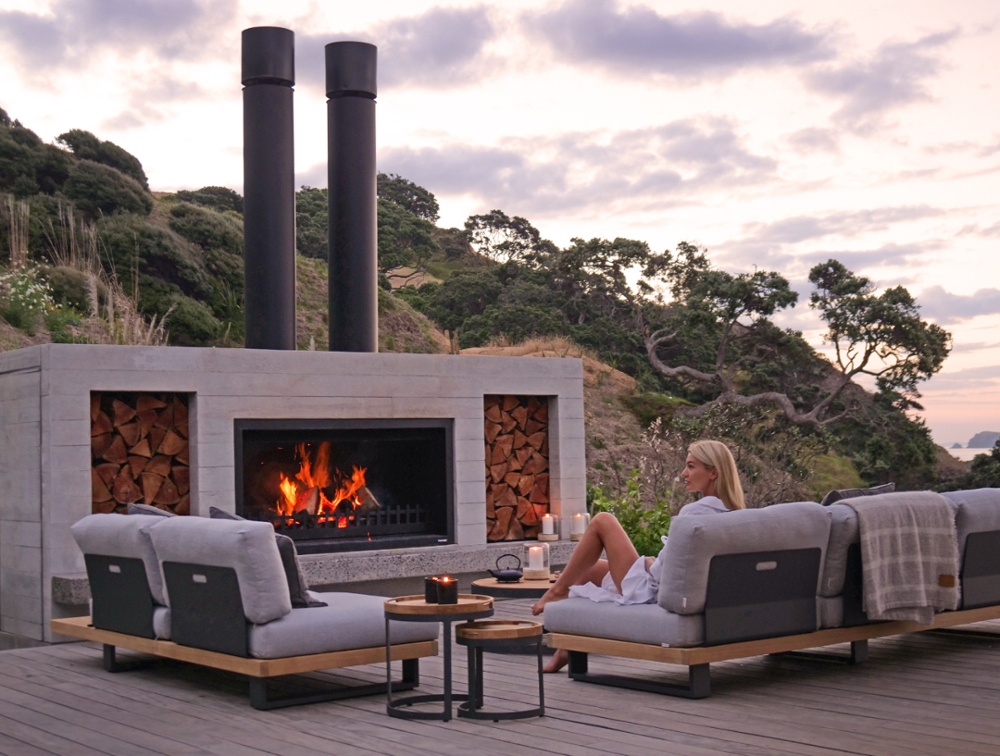 A simple way to add that WOW factor and to make a statement is to purchase an epic outdoor feature. An outdoor fireplace will not only offer a visually pleasing focal point, but also a practical one. But there are outdoor fireplaces, and then there are Outdoor Fireplaces.
The Twin Peak fireplace (pictured above) is in a class of its own. It is, without a doubt, designed to redefine any outdoor entertaining area. With a generous space in mind, this outdoor fireplace is grand on an entirely new scale. But this fireplace isn't just about size, it's about refinement and style on a level never before seen, adding luxury and grandeur to any outdoor living space.
The Burton fireplace, even though it is smaller in scale when compared to the Twin Peak, is the perfect feature and one of our most popular fireplaces. It offers a more modern and minimalist shape ensuring that it fits into most outdoor settings and still remains a key focal point.
Traditional style outdoor fireplaces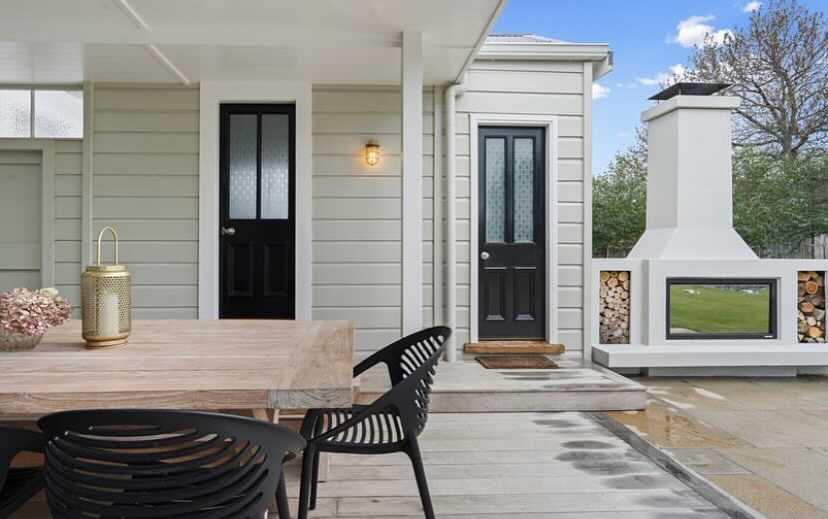 If your home is a villa or more traditional in its design, then you can carry that through to the outdoor area with a Hudson or Douglas (pictured above) outdoor fireplace. Complementing a more rustic style home, these designs offer a timeless statement that can be easily customised with brick, stone, or plaster and paint helping emphasise the historical elements of the home and surrounding area.
While still offering the modern conveniences of a cooking grill and heat dispersion, it's the lines of these fireplaces that hark back to their vintage roots. Timeless and elegant, both fireplaces provide a classic accent to any outdoor entertaining area.
Compact fireplace creativity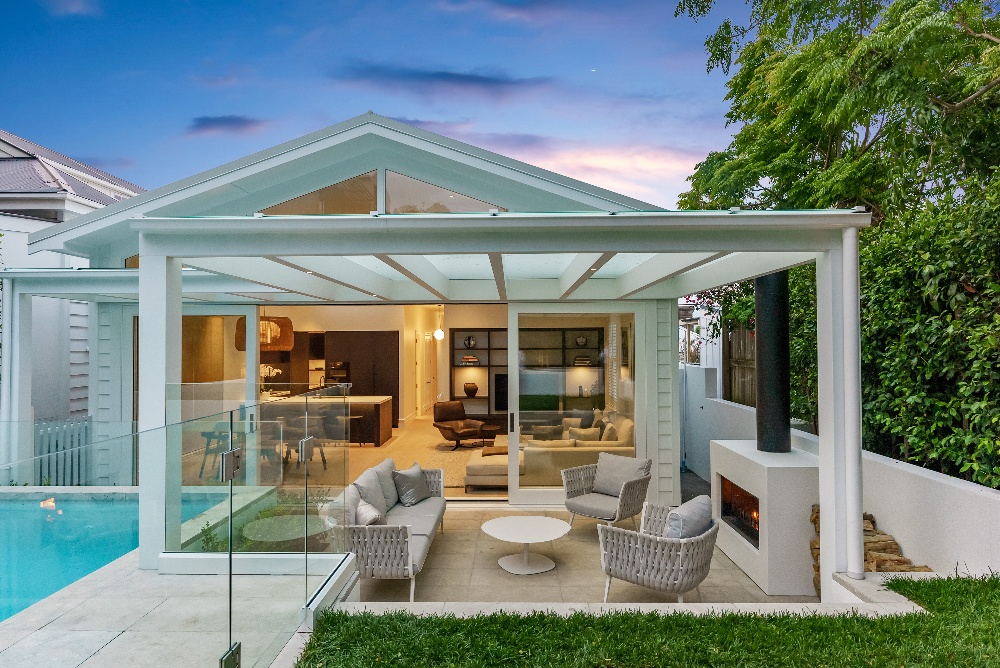 If you're looking to add a natural gathering and entertaining spot to your outdoor living area but space is a concern, the Mini Burton would be a perfect choice. It offers the same sleek and modern look as the Burton but is scaled down to suit a more compact area. It can fit into some of the more limited outdoor spaces, patios, and even rooftops, and can be finished off in many different styles to suit your space. Choose a schist cladding for that rugged outdoor look or add corten steel wood boxes for an industrial aesthetic. We see this trend really taking off as people seek to get more from their outdoor areas, regardless of size.
Integrated fireplaces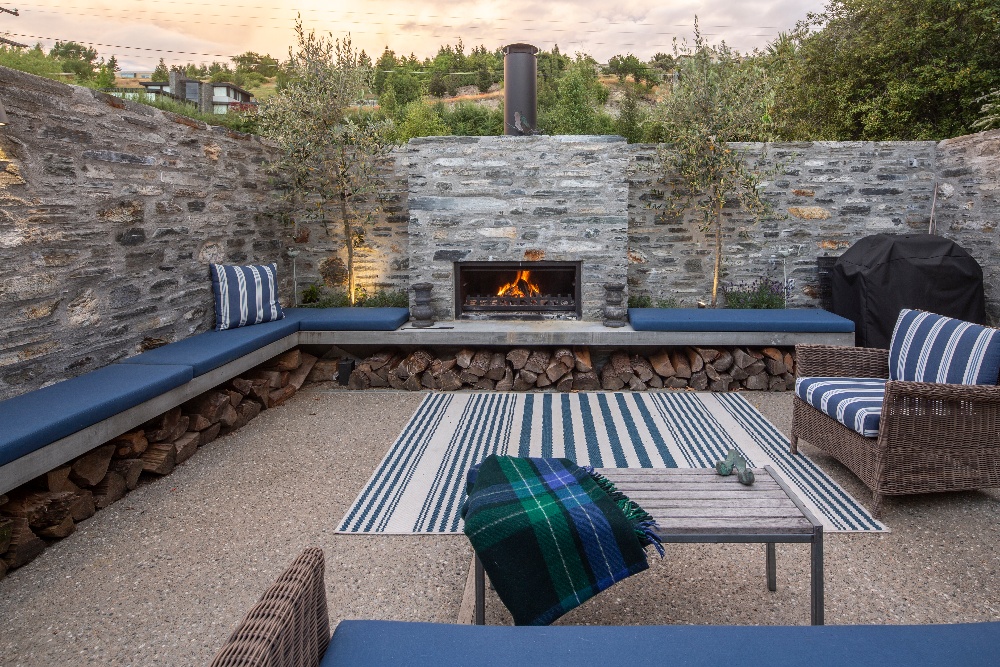 An outdoor fireplace built into a wall can not only provide warmth but also shelter from the elements. The walls can be high enough to trap the radiant heat but also low enough to enjoy the picturesque landscapes surrounding them.
These integrated fireplaces look like they were built into the structure but are often one of our fireplaces underneath! This provides the benefit of a quick installation and a fireplace that draws perfectly while radiating heat. This is often a cheaper and more time-effective solution than custom building a fireplace into a wall. As people seek more privacy, we expect to see this approach really take off.
Outdoor cooking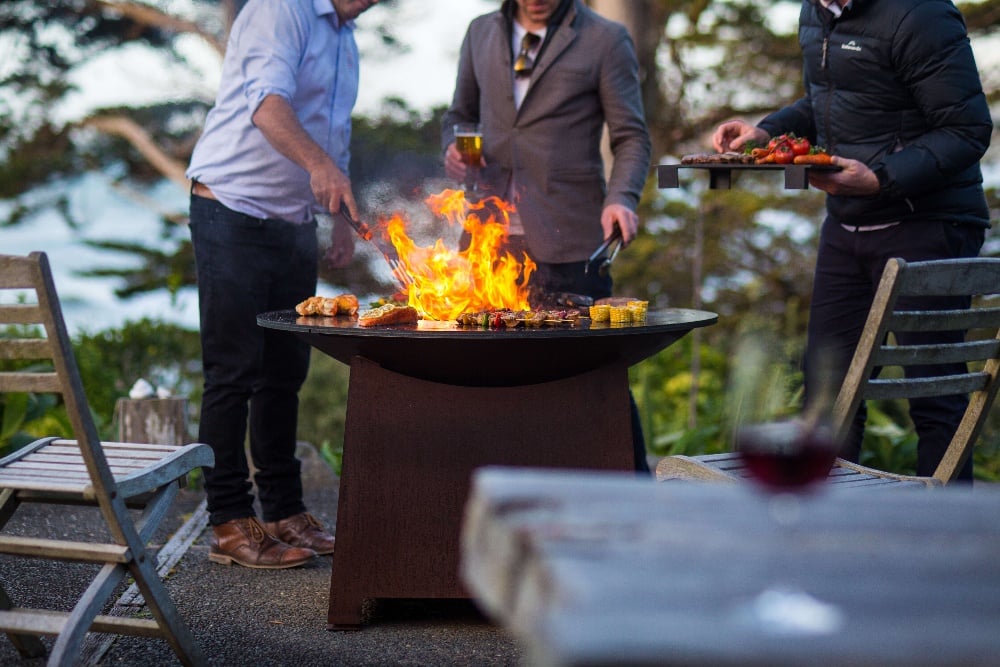 If cooking is your primary focus when entertaining, then a cooking hub enables you to make food prep part of the fun. Not only can you cook on an outdoor fireplace (fun fact - all our fireplaces come with a removable cooking grill) but fire pits and pizza ovens are a great way to cook for guests alfresco style too.
Providing more than memorable ambience and warmth, our fire pit can offer a hub to toast marshmallows, but the 360-degree cooking plate can offer a culinary experience like no other.
A pizza oven can be a fun addition to any outdoor area. An authentic wood-fired oven also brings a whole new dimension to pizza night! The great news is that a pizza oven can cook so much more than just pizza! You can also roast succulent meats, bake loaves of bread, and create slow-cooking stews.
Built into outdoor kitchens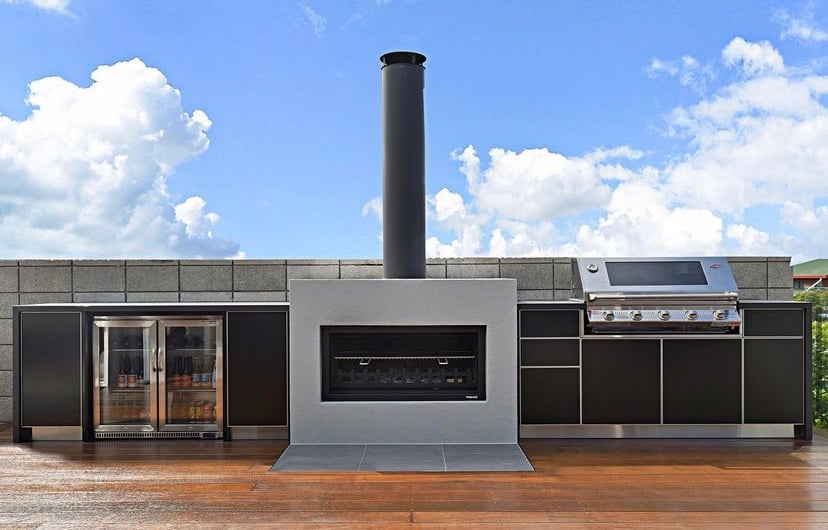 Outdoor kitchens are a relatively new concept but one that's growing in popularity year on year and the design trend is sure to grow even more in 2022. We're not only seeing pizza ovens built into a full kitchen set-up but also outdoor fireplaces are becoming a staple accessory.
An outdoor fireplace not only brings warmth and comfort to your outdoor area but adding one to an outdoor kitchen can also act as an extra place to grill. In fact, an outdoor fireplace can cook delicious flame-grilled food perfectly. Sausages, steak and fish as well as the kids' favourite toasted marshmallows, can all be cooked on an outdoor fireplace. Once the cooking's done everyone can enjoy their meal in front of the fire.
Other outdoor trends we expect to see in 2022
Feature planters
The addition of potted plants to your outdoor area can be an excellent way to add layers to an already lush and well-established backyard. They are moveable meaning you can adjust your outdoor area to suit the different seasons and weather conditions and keep the layout fresh over the years. Our friends over at Modscene have a great selection of feature planters, all locally made right here in New Zealand and are perfect for realising this trend.
Smart sprinklers
Watering your lawns is a task that takes time and patience. For some, it can be a relaxing pastime while for others it can be a chore. If you're motivated to save water, money, or are looking to remove this chore without letting your lawn suffer then a smart irrigation controller might be the perfect solution. This new technology has made home watering simpler and more efficient with the brains of the operation managed by a WiFi-enabled controller. We expect more people to use smart devices in their gardens in 2022 as the 'internet of things' reaches all aspects of our homes.
Robotic lawnmowers
One of the latest gadgets to hit the market is the robotic lawnmower. Just like there are robotic vacuums for the interior of your home, there is now an outdoor version that will mow your lawn for you. Why not retake your weekends by letting technology take over the lawn mowing?
App-controlled outdoor lights
Controlling your outdoor lighting with the touch of an app is now a reality with smart outdoor lighting. Not only does it enhance home security, but smart lights also help to set the mood and maximise longer evenings outside by enabling you to control when they come on. Smart outdoor lighting takes it to another level by adding automation, remote control, and other convenient features.
Outdoor televisions
Watching a movie, or the game in the comfort of your backyard has become more accessible in recent years. Setting up a projector and layering some cushions and blankets onto your patio can be a memorable experience but an outdoor TV enhances that experience. If you have friends or family coming over that have wedding videos to share then this could be the perfect way to share that moment with them.
Could 2022 be your year to seriously enhance your outdoor space? All of these additional outdoor trends work perfectly alongside an outdoor fireplace. Amaze your friends and create a secluded spot to relax by jumping on any of these outdoor fireplace trends.
If you would like to include a fireplace in your outdoor setting, then start by downloading our brochure. It's easy to add a Trendz Outdoor fireplace to an existing outdoor area, or build it into your new landscaped space so why not talk to the team when you're ready to begin your outdoor fireplace journey?