BEST Outdoor Fireplace Trends for 2018
Posted by
Charlie Lawry
on
January 8, 2018
People are taking more pride than ever before in their outdoor living area, the idea of creating a functional hub to entertain friends and family all year round is growing year on year in popularity. One of the most sought after features is an outdoor fireplace. In this article we look at the latest trends in outdoor fireplace designs for 2018 and how they can fit a range of different style settings accordingly.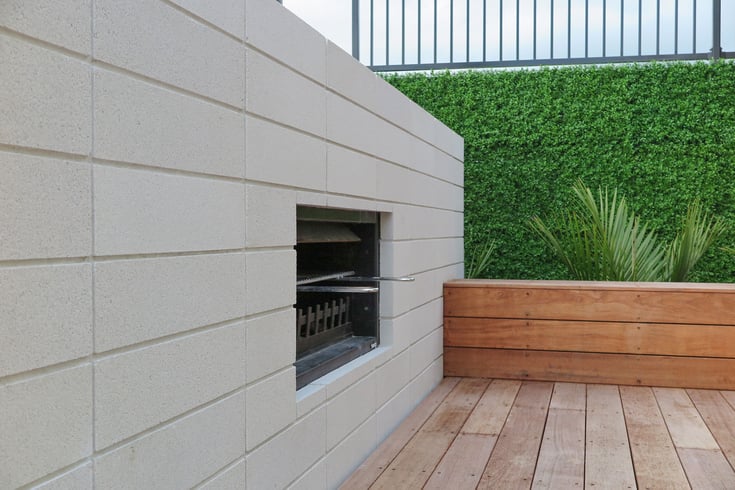 Known for its simplicity and beauty, the fast-growing Scandinavian exterior style centred around functionality, clean lines, flawless craftsmanship and understated elegance. The Mini Burton or Burton fireplace is the perfect accessory to your Scandinavian outdoor area. We have seen a range of finishing touches utilising wood, concrete and brick to help create this stunning modern and minimal landscape design.
Urban Sanctuary
This contemporary design showcases the beauty and sanctuary inside the urban lifestyle. With stunning landscape views that we are luckily not shy of here in New Zealand. This stunning and versatile outdoor fireplace (Burton) can be custom finished to fit in with all landscape settings. Woven chairs pair well with schist tiles. One of the most popular furniture styles is picnic benches which also help create a cozy and casual atmosphere.
Traditional
A dreamy blend of traditional style meets contemporary featuring the Douglas fireplace. This picturesque setting was designed by landscape architect Paul Gallagher from Mace Landscapes. With a light-dappled colonnade, a welcoming outdoor fire, stucco walls and verdant planting, the traditional Douglas fits the setting perfectly. You can enhance this setting by adding mosaic tables with natural material furniture such as wood, stones, ceramic or even glass.
Effortless Entertainer
With a picturesque backdrop along with open plan living, we can't picture anything better than this picturesque entertaining area to soak in the ambience of a dreamy location. The ever so popular Burton is the fireplace of choice for the effortless entertainer's headquarters. Accessorise with practical, versatile and simplistic furniture with pops of colour to add character and individual style.
A Little Bit Country
With farmhouse style outdoor furniture rising in popularity over the past few years, this cozy and inclusive style oozes care-free relaxation. The classic Hudson fireplace is sharp, tidy and minimalistic and can handle any style of finishing touches so fits the bill perfectly if you are trying to create this look. Incorporating wrought iron, brick or stone fittings married with contrasting tables such as a trestle table with woven or beaded chairs. 2018 will see a lot more white or golden furnishings which will enhance this classic country style perfectly.
You can download our latest Trendz Outdoors fireplace brochure below and start your journey to getting the entertainers area of your dreams.