8 great customer entertaining areas
Posted by
Ashley Lawry
on
July 19, 2021
At a time when New Zealand is closed to the rest of the world, many residents have taken the opportunity to invest more into their homes. Without the opportunity to fully escape to foreign lands, many have seen this as a chance to create a little oasis in their own slice of heaven. Whether it is a complete face-lift or minor cosmetic changes, the team at Trendz Outdoors have been able to deliver a large number of outdoor fireplaces to some incredible homes, helping to complete many outdoor entertaining areas.
With access to some of New Zealand's most breathtaking scenery, the following customers have opened up their homes to showcase some truly remarkable outdoor settings that include a Trendz Outdoors' fireplace that we are sure will inspire you. Let's dive in and check them out.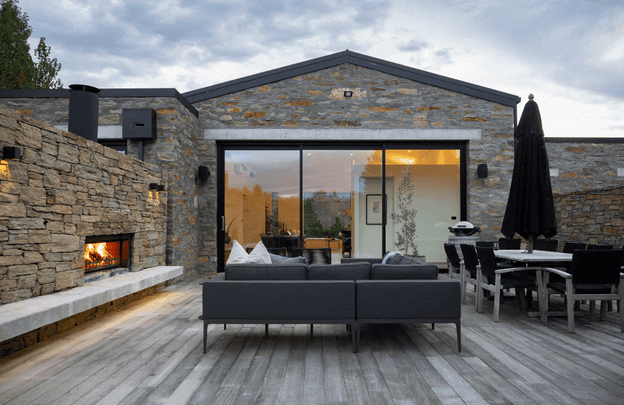 Outdoor Entertaining area #1
Location: Central Otago
Fireplace: Burton outdoor fireplace, wall inset custom project.
Situated in New Zealand's Pinot Noir wine district is the stunning Shaky Bridge vineyard and this gorgeous home. This beautiful schist stone family residence is located in Alexandra and has breathtaking uninterrupted views of the surrounding Central Otago landscape. This home has been designed with entertainment at its heart as the family share their little piece of paradise with anyone who would like to book a stay in their guest house.
This particular Burton fireplace has been custom built into a schist stone wall by the incredible team at Alexandra Stone Quarries. The owners wanted an outdoor fireplace that complemented the style and essence of their home. With the black chimney and steel box, we think the Burton outdoor fireplace enhances this space perfectly.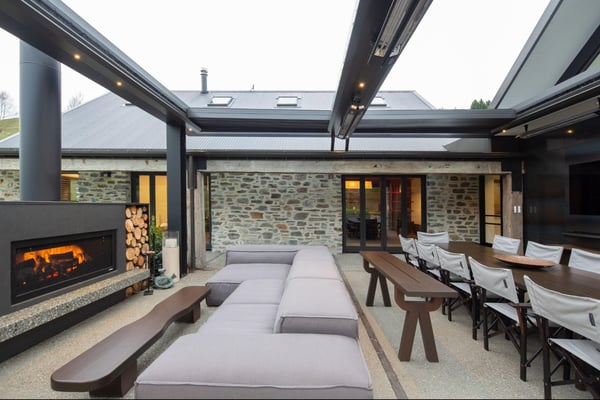 Outdoor entertaining area #2
Location: Central Otago
Fireplace: Burton outdoor fireplace with steel wood boxes and polished concrete hearth.
This outdoor setting has been designed with all-year-round entertaining in mind. Creating an inviting and accommodating outdoor area is at the core of this space, with its extended dining table and its oversized cosy couch. Located in Central Otago, the winter months are sure to bring cooler evenings with fresh snow to add to the ambience of the deep south. This outdoor setting has been designed to not only heat guests with the large Burton outdoor fireplace but the louvre roof has been thoughtfully added to stop snow or rain from dampening the outdoor experience. These additions help make a setting that is suitable all year round, no matter the weather conditions.
This customer chose the Burton outdoor fireplace, with steel wood-boxes to keep extra wood within easy reach. The polished concrete hearth adds to the natural elements and accentuates the southern schist that is built into the structure of the home effortlessly.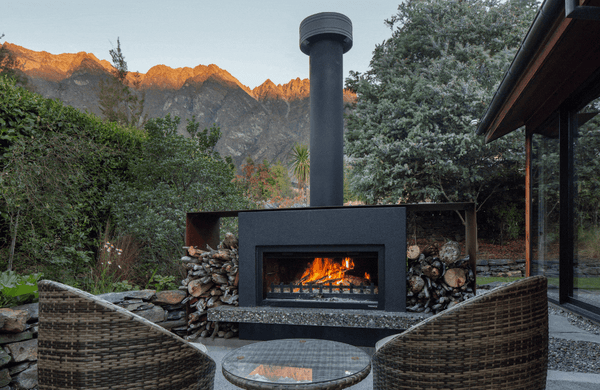 Outdoor entertaining area #3
Location: Central Otago
Fireplace: Mini Burton outdoor fireplace with corten steel wood boxes and a polished concrete hearth.
Located under the rugged hills of The Remarkables lies this rustic backyard. You genuinely feel like you're nestled in the heart of New Zealand here. The Mini Burton outdoor fireplace has been plastered and finished with a coat of paint in the colour Flaxpod. The 500mm corten steel wood boxes add to the rustic setting with the burnt orange rust effect that will change over time due to the elements, making it more unique. The steel surround perfectly mimicking the setting sun hitting the hills behind. The owners also opted for a polished concrete hearth to complement the surrounding stone landscaping. Here is what these owners had to say about their new outdoor fireplace:
"We looked around various options for our outdoor area and settled on a Trendz Mini Burton.
We loved the prompt, friendly service and the options offered, and we went with the completely finished product which included painting. It turned up on time as promised and in perfect condition ready for us to land on the concrete base. With minimal effort, we put the finishing touches on and lit it soon after."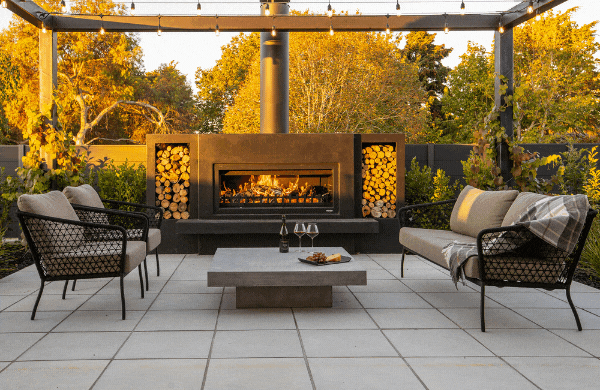 Outdoor entertaining area #4
Location: Masterton, Wairarapa
Fireplace: Burton outdoor fireplace with GRC wood boxes and hearth.
Sometimes the finer points of style exist in simplicity, and this setting is simple and classic. The Burton outdoor fireplace is the centrepiece for this outdoor area, complemented with a pergola with festoon lights adorning the overhead element to this area. Adding an extra degree of style in the evening and ensuring the good times continue well into the night, this simple touch adds so much. The outdoor furniture is all about comfort and relaxation - a perfect spot to enjoy a glass of red or a hot cuppa tea.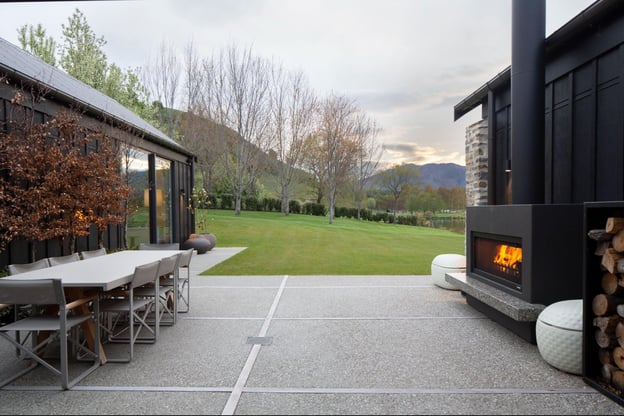 Outdoor entertaining area #5
Location: Central Otago
Fireplace: Burton outdoor fireplace with polished concrete hearth.
This outdoor setting oozes relaxation. The rolling hills in the background, lush well-manicured lawns and mature trees all add to this truly stunning location.
What is great about this outdoor entertaining area is its versatility. Whether hosting a large dinner party or a couple of afternoon bevvies, the outdoor fireplace is located within a short distance from the house and in between two structures meaning that you're more sheltered from any breeze. The table can be pulled out closer to the fireplace, or a few beanbags brought out for a more chilled evening.
This homeowner went for a plastered and painted Burton outdoor fireplace with a polished concrete hearth. They also opted for their own portable woodbox option that can be moved around the outdoor area.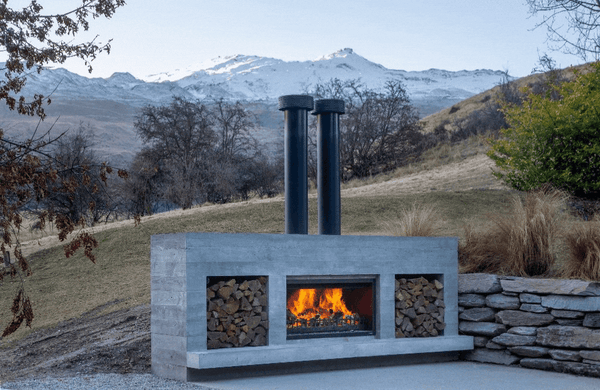 Outdoor entertaining area #6
Location: Central Otago
Fireplace: Custom outdoor fireplace.
This outdoor fireplace was a custom project; the property owner wanted something truly spectacular that could heat a large area effortlessly while standing out like nothing else. This was also the inspiration for our new Twin Peak outdoor fireplace, one of the largest prefabricated fireplaces available in New Zealand. The extra-large firebox and double chimney ensures effective smoke draw, without sacrificing heat output. This outdoor fireplace is truly spectacular and is a real centrepiece.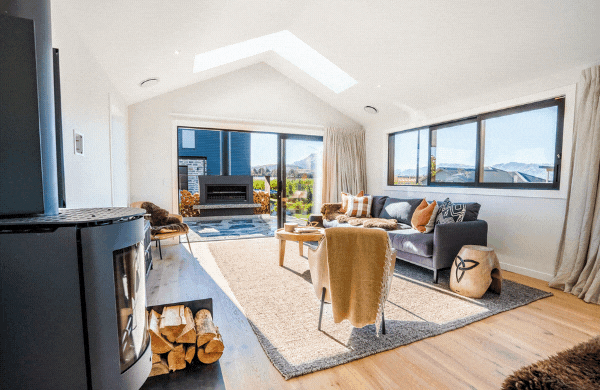 Outdoor entertaining area #7
Location: GJ Gardner Showhome Wanaka
Fireplace: Burton outdoor fireplace with polished concrete hearth and corten steel wood boxes.
You don't need to have a large outdoor area to have an outdoor fireplace, take this stunning showhome by GJ Gardner in Wanaka for example. Named 'Northlake Lodge', this house has great indoor-outdoor living. You can enjoy the heat of the fire from within the home so you can leave the sliding door open during the cooler evening if you are hosting guests or close it off to have a more intimate setting.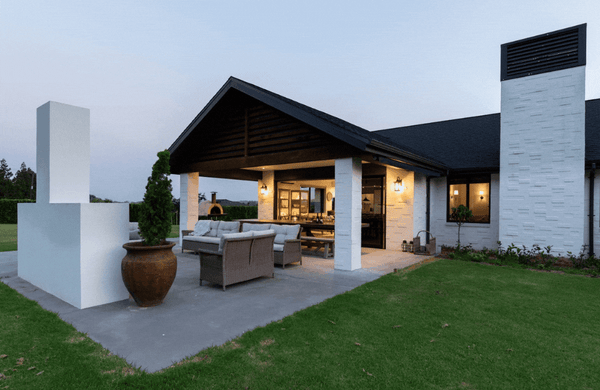 Outdoor entertaining area #8
Location: Kerikeri
Fireplace: Burton outdoor fireplace with GRC wood boxes and hearth.
Timeless and modern are several of the words used to describe this home, and we could not agree more. This home has been designed to maximise indoor-outdoor flow, and this outdoor area is a room all on its own. From a large dining table to relaxing couches, a pizza oven and the Burton outdoor fireplace, it comes as no surprise that the occupants of this home spend a significant portion of their time outside! Even the roof has been extended to add more shelter to maximise the evenings outdoors, no matter the weather.
"We are so thrilled with our fireplace, we spend all our weekends outside now, hardly use the indoors at all! The fire is so easy to light and use. Thanks for all your help, service and expertise."

Have you been inspired by our customer homes and would like to update your outdoor entertaining area? In that case, you can learn more about our range of outdoor fireplaces by downloading our latest product catalogue. Or if you would like to enquire, or have a question, don't hesitate to contact us.