How businesses are creating outdoor spaces that WOW!
Posted by
Ashley Lawry
on
October 13, 2021
Whether we are out walking or relaxing in our backyard enjoying some fresh air, when we are outside our body slows down helping us feel peaceful and calm. Research has proven that simply being in a green space can do wonders for our health and mindset. Maybe this is why Kiwis are known for their friendly, calm and easy-going spirit and why more businesses are starting to normalise outdoor spaces, not only for their guests to enjoy but also for employees.
There is just something about the real ambience of the outdoors that you can't seem to fault, which is also why we are seeing more businesses installing outdoor fireplaces into their outdoor settings. Not only are people drawn to the warmth and the light of a fire, which tends to make them feel more comfortable, but the relaxed environment offers many commercial benefits too. Encouraging customers to stay at an establishment for longer, helping boost sales, increasing the usable all-weather space and contributing to business growth are just a few benefits businesses have seen from installing an outdoor fireplace.
This month we are showcasing four businesses that have implemented and executed memorable greenspace environments along with a Trendz Outdoors outdoor fireplace to maximise their outdoor spaces, help increase business profitability, and customer satisfaction. Check them out below.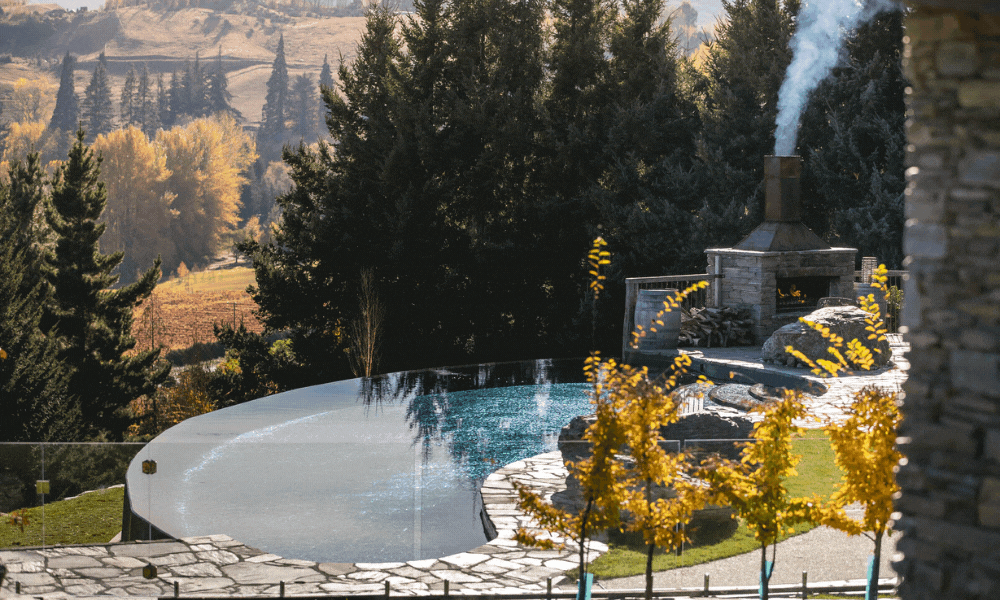 Stoneridge Estate | Luxury Lodge
Nothing says luxury more than the stunning Stoneridge Estate, located in the heart of Central Otago. Classed as one of the most spectacular luxury lodges, this wedding and event venue, nestled on the shores of Lake Hayes, is iconic. A perfect living experience can be had within a setting surrounded by the majestic natural landscape of the south. Not far from Queenstown this is the perfect location to escape for a relaxing and magical getaway.
With grand stone and timber architecture as well as panoramic glass windows, this estate has it all. Their expansive outdoor terrace features not only a pool and a hot tub but also a Burton outdoor fireplace. It is the perfect place to relax during the day and evening, even when it is blanketed in snow! This Burton has been clad in natural Otago schist with a custom corten steel chimney sleeve to give it the authentic character of the gold mining camps found in the surrounding hills.
Being situated in a region that reaches cold temperatures, especially during winter months, incorporating an outdoor fireplace is a way for guests to experience the stunning lake and mountain views outdoors while they relax and unwind with a glass of wine. Whether guests are staying for a weekend getaway, or there to enjoy an event or wedding, the outdoor fireplace keeps them outside for longer thanks to the amount of heat the fireplace lets out. Stoneridge has opted for the Burton fireplace and customized it to suit not only the surroundings but also the building, making it fit perfectly into the design ethos of the venue.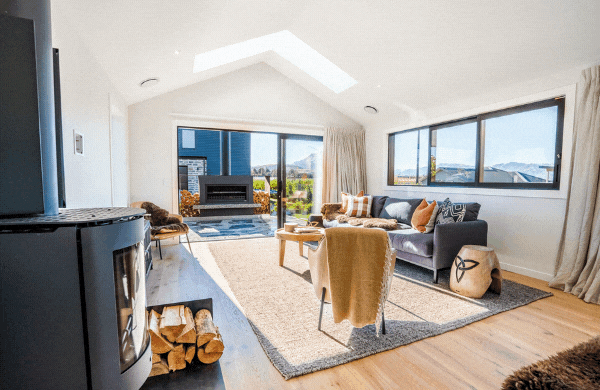 GJ Gardner Wanaka | Show Home
A showhome is a great place for a house builder to put their best foot forward, and our friends over at GJ Gardner in Wanaka have done just that with their latest showhome build, named the 'Northlake Lodge'.
Featuring a range of upgrades that are hard to resist including a top of the line kitchen, and bathroom fittings, it wasn't a hard decision to incorporate an outdoor fireplace into the build. Located in the south, additional outdoor heating enables those visiting the home to experience all the possible luxuries that come from building with GJ Gardner, from the quality of the home build right through to the thought and opportunities in the landscaping. Incorporating luxury elements, like an outdoor fireplace, showcase not only the final product but also the dream of building a new home. Carefully locating the Burton fireplace in this setting shows that even smaller outdoor entertaining areas can offer great indoor-outdoor flow with the added benefit of outdoor heating. This creates not only a great focal point but also a place for family and friends to enjoy all year long. GJ Gardner opted for the Burton outdoor fireplace with polished concrete hearth and corten steel wood boxes to give this home the premium look it deserves.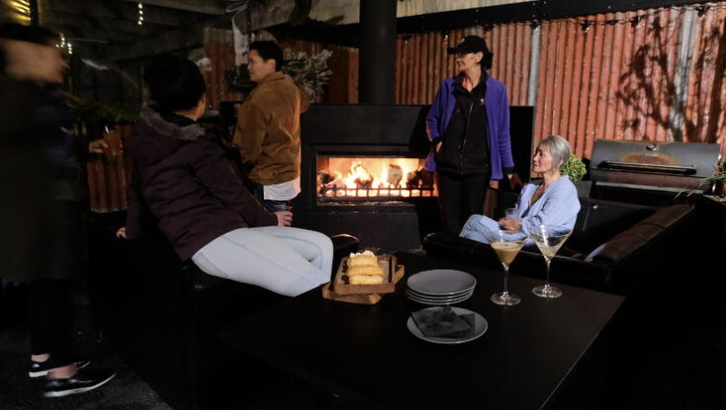 Industry Bar and Grill Ohakune
Outdoor dining is a customer magnet, especially if you are located in the highly popular skiing village of Ohakune. It provides the opportunity to maximise space that can capture more business and utilise unused space, especially in the colder peak season months.
The Industry Bar and Grill, has increased the usable floor space of their venue by using the outdoor area as an extension to the existing indoor space. It can open up more seating, especially during peak times of the day, where there is an increase in foot traffic. By adding our Mini-Burton fireplace, not only does it open up more entertaining space for patrons in an area that could typically be too cold to utilise, but it creates a more memorable and authentic dining experience.
The benefits of adding an outdoor fireplace to bar and restaurant establishments like Industry Bar and Grill, not only sets them apart from their competition but can pull in a new crowd, make the establishment look livelier, and re-energise existing customers.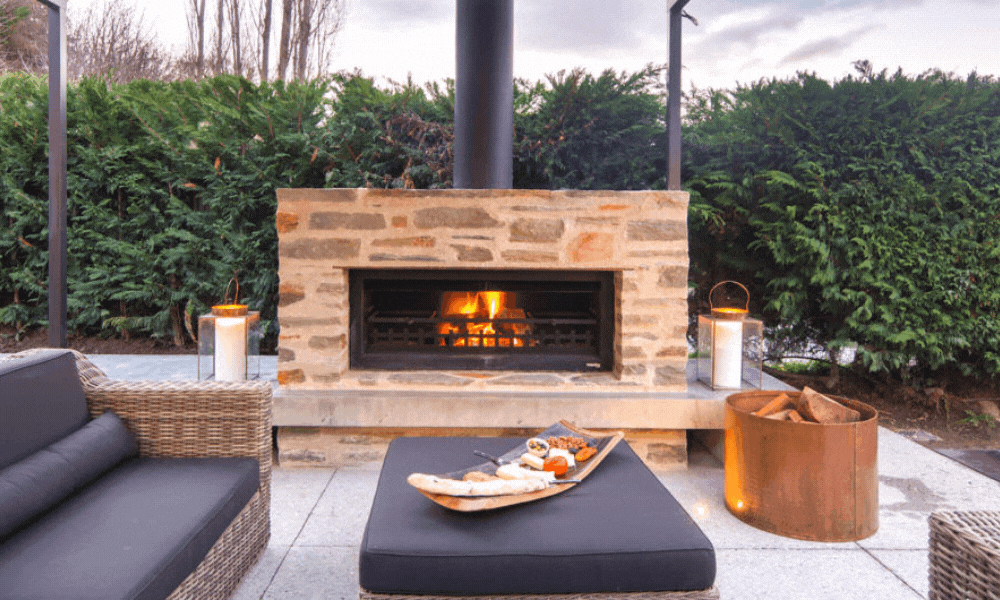 Three Peaks Arrowtown | Holiday Home
Three Peaks is a 4 bedroom holiday home situated in a semi-rural setting between Queenstown and Arrowtown. It offers stunning views of the iconic Queenstown mountains. Designed for families to come together for a memorable holiday, it has been designed to cater for larger groups. With two living areas as well as an outdoor entertaining focal point, the addition of the Burton fireplace means that guests can enjoy the ambience of an outdoor fireplace in one of New Zealand's most stunning settings.

Guests can snuggle up next to the fireplace and watch the sunset over the Remarkables mountain range, and let their outdoor experience go long into the night.
When a customer or guest steps into your business, you want to capture their attention and what better way than doing it with an outdoor fireplace? Not only does it draw your customers' eyes, but it is an aesthetically pleasing experience that helps you stand out from the competition, not to mention a simple way to add a touch of luxury for your customers. Holding a beverage by the fire might be the perfect Instagram snap, with some free publicity for your business with each post.
The atmosphere of your business is an important factor that contributes to your business's success. If you're wanting to create a comfortable and welcome atmosphere for guests, staff or visitors while boosting your business's revenue, then why not download a copy of our current outdoor fireplace brochure and be inspired by the endless possibilities.