Including an outdoor fireplace in landscape design
Posted by
Ashley Lawry
on
March 8, 2021
There is just something about a fireplace that makes an outdoor area feel more inviting. Having a source of warmth means you can spend extended time outdoors enjoying your home's backyard. Not to mention, an outdoor fireplace naturally becomes a place that people are drawn to, meaning family and guests will gather around helping you create lifelong memories. As your family grows, or if you're just looking for a place to escape to, you'll appreciate having a welcoming place to retreat to for an evening.
An outdoor fireplace is more than just a standout feature, research has shown that spending more time outdoors enhances both your mental and physical wellbeing. With this in mind, when designing the ultimate outdoor area, it is essential to be mindful of the design, comfort and practicality of the space. A few additions to your landscaping can help you to maximise the amount of time spent outdoors and your enjoyment of this key area of your home.
Below we outline some key considerations when planning your property's landscape design to include an outdoor fireplace and how you can maximise this often under-utilised asset.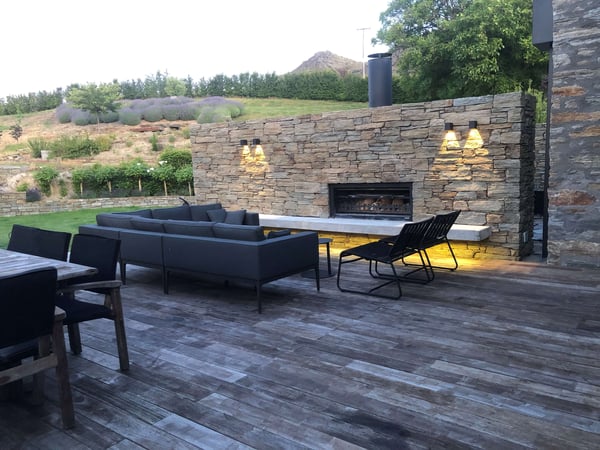 Location
When finding the perfect location and position for your outdoor fireplace we suggest that you consider the elements. If your property is prone to wind, using the fireplace as a windbreaker could help make your area more enjoyable no matter the conditions. Our larger fireplaces, like the Burton, provide an alternative screening option for spaces where the wind channels. Placing your fireplace with the back towards the wind, will not only help reduce smoke and keep your fire more controlled, but your guests will also be protected from any strong gusts of wind.
If another feature of your property includes a view of a stunning New Zealand landscape, rather than placing the fireplace directly opposite the view, a fireplace can be best placed at 90 degrees, allowing enjoyment of both the view and the warmth without having to put a neck out!
If you would like some location tips then we suggest reading our top 5 things to consider when finding the best location for your outdoor fireplace blog.
Outdoor Fireplace Accessories
There are many types of optional accessories that can be added to an outdoor fireplace to make it more useful, versatile, attractive, or just help it tie in with its surroundings. Below are our top 4:
Wood boxes - Used to keep a good supply of wood close by, wood boxes are not only practical, but they also add to the aesthetic of the outdoor fireplace. The options are also dependent on the type of setting you are looking to achieve. Opting for a steel wood box can complement a more modern, sleek design while concrete boxes can easily be covered in stone or schist to really emphasize the natural surroundings and opt for a more traditional and classic feel.




Lighting options - When done properly, outdoor fireplace lighting can not only add beauty and a wow factor but can also increase your entertaining area's safety and practicality. Even though an outdoor fireplace produces a certain amount of light when lit, adding additional lighting can help enhance your experience.
LED or solar lighting options can come in many different forms and depending on your area or set-up you may be surprised at what you can achieve. Spotlights are a great source of light and don't necessarily need to be built into your area. If you're looking for something with a bit more of a wow factor then LED strip lighting can be a great way to border your outdoor fireplace and make it stand out. Check out our outdoor fireplace gallery for more lighting inspiration.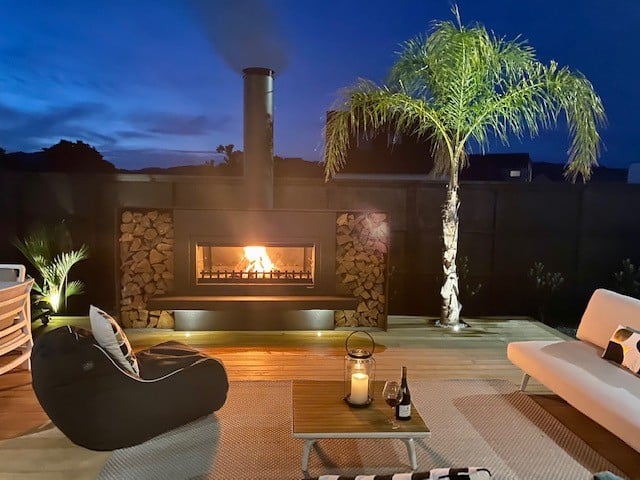 Finishings - There are many ways to add the finishing touches which will make your outdoor fireplace one of a kind. Whether you're trying to achieve a modern or traditional outdoor entertaining area, the finishings you use on your outdoor fireplace can help to achieve your desired look. The following are just a couple of different finishing options that you can consider for your outdoor fireplace:



Plaster and paint - This style is one of the most popular options due to its near-endless colour options. The plaster also helps protect the fireplace from the elements while the paint colour is a license to personalise! Many people choose to colour match their fireplace with their house or an important outdoor feature while others try to get the fireplace to blend into its surroundings. Some of our fireplaces can be plastered and painted at the factory meaning they're almost ready to go on arrival!

Talk to the team

to learn more.


Stone or natural schist - Most cladding options will require a specialist to apply the finish once the fireplace is in situ and, in many cases, the proper application of stone or technical coverings is best done by a professional. Not only will they be able to do a great job but the risk of damaging the fireplace in transit with this sort of cladding pre-applied is too high.


Bare concrete - Leaving the body of the outdoor fireplace bare can offer an industrial look to your outdoor area. Every Trendz Outdoors fireplace can be delivered as a concrete shell, meaning that you can add your finishing touches to complete your outdoor area look. Trendz strongly recommends cladding the fireplace as this will help cover any imperfections in the concrete structure such as small chips from transport.
Cooking - Toasting marshmallows over an open fire is a childhood activity most people have ingrained in their memory. Cooking outside doesn't need to be limited to BBQs,

pizza ovens

or

fire pits

. There is so much more to cooking on an outdoor fireplace then one may be aware of. From delicious meals such as roasts, meat, vegetables, fish and bread each Trendz Outdoor fireplace comes with a steel grill that can easily be removed when not needed, this handy addition increases the functionality of your fireplace.
Planning considerations
Like most structural additions to a property, consents are also needed for outdoor fireplaces. In August 2020, additional building consent exemptions were added to New Zealand's Building Act. These exemptions meant that consents for an outdoor fireplace or oven built over a height of 2.5 metres, and with a cooking surface over 1 square metre is needed.
If you're adding an outdoor fireplace to an existing home then it's safer to ensure you have council permission. To avoid worry and stress it is best to ensure you're compliant from the very beginning. We recommend talking to your fireplace provider or landscape designer to gain clarity on your obligations and compliance requirements. For more information regarding planning, or consents check out 'Consents for outdoor fireplaces.'
Once your project is complete and you're curled up in front of its cozy, golden glow, you'll wonder how you ever lived without your outdoor fireplace in the first place! Take it from one of our happy customers to learn more about what you're missing out on.

"We find that even when we are not using our outdoor fireplace, it gives our outdoor living and deck area purpose and meaning. Once the camelia hedge grows up on each side and flowers the same colour as the fire it will look even more stunning. We had a few friends round Sunday night and lit it up, we couldn't believe how well it threw out the heat and warmed the whole deck area providing a beautiful warm atmosphere." - Eddie


If you would like to include an outdoor fireplace in your landscape or new home build project why not check out our inspiration guide, filled with lots of breathtaking projects that we have been part of over the years. It's easy to add a Trendz Outdoor fireplace to an existing outdoor area so why not talk to the team when you're ready to begin your outdoor fireplace journey.