Outdoor fireplace kits
Posted by
Charlie Lawry
on
May 16, 2018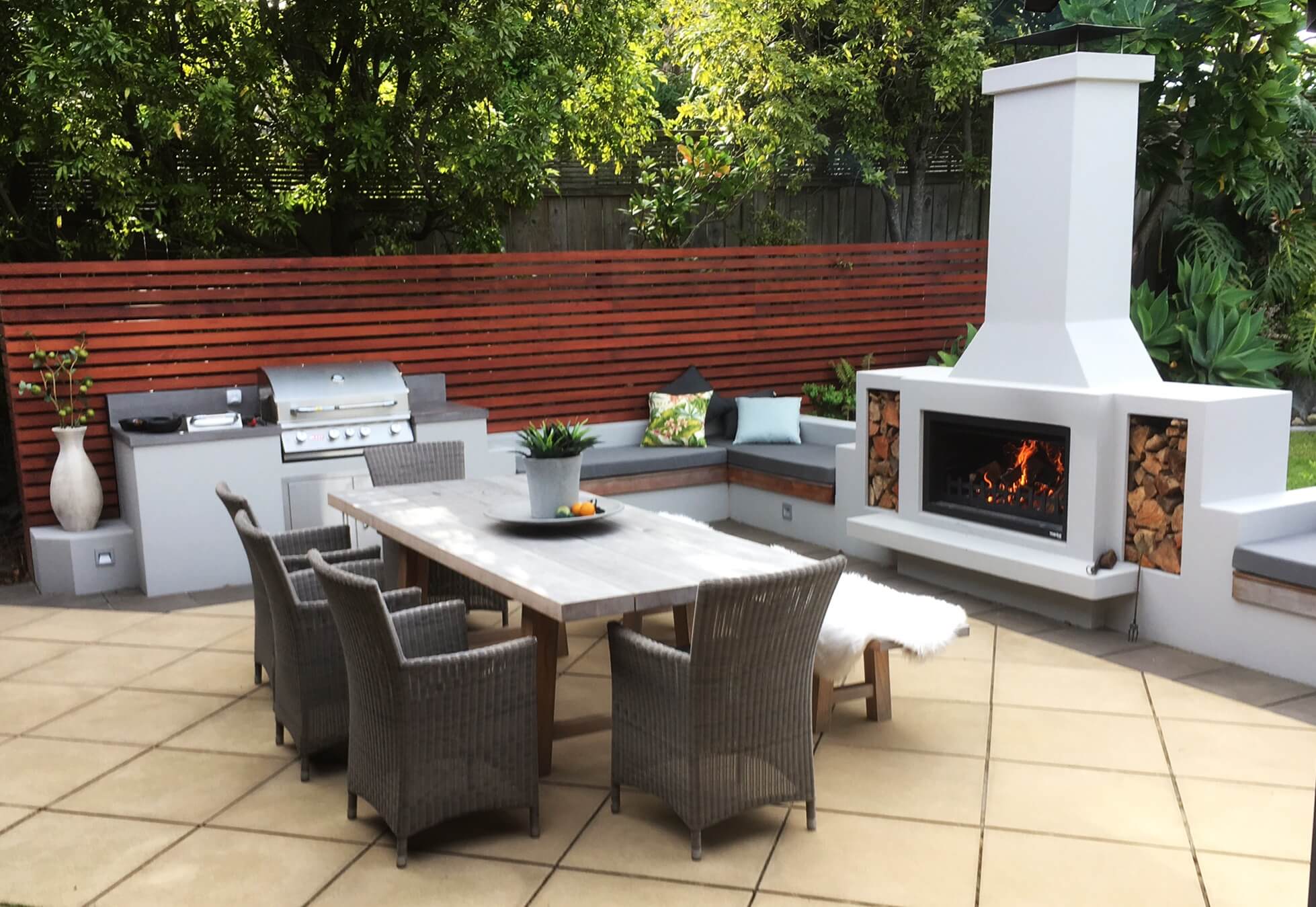 An outdoor fireplace is a perfect way to add warmth during the cooler nights, not to mention they create a pretty impressive focal point in your backyard. However, for some people, the idea of building their own is too much effort. This is where fireplace kits can come in handy.I am sure we can all agree that as the sun goes down the interest in going outside to enjoy the fresh air diminishes. Cooler winter evenings also call for shorter days, so why not make the most of these winter months by cozying up in the company of an outdoor fireplace.
As Kiwis, we all love a bit of 'do it yourself', so outdoor fireplace kits take the hassle out of building one from scratch. The outdoor fireplaces we'll focus on in this article come in 3 parts all you need to do is follow these 4 steps.

Before we begin
Let's first understand the differences in outdoor fireplace kits. There are two types of outdoor fireplace kits; DIY and pre-cast. At Trendz Outdoors, we have a range of pre-cast designs to choose from, the fireplaces come in a concrete shell form that gets hoisted into place. It's then filled with concrete and the metal-work (chimney and firebox) are installed. It's quick, easy and requires the least amount of effort.

DIY outdoor fireplace options can be a little more of a challenge and could end up costing a fortune if you are not as savvy on the tools. A lot of people make the mistake of not doing their research before they get stuck in. It's important to weigh up your options for product, aesthetics, and installation capability before you get started.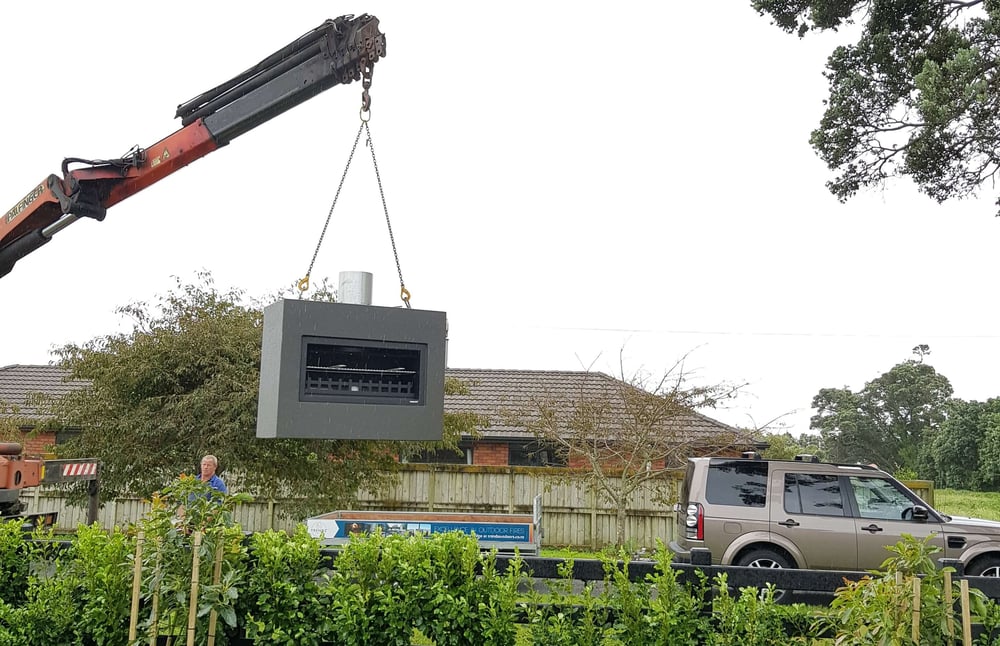 Pick your style
Most outdoor fireplace kits are designed to be customisable, so all you have to do is pick the style of fireplace that suits you and your surroundings.

Whether you are looking for a contemporary style for the urban sanctuary or a modern entertainers headquarters, the ever-so-popular Burton style is the fireplace of choice for the effortless social hub. You can go with a larger footprint design with the Burton or for a smaller style, the Mini Burton design complements most settings especially if you are short on space.

For more of a traditional design, the Douglas is the perfect option for you. From sleek and modern to chunky and rugged the Douglas is your canvas to paint and finish as you wish.

If it's a classic country style that tickles your fancy then the Hudson fireplace is sharp, tidy, and minimalistic and can handle any style of finishing touches so fits the bill perfectly for the older more character-styled setting. View the range by downloading our brochure by clicking on the link at the bottom of the page.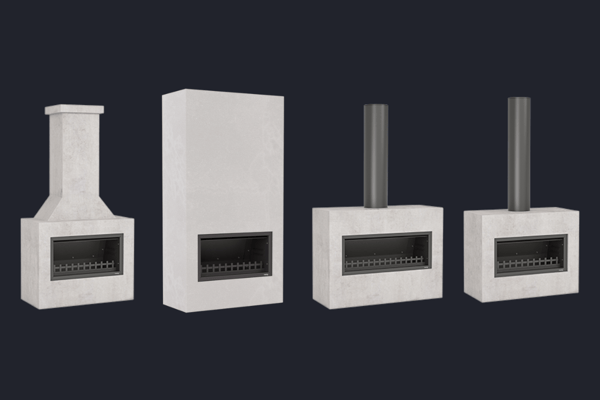 Gas or Wood-burning
There are many benefits for going gas or wood-burning. Some people can't think of anything better than the sound of the crackling wood or the smell of a burning log. However, it is becoming more common for outdoor fireplaces to be powered by gas.
Gas fireplaces can be turned on and off in an instant, giving you immediate warmth. Gas fireplaces also produce less smoke, which can be a great thing on slightly windy days. You also have to factor in that for low maintenance gas often wins as there's no cleaning required.
However, for the purists wood can provide an allure that gas simply cannot match. Cooking is on another level (and only possible on a wood fireplace) and the crackling of logs can be the perfect symphony to soothe the soul. To learn more check out our article on 'Gas or Wood-burning, what option is best for you' by clicking here.
It's all about the Accessories
You can never have enough accessories, and that goes for fireplaces too. Most fireplace kits come with a number of feature accessories sure to make your fireplace kit the centre of attention. From wood boxes, hearths, stainless steel trimmings, stainless steel flu caps, chimney extensions or stainless steel and mesh doors the options are vast. You can view available accessories on each of our product pages.
Installation
All Trendz Outdoors fireplace kits are super easy for any builder, landscaper or handyman to install. Each Trendz Outdoors fireplace comes in three fundamental parts, and some very simple instructions.
The concrete shell is the main structural element of your fireplace and needs to be lowered into place before filling the bottom 400mm of the fireplace shell with concrete.
The steel firebox comes next and needs to be bolted inside. The benefits of a Trendz Outdoors steel firebox, is that it kicks out heat quicker than most traditional brick fireplaces or homemade fireplace designs.
Lastly, the flue is installed to help control smoke release.
Another great benefit to purchasing a Trendz fireplace kit is that you can make it truly yours with your finishing touches. For a more rugged look, you can choose to leave the concrete untouched, or add a seal to the concrete to keep it looking fresh for ages. However, most people choose to either plaster or paint the fireplace and wood boxes to match their landscape outdoor style or they can be finished off with bricks, cladding or stones. There is almost no limit to how you can style your outdoor fireplace and the perfect place for inspiration is our style , which hosts dozens of different designs.
Ready to start your outdoor fireplace adventure? Why not download our brochure for specifications and design ideas.