Top 6 outdoor fire pit designs on the market
Posted by
Charlie Lawry
on
February 10, 2020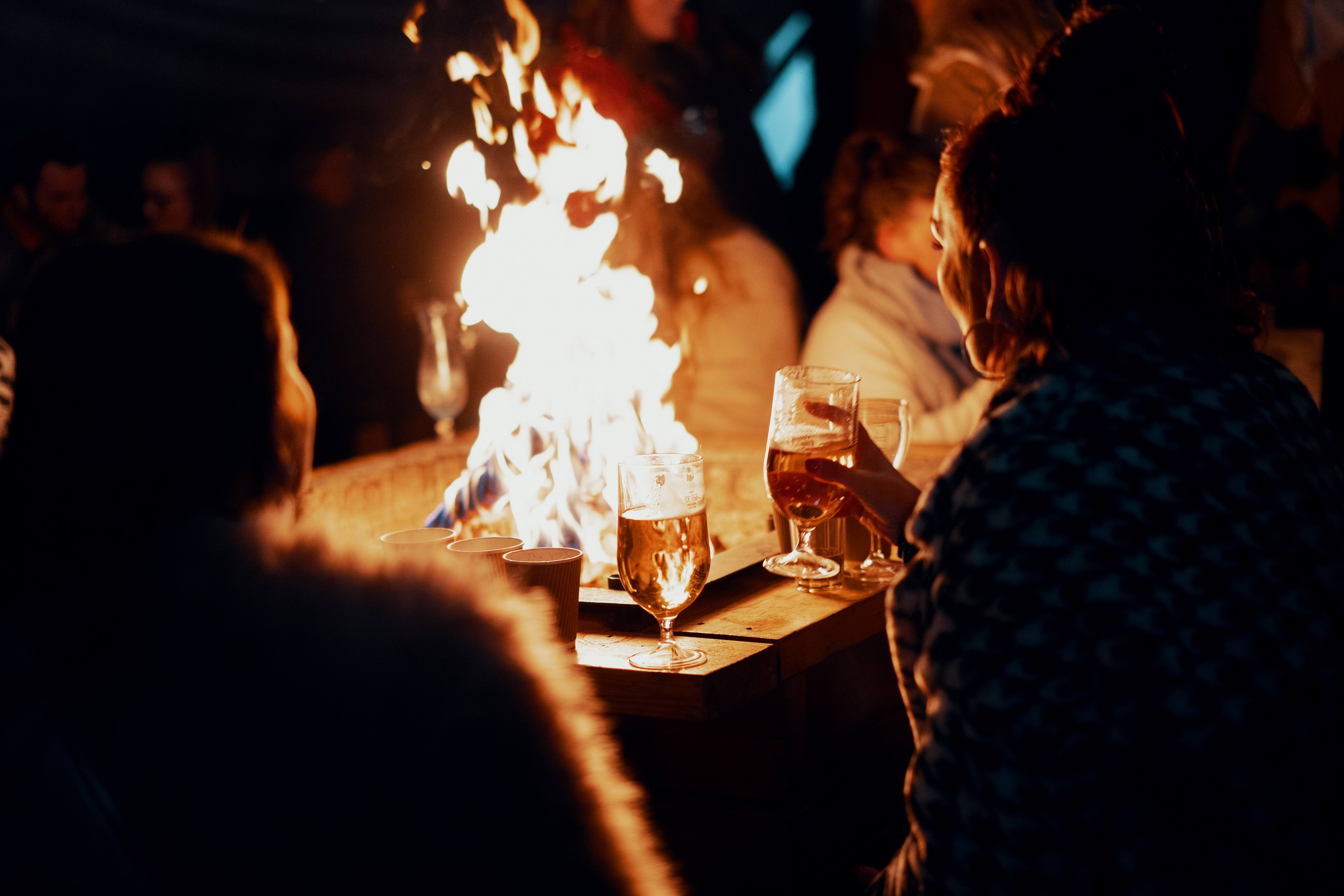 If you are looking to build a new home one thing is for sure, indoor-outdoor flow is key when it comes to deciding on the final layout and design. Take a look at any building company and their new build options.
Functional and well utilised outdoor spaces are now a must-have no matter if you are located in the middle of the hustle and bustle of the town or a quiet rural oasis. Everyone wants their own outdoor haven. Throw in a fire pit and you've got yourself a spot you can enjoy all year round.
Traditionally fire pits were just holes, dug into the backyard, lined with stones and finished off by some wood thrown on top. With the demand for an outdoor social destination in the backyard, the evolution of fire pits is now going from strength to strength as more people are utilising their spaces by incorporating entertainment and relaxation hubs that can be enjoyed by all ages.
Another great benefit of incorporating a fire pit is that you don't need a huge budget. There are many affordable options out there. However, if you are wanting to splash out there are numerous options to consider that can suit any style. They are also super transportable so you never have to leave your fire pit behind.
In this blog, we have pulled our top 6 fire pits that are on the market here in New Zealand. They range from style, functionality and price.
Living & Co Fire Bowl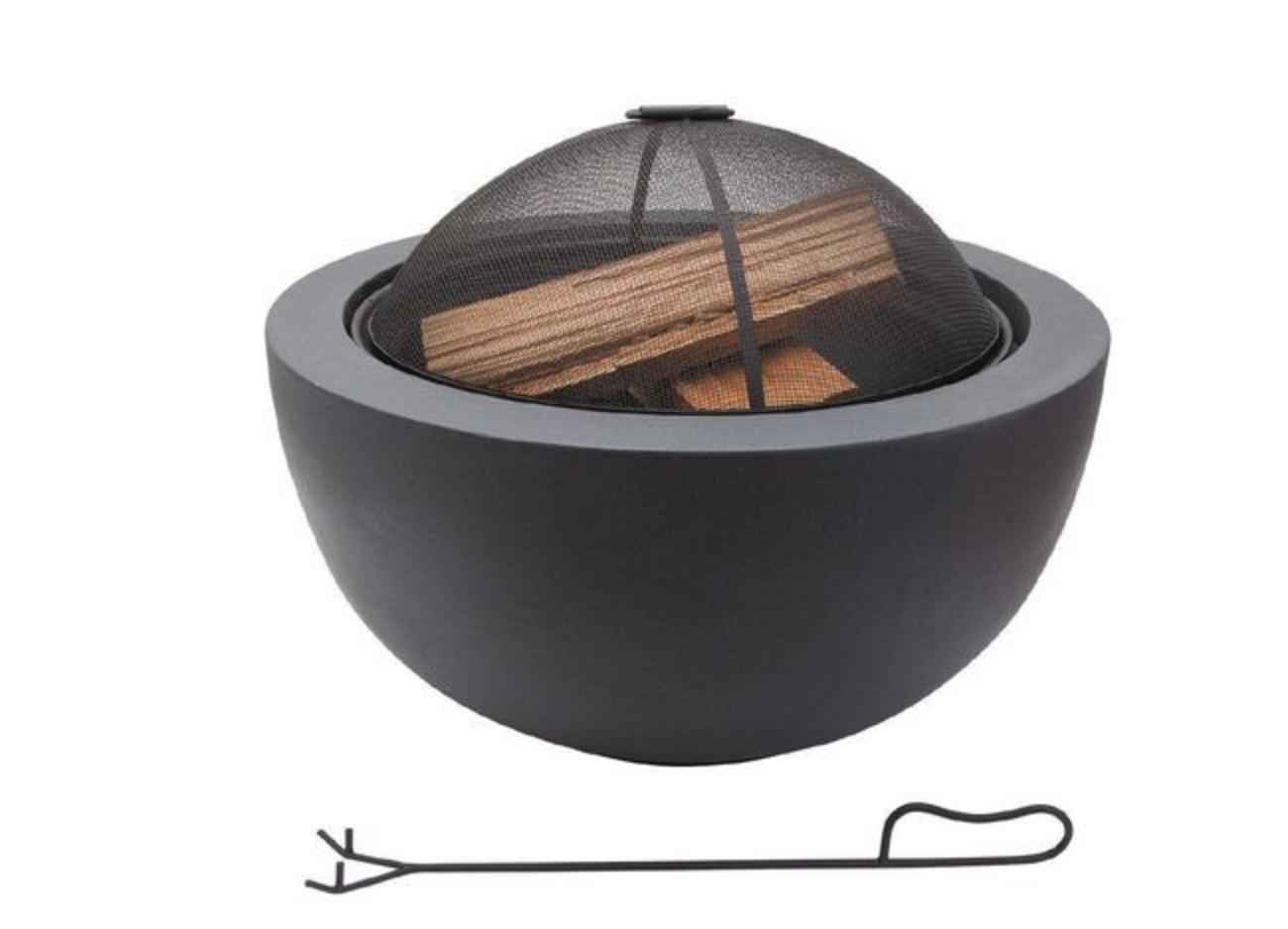 This sturdy Durable Faux Stone Fire Bowl helps keep those chilly evenings and nights warm while complementing your backyard or patio. This transportable fire pit can move freely around the section, you can even take it with you camping, the options are endless with this compact and lightweight fire pit option. This fire pit can be fuelled with either wood, logs or charcoal, it also comes with a dome fireguard to help stop embers from spitting out onto your lawn .
This fire pit is a steal for only $127.20
600mm (L) x 600mm (W) and 465mm (H)
The Mercer cast stone fire pit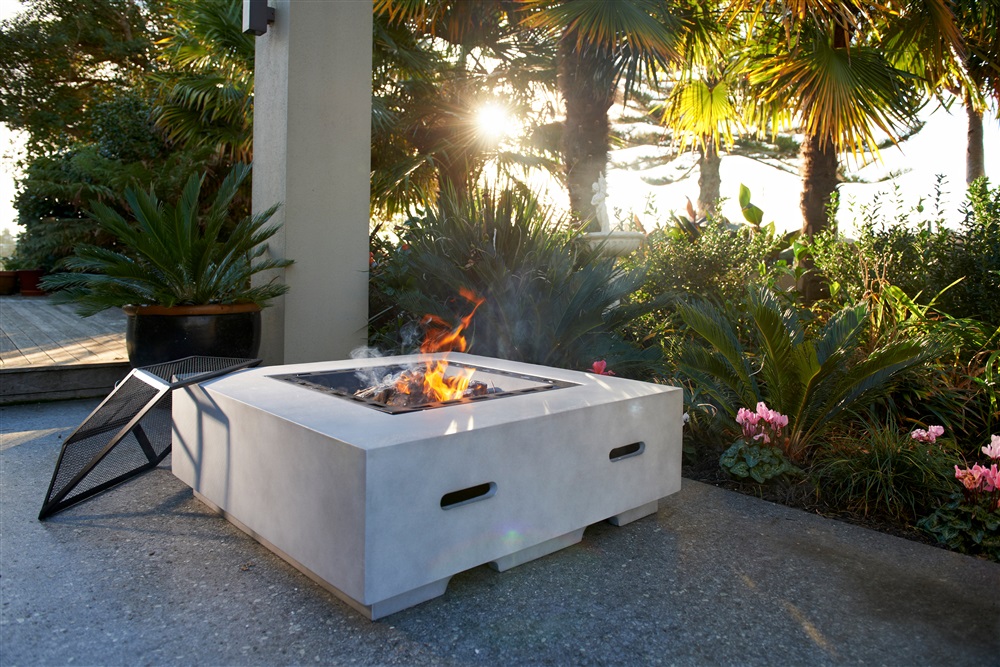 The Mercer Cast Stone fire pit is a beautifully handcrafted modern design made from lightweight concrete composite. Weighing 30kgs this fire pit can easily be moved around your outdoor area if needed. If you decide on selling up your home it can also easily be moved with you. This design includes a powder-coated fire bowl which can hold a large amount of wood. The concrete finish can suit many outdoor settings with its versatile design.
Price: $799.00
880mm (L) x 880mm (W) and 450mm (H)
Outdoor Firepit with Swingarm Grill
This creative design doesn't just keep you warm on a cooler evening, it also acts as a pizza oven or BBQ grill. Manufactured from 3-4mm mild steel, the Pizza Pit 70 includes a complimentary removable swing arm which allows for food items to be cooked simultaneously on the grill whilst the increased oven space can also be used for cooking that tasty pizza. Not a pizza fan? that's ok because the oven can also be used to cook roasts.
Price: $1,299.00
800mm (H) 700mm Diameter x 230mm depth
Concrete Round Fire pit
Create a zen-like ambience in your outdoor space with this Round Concrete fire pit by Design Warehouse, its round shape, size and concrete exterior make it a perfect fit for many spaces.

Their gas concrete fire pits are expertly designed and constructed so you don't have to worry about the cleanup that a wood-burning fire pit creates. The gas fire also provides ample heat to any relaxing area, turn it up or turn it down for your comfort. This fire pit is easy to use and can be hooked up to your gas line with the help of a professional gas fitter, or they can be connected to a refillable propane tank.
Price: $3,695
1070mm (W) 1070mm Diameter x 400mm (H)
Cortenz Curve Steel Fire pit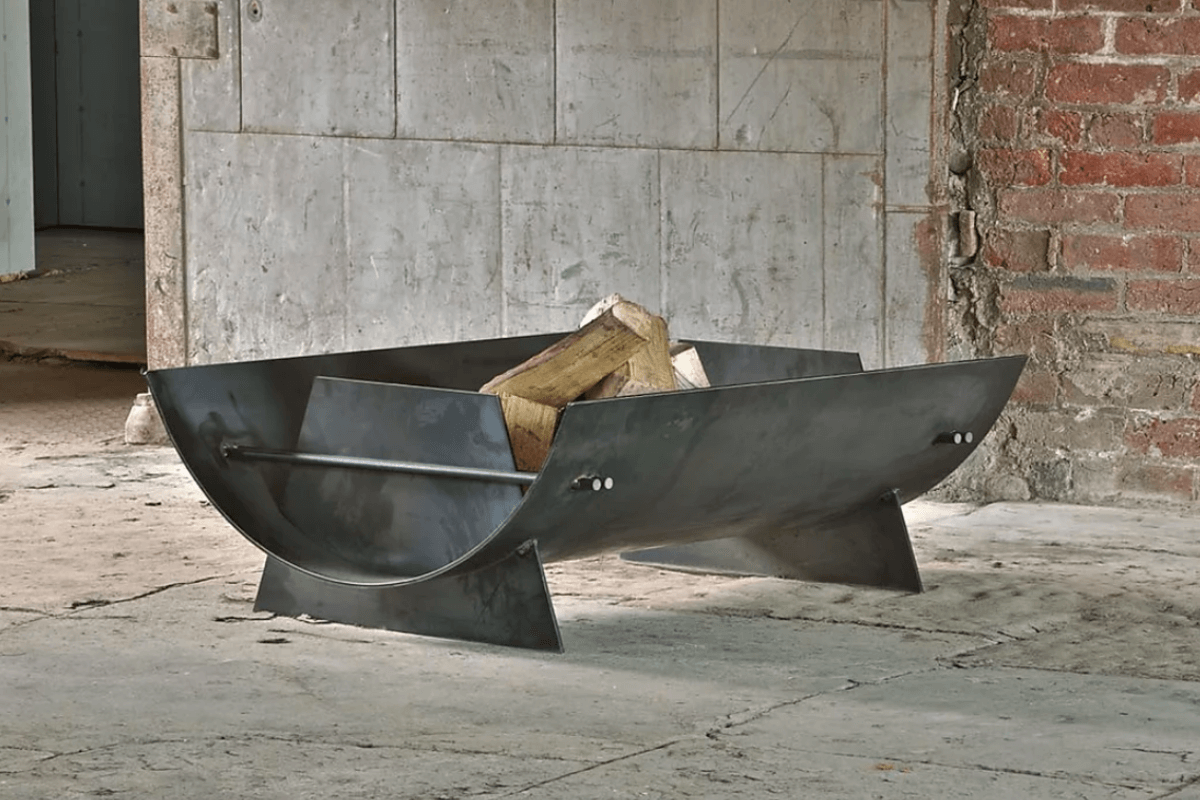 This simple yet stylish fire pit screams practical with a little bit of difference. Its unique style can be placed and used on either concrete or grass areas.

Maintenance is also very low key with this fire pit, made with 5mm Corten steel. Apart from piling this fire pit with wood, it barely needs any cleaning, it will need the odd empty of built-up ash now and again (depending on use). Like all of the other smaller more simple fire pit designs, this steel fire pit option can be transported to multiple locations for maximum usage.
Price: $896
350mm (H) 1000mm (L) x 750mm (D)
Trendz outdoors Fire Pit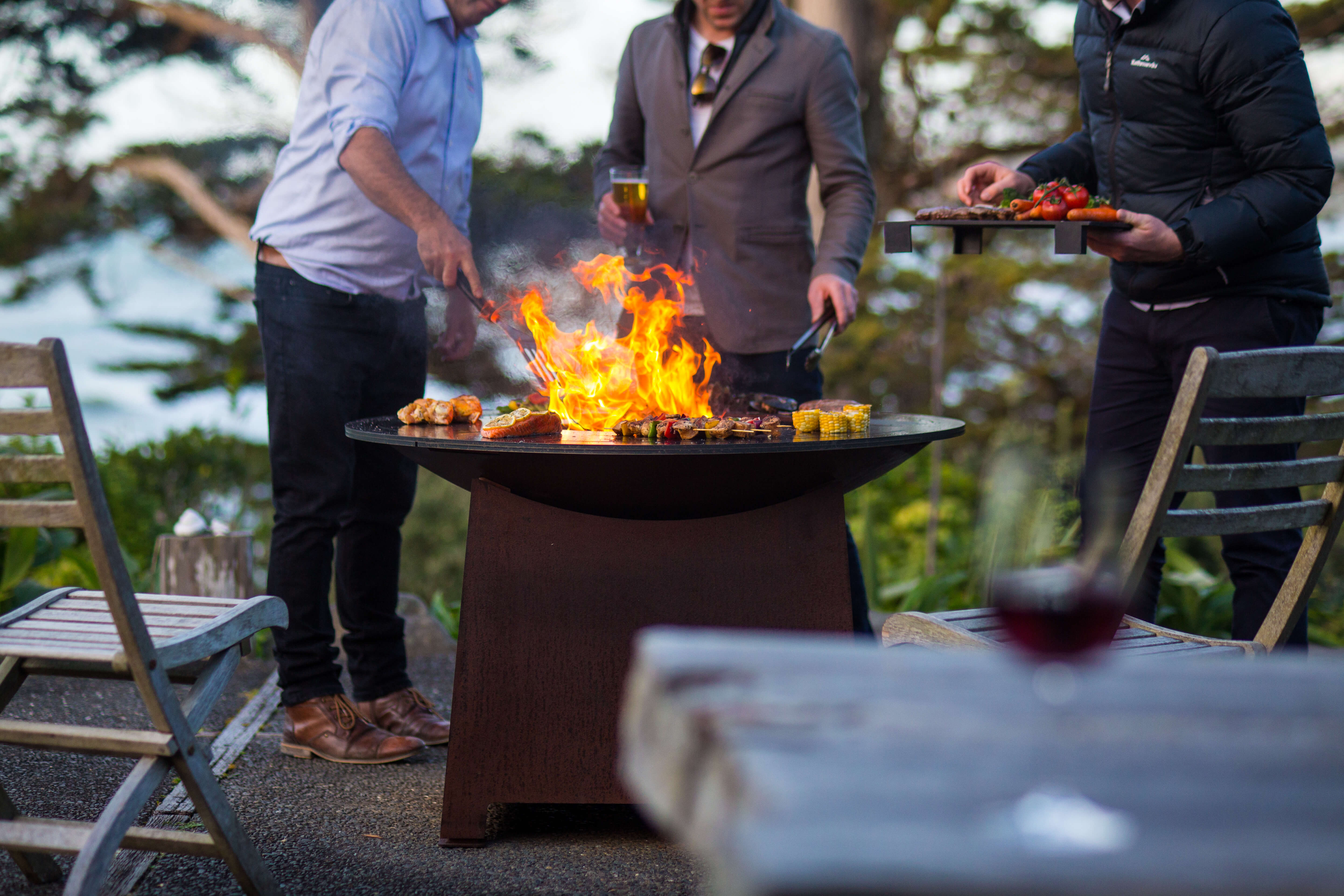 Our brand new Trendz Outdoors fire pit not only delivers a unique feature with a classic designer look but also offers a practical cooking station in the comfort of your back yard. Perfect when you have family and friends over, or reduce the kitchen mess by enjoying the cooking station after a long day at work.

The Corten steel stand and firewood storage have been pre-rusted to create an industrial finish, rich in colour and sure to create a focal point in any outdoor space.

The Corten bowl can be used with or without the grill and hot plate to offer a traditional fire pit experience or an entertainment centrepiece.

This design is also able to be transported to multiple locations so you're not restricted to one area, especially if you are wanting to enjoy an evening spent outdoors in any weather condition. Let's be honest we all know how unpredictable our New Zealand weather can be. Especially that onshore breeze.
Price: Download our brochure to view the price
700mm (H) 1100mm (W) x 1100mm (D)