What are the benefits of an outdoor entertaining area?
Posted by
Ashley Lawry
on
December 8, 2022
Outdoor living is a big part of the New Zealand lifestyle, with summers spent by the pool and winters curled up by the fireside. But if you're overwhelmed with DIY projects and landscaping ideas, it can be hard to remember what it's all about.
In order to create the atmosphere you want in your backyard, you need to consider what it is about outdoor living that is important to you. That way, you can get to work creating the ultimate outdoor area for your lifestyle.

To help you out, we're outlining 6 key advantages of outdoor living spaces as well as 5 ways to elevate an outdoor area so you can make the most of them. Let's dive right in.
6 benefits of an outdoor entertaining area
There's a reason Kiwis love adding outdoor entertaining spaces to their homes — in fact, there are 6 key reasons that spring to mind. Let's explore each in a little more detail:
1. An outdoor living space adds value to your home
As we've already alluded to, spending time outdoors is a core part of the New Zealand lifestyle, particularly during barbecue season! So, if you want to increase the value of your property, consider creating an inviting outdoor space that buyers will love — whether it be a sheltered bench seat among the plants, a full-sized outdoor room, or something in between.
2. Outdoor entertaining areas encourage time spent with family and friends
With the right layout and design, an outdoor space can encourage people to gather and spend time together. Whether it's a balmy summer evening or a cosy winter night by the fire, you'll find everyone wants to enjoy the welcoming atmosphere.
3. When designed well, outdoor areas can expand your living space
An outdoor entertaining area can add a lot of extra living space to your home, especially when you have great indoor-outdoor flow. Simply add a deck, patio, or enclosed outdoor room to make the most of what you already have — every square metre helps.
4. Outdoor spaces enhance recreation and relaxation
Having a well-designed outdoor area can encourage you to spend more time doing the things you love. Whether it's gardening, soaking up the sun, reading a book, or playing games with the kids, your backyard allows you to live your dream lifestyle.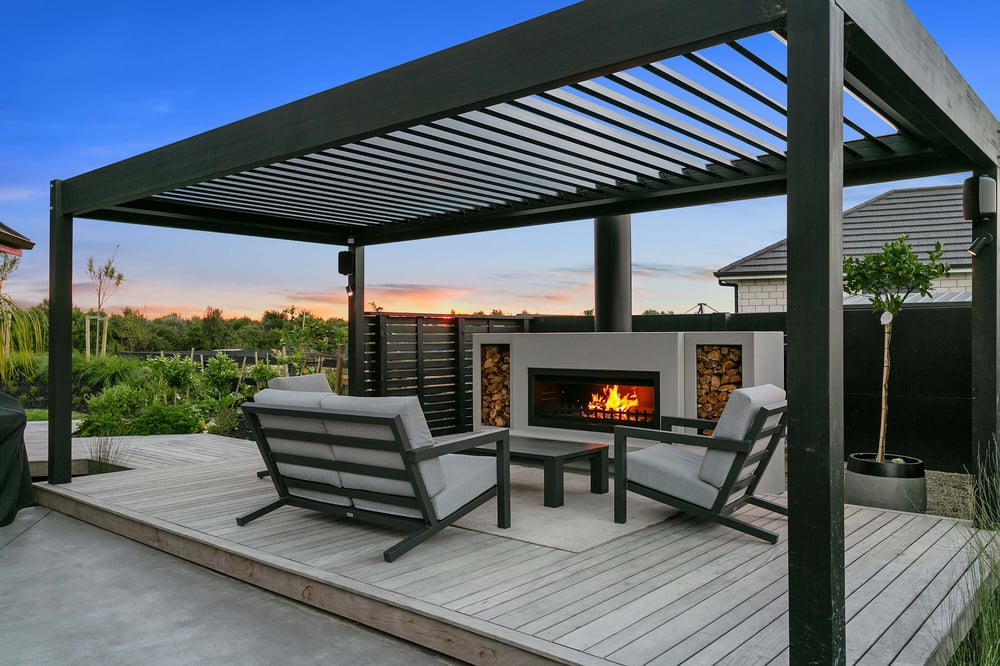 5. Having a well set-up outdoor area could save you money
If your outdoor space is set up just how you like it, you might find you want to spend more time in it than on holiday or out at your local restaurant. After all, there's nothing like enjoying wood-fired pizza in your own backyard. So save money and have a staycation every weekend – with all the comforts of home right at your fingertips.
6. Outdoor living spaces can improve health and wellness
It's no secret that nature is extremely beneficial for our health, so why not take advantage of it? Being outdoors is proven to lower stress levels, ease mental illness, enhance child development, and even improve sleep. And if your backyard feels like an extension of your home, it can be a space to enjoy these benefits any time of the year.
5 ways to elevate your outdoor area
Now that we've explored the benefits of an outdoor entertaining area, let's take a look at some of the ways you can transform your backyard into a functional and attractive space. The following are a few of our favourite methods:
Adding louvres
To make your outdoor area usable all year round, a key consideration is adding sheltered areas. While you could achieve this with shade sails or a veranda, we suggest looking at louvres.

Louvres are an adaptable and stylish choice that will truly elevate your outdoor entertaining area. Operable louvres can be opened and closed depending on the weather, meaning you can enjoy the space rain or shine.

Louvres improve your outdoor living by:
Providing shade and shelter from the rain

Protecting outdoor furniture

Extending your home's living space

Creating a seamless transition between inside and out



Incorporating an outdoor kitchen
There is no denying that food is a central part of the ideal outdoor lifestyle, so consider installing some kind of cooking facility in your backyard. Whether you like to entertain the masses or have more intimate gatherings, consider where you can prepare, cook, and serve your delicious dishes.

Popular features of outdoor kitchens include:
An outdoor fire with a built-in grill

A barbecue

A sink and prep area

A drinks fridge
Having a dedicated dining area
Once you have the food fresh off the grill, you need somewhere for your guests to enjoy it. Whether it's a counter height bar or a large dining table, make sure to consider how many guests you're inviting, the style of food you'll serve, and how it complements your personal style.

Additional dining accessories can include:
Linen napkins and tablecloths

Vases with fresh-cut flowers

Placemats and coasters

Candles or lanterns

Installing a spa pool
For the ultimate relaxing atmosphere, consider installing a spa pool or hot tub in your outdoor space. A good soak promotes blood circulation, eases stress, and can even improve sleep – not to mention your friends will always want to visit.

For a premium spa experience, you can also add the following:
Tropical palms

Privacy screens

Candles and ambient lighting

Towel and robe hooks

Aromatic shrubs and flowers



Integrating outdoor seating areas
For a lot of us, one of the main priorities of outdoor areas is having somewhere comfortable and inviting to sit. Whether you have a large patio or a small enclosed balcony, be sure to choose a chair or lounger that draws you in. And don't worry, there's something for every style and budget.

To take your outdoor seating area to that next level remember to accessorise with cushions, throws, and even an outdoor rug. Adding accessories to the seating area will not only make it more comfortable and functional, but they can also add a sense of style that is sure to attract guests.

Outdoor seating options include:

Full lounge sets or patio furniture

Statement chairs
Bar stools
Reclining loungers
Bean bags
Including an outdoor fireplace
Call us biased, but we wholeheartedly believe that an outdoor fireplace is a great addition to an outdoor living area — and there are a few reasons for this. Not only does a fireplace create a great focal point, and add warmth and ambience to the space, but it can also increase your property value by more than 10%!

If you're truly looking to elevate your outdoor space, you can't go wrong with an outdoor fireplace. With so many different sizes, finishes, and cladding options available you can easily achieve the look and feel you're going for.

Outdoor fireplaces provide many advantages, including:
Cooking capabilities

An appealing atmosphere

Effective heat output

A striking design focal point



Trendz outdoor fireplaces NZ
At Trendz Outdoors, our outdoor fireplaces are designed with you in mind. They're easy to install, stand the test of time, and provide the appropriate amount of heat. They're also customisable, so you can choose from a range of cladding types and accessories to match your landscaping design.

Our fireplace cladding options include:

Bare concrete

Plaster and paint
Schist (custom done on-site)
Brick (custom done on-site)
River stone (custom done on-site)
Mixed materials (custom done on-site)
Our accessories include:
Polished concrete hearth
Glass-reinforced concrete hearth
Steel wood boxes
"We have two of the Trendz fireplaces (the Burton and the Mini Burton) and we love them. That is why we are back for a third!
The service is fantastic and the last one came fully completed which was great. We hi-abed it into position and within half an hour, we had a fire going." – Richard Cawson
Want more outdoor area ideas? Check out this guide full of landscaping tips, design inspiration, and industry insights to make your backyard the place to be.