9 easy ways to add value to your home
Posted by
Ashley Lawry
on
July 12, 2022
Adding value to your home is a worthwhile activity whether you're looking to sell or stay put for years to come. A house is most people's largest financial asset and increasing its value can yield significant rewards. From unlocking additional equity to getting the best price when it comes to sale time, there are dozens of reasons why adding value to it is a great idea. So what are the best ways to improve your property that are quick, easy, and cost-effective?
If you want your home to impress potential buyers, or friends and family when they come to visit, you'll need to create unrivaled appeal, which means keeping up with all the latest home trends and products. That's why we've put together a list of features that add a wow factor to any home without requiring a major overhaul. These ideas are quick to install, inexpensive, and add much to the appeal of your home. Armed with these tips you'll be able to increase the value of your home in no time, so let's get started.
1. A smart home system
Smart technology is the way of the future and many home buyers are willing to pay more for a house that has well-integrated smart home features. A smart home system allows you to automate your home appliances such as lights, alarms, entertainment devices, and fridge. This means the house is easier to manage, is better connected, and is much more energy-efficient. Examples of fixed smart home elements that are sure to impress include:
How much could a smart home system increase a home's value by? According to one US website an automation system, like the home control system listed above, could increase the value by between 5% and 35%.
2. An electric vehicle charger
2021 was a record year for electric vehicle registrations in New Zealand with over 6,700 new cars registered in that year alone. Plug-in hybrids saw over 2,500 sales during the same period and some outlets predict that as many as 13,000 EV and plug-in EV vehicles could hit the roads in 2022. Attracting drivers of these vehicles could make a big difference to the appeal of your home.
As fuel prices continue to rise and the climate crisis looms, electric cars are becoming increasingly popular. By adding an electric vehicle charger to your property, you can add significantly to its appeal. Using a home charger like this one is faster, cheaper, and more efficient, so many home buyers will be willing to invest in a house with one already installed.
Some countries are moving to make the installation of electric vehicle chargers in new builds mandatory. So including one now may simply be about keeping up with future expectations.
But does this increase the value of a home? A survey by a UK car leasing firm found that 76% of houses with an EV charger installed had a higher value than the local average.
3. Hot tubs and outdoor baths
A hot tub is a popular feature amongst home buyers because it adds luxury and encourages outdoor living. If you do choose to install a hot tub, we recommend incorporating it into the landscaping and home design, like this one. The value a hot tub or outdoor bath contributes to a property increases by how integrated and elegant it is. So plants, decking, pathways, and lighting that help set the scene, are well worth the extra investment.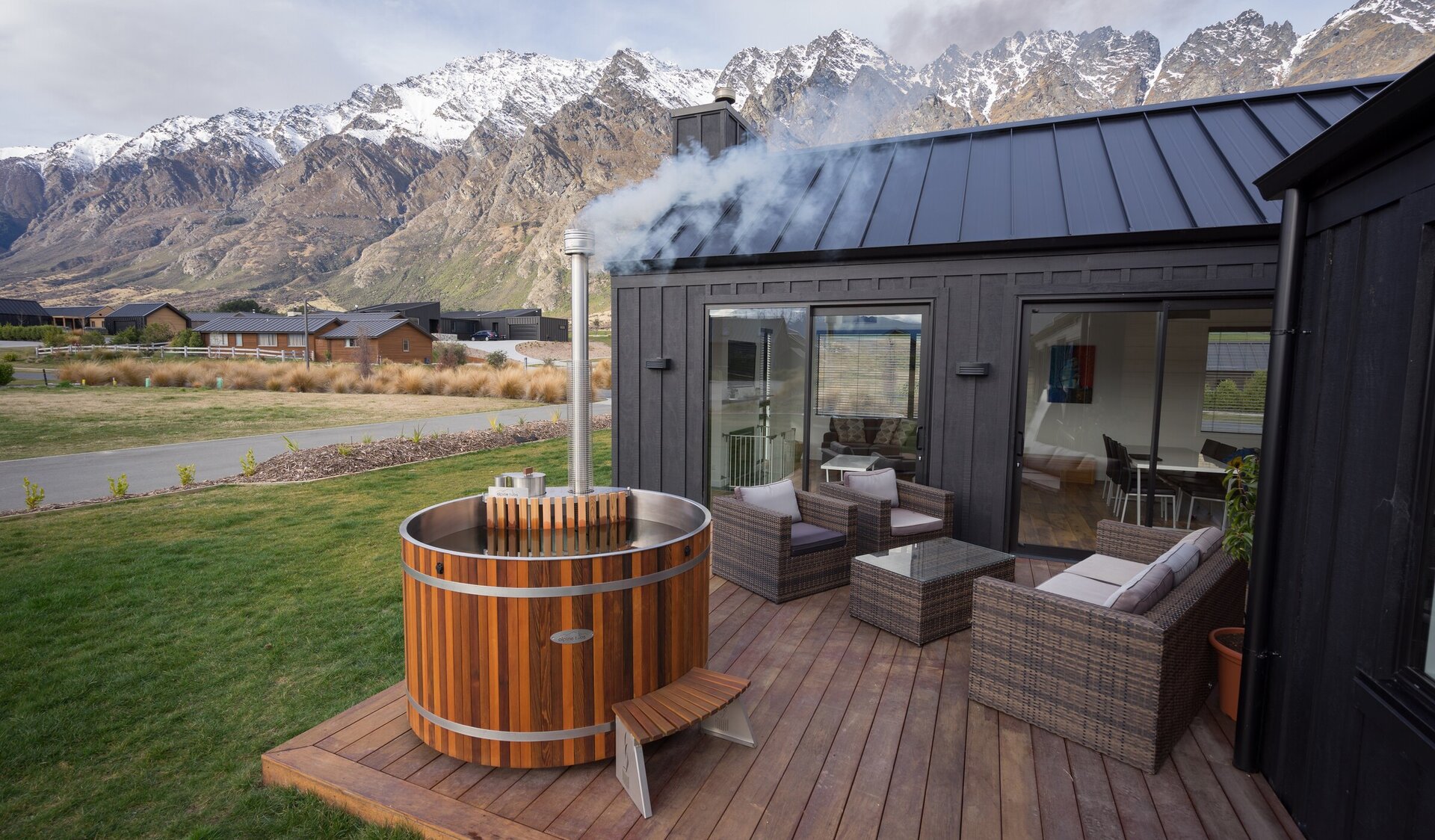 Image sourced from Alpine Outdoors.
4. Carpeted garage
Carpeting your garage turns what is usually cold and drab into a warm, inviting, and functional space. Many people are turning their garages into home gyms or man caves so adding carpet is a great way to cater to that market. Carpet adds a layer of sophistication to what is otherwise a boring, unappealing part of your home.
While carpeting your garage might not have a fixed amount that it increases a home's value, it can increase the appeal of the space to multiple buyers. Rather than being a simple shell of a room, a carpeted garage adds possibility to the space. It's a more functional games room, home gym, or hobby space as a result of carpeting. As we know, more potential buyers mean more competitive offers so increasing a home's appeal may pay off in the long run.
5. Floor-length curtains and drapes
One common thing that drags the value of a house down is when the curtains and blinds are incorrectly sized for the windows. Budget curtains tend to be shorter to skimp on fabric, but this is a sure-fire way to cheapen the look of your home. If you want to give your home a high-end feel, installing custom-made, floor-length drapes is a smart starting point. It's also worth noting that thermal curtains add a significant amount of value to a home because of their insulating capabilities.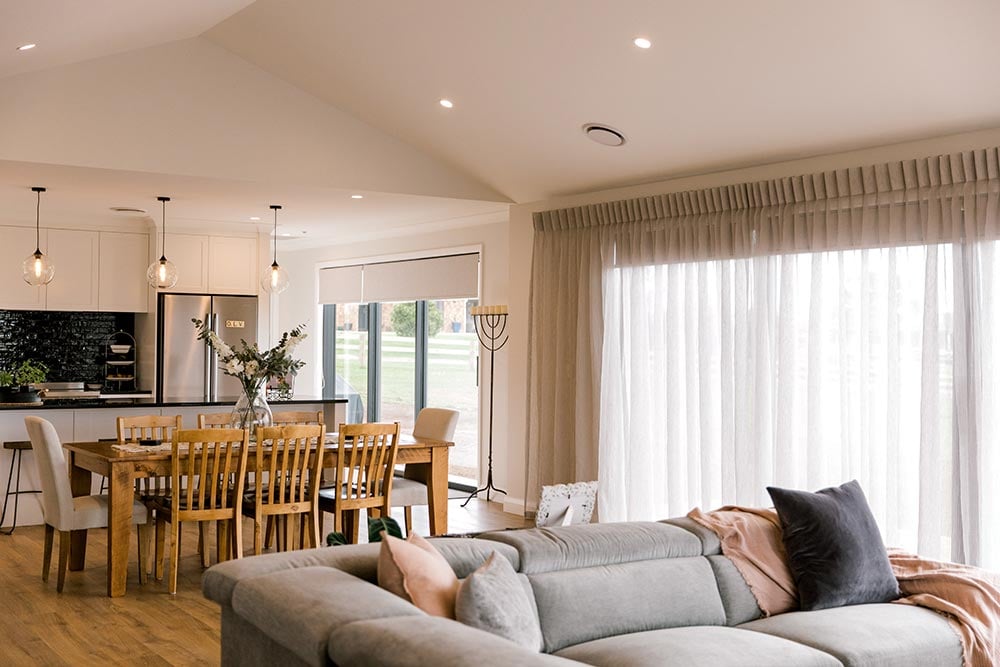 Image sourced from Tenille Dyer Interiors.
Curtains might not impact the final sale price of a home as they can be removed but they definitely make the open home a more enticing experience.
6. Plumbing upgrades
Water filters are increasingly popular because they remove harmful contaminants from a home's drinking water supply. Many buyers will be impressed with a quality filtration system because of the health benefits that come with it. Where most houses have bacteria build-up and heavy metals leached into the water supply, your water will be safe and pure which is something many home buyers are looking for.
Adding an in-sink food disposal system is also a popular upgrade and can reduce the waste a household puts into the landfill. Additional upgrades to your home's plumbing may include installing more modern tap-ware or, if you want to expand your upgrades beyond the water works then de-misting mirrors and heated towel rails in the bathroom can go a long way.
7. Louvres and outdoor rooms
Outdoor rooms are another popular feature for outdoor living spaces because they make outdoor entertaining comfortable all year round. An outdoor room is essentially a partially enclosed space that adds shelter, atmosphere, and function to an outdoor area.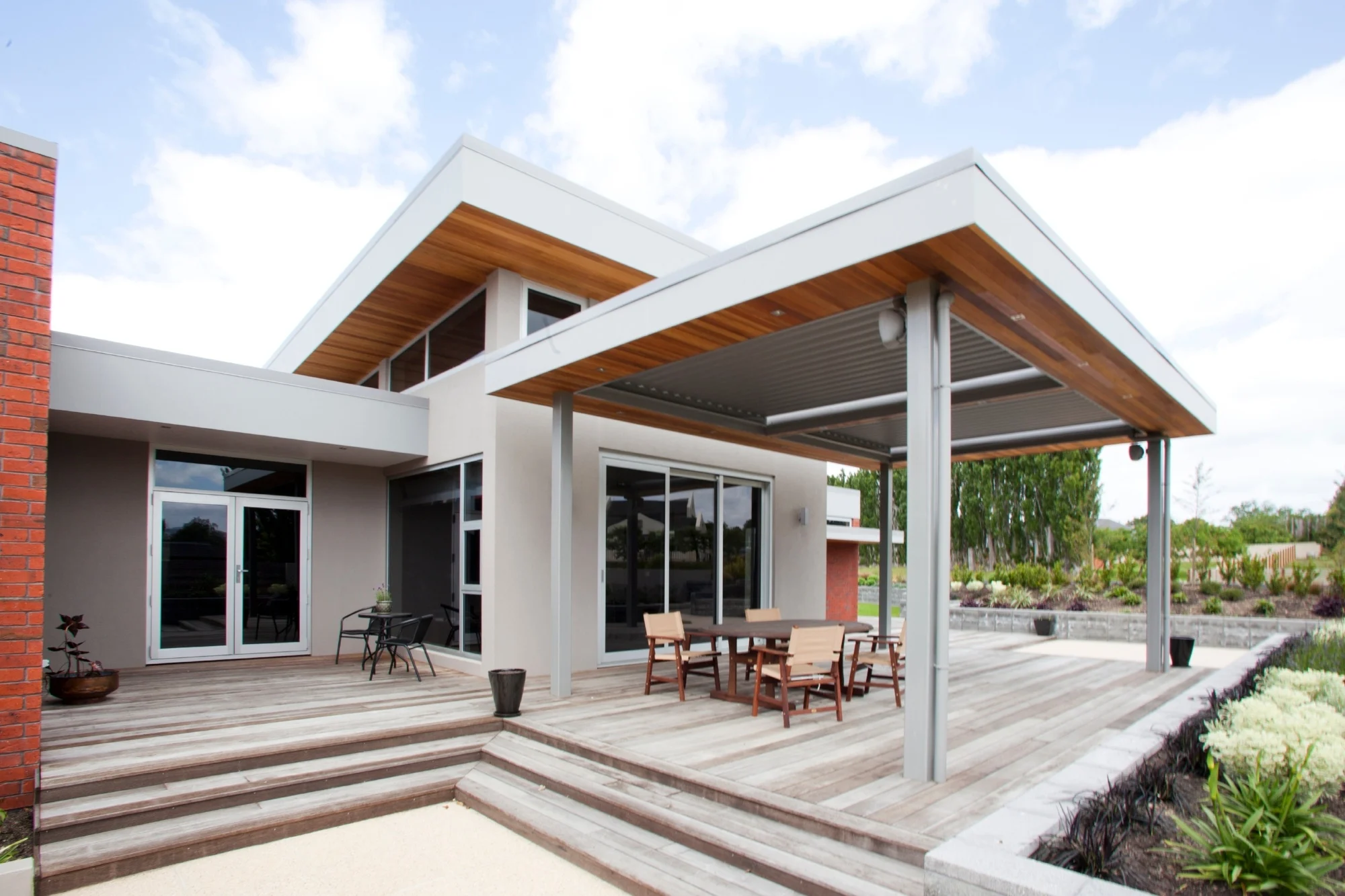 Image sourced from Aurae.
By adding a louvre roof system like these from Aurae, you can elevate your outdoor living no matter what your needs. They protect you from the elements, expand your living space and create a unique design appeal that buyers are bound to like. It's estimated that backyard improvements, like adding an outdoor room or pergola, can increase the value of a home by 50% - 80% of your investment.
8. Outdoor cooking facilities
Speaking of outdoor living, being able to cook outdoors is a surefire way to impress prospective home buyers. Whether it be a BBQ, pizza oven, or fireplace with a grill, there are endless options available to give your outdoor cooking a new level of sophistication.
The key here is to make your outdoor kitchen as functional as possible, while still producing impressive results. A good example of this is our Grande pizza oven which cooks authentic wood-fired pizzas all while adding to the atmosphere and aesthetics of the landscaping around your home. Impressively, outdoor kitchens are claimed to increase the value of a home by between 100% and 200% of the money spent on the outdoor kitchen itself.
9. Add an outdoor fireplace
For an outdoor space to be used throughout the year, it needs to have a warm, inviting atmosphere and the best way to do this is with an outdoor fireplace. Installing an outdoor fireplace is the most effective way to add practicality and wow factor to your landscaping in one spectacular focal point. They're easy to install and instantly add value to any home, making them a natural choice. In fact, the team at Trendz knows this can add tens of thousands to a house value so surely that's worth looking into!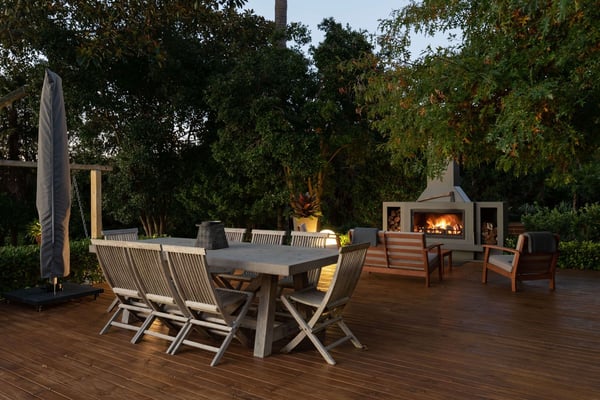 Douglas Fireplace from Trendz Outdoors.
An outdoor fireplace can increase both the appeal of a property and its value. In fact, several New Zealand real estate agents have told us that an outdoor fireplace could actually increase the value of a home by 10% or more. We've received similar feedback from customers who have gone on to sell their home too. Hear what one recent customer shared with us below.
"The fireplace looks great and we are certain it was instrumental in us successfully selling our house. The purchasers absolutely loved the outdoor area. We loved the end result too."
Outdoor fireplaces are effective for heating large outdoor spaces and contribute an incredible ambiance that buyers love. It's an attractive addition to any garden and encourages outdoor living regardless of the season. They can also be stunning architectural features that tie an outdoor space together with the house by seamlessly blending the natural and modern elements. If you're wanting to add luxury, style, and flair to your property, you can't look past an outdoor fireplace.
If you want a quick, easy, and cost-effective way to add value to your property, outdoor living is a great place to start. We recommend looking for features that add functionality and style in equal measure to effortlessly tie your home design together.
To find out more about our outdoor cooking options and fireplaces, check out our full range of products.