Choosing the right fire pit
Posted by
Charlie Lawry
on
October 20, 2019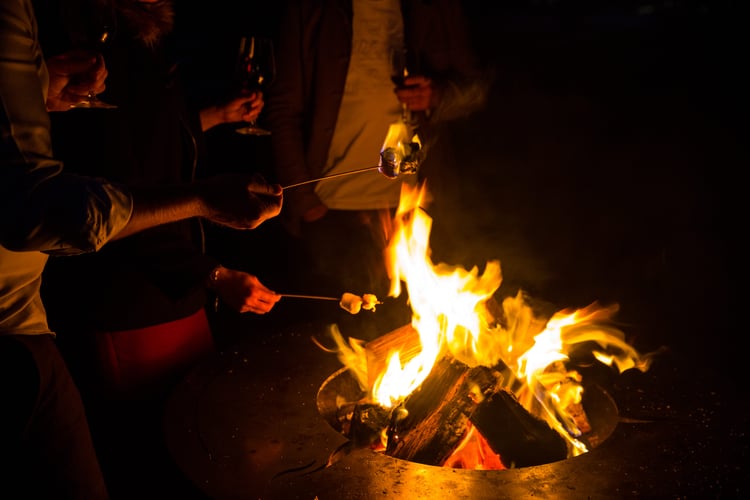 Fire pits are a great centrepiece to any outdoor space. Portable, easy to dismantle and ideal for smaller entertaining areas; they provide heat but a new generation of fire pits also offer some form of cooking feature too. This added functionality means you're no longer relegated to roasting marshmallows as your edible entertainment and can, instead, cook entire meals while sitting around enjoying the warmth.
With cheap fire pits readily available and more luxurious options entering the market we want to share a few things you should consider before buying a fire pit. After all, spending a few hundred dollars on a cheap one may not seem like a lot but it's gone up in smoke if you never use your fire pit because it's not fit for purpose.
Choosing your fire pit
There are often key considerations people have in mind when going to buy a fire pit. The most common ones are:
Price of the fire pit.
Size of the fire pit.
Quality of the materials used.
All three interrelate and form a triangle where a large, good quality fire pit isn't going to be cheap. Likewise, a cheap but large fire pit isn't going to be good quality. As a buyer of a fire pit you need to know what you're willing to compromise on and where you can't afford to skimp.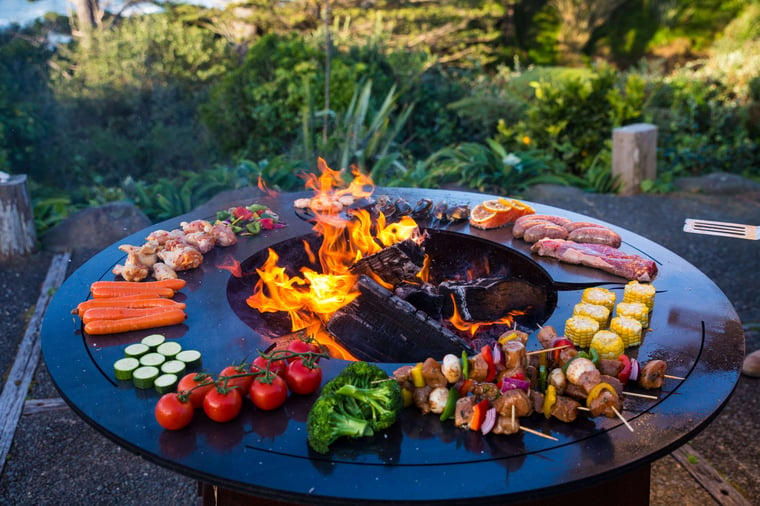 Quality is definitely an area that should get more attention than it sometimes does. After all, if you buy a good quality fire pit it will last a lot longer than a cheaper one. This is key when you look at whether you want to be buying 2 or 3 cheaper fire pits in the same time frame as someone that spent three times as much on one that's still going.
Quality is a big factor in fire pits because they're subjected to conditions that quickly destroys low-quality materials. Cranking them up to high heats and having the metal cool quickly will buckle cheap metal while adding exposure to rain, cold air and food oils will further exacerbate the issues. Some metals will rust quickly and holes will begin to appear in the bowl. This will cause extra air in and the heat will distribute unevenly. You may even have wood fall through the bowl if things get too bad!
Better to choose materials that will stand the test of time. After all, isn't it better to have your guests enjoy the fire pit rather than wonder whether it will last the night! Steel fire pits aren't all created equal so ensure you're buying a good grade of thick steel.
Discover more on our Fire pit here ››
Using your fire pit
If you're after a bowl to hold wood that kicks out a bit of heat then almost any fire pit can achieve that, but if you want a social centrepiece where guests can cook food and experience something worth talking about, then most fire pits won't cut the mustard.
Premium fire pits will come with some form of grill for you to cook things like kebabs and steaks, but cooking fire pits offer something with a bit more of a wow factor. Hotplate edges are really handy for even distribution of heat and frying things like eggs, cherry tomatoes and mushrooms. The addition of a cooking hotplate means small items can be heated through with ease - and removed the exposure to the naked flame which can dry out some types of meat as it loses the juices more quickly.
If you intend to leave your fire pit outside then opting for one with a cover will save you from emptying the bowl of water each time it rains! Some fire pits include wood storage underneath the bowl which not only ensures the wood supply is nearby but also means the heat from the bowl will gently warm the wood and dry it further - ensuring a good burn when added to your fire pit. You may also choose a fire pit kit instead of something that comes pre-assembled as this will enable you to more easily pack the fire pit down and transport it in the future.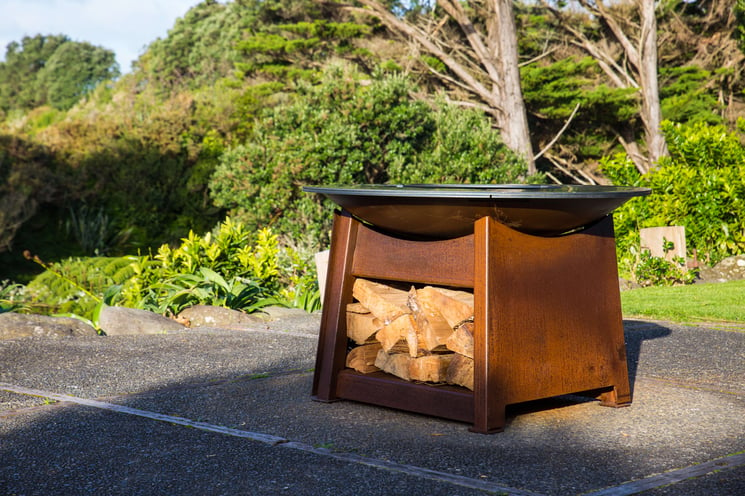 Maintaining your fire pit
A little care can go a long way. Rusting metal is normal, especially when the metal is exposed to both heat and water, like a fire pit is regularly. Keeping it covered will reduce the rusting but another idea is to embrace it and jump on a popular trend for pre-rusted metals.
This industrial look requires treatment to ensure it's adopted evenly over the surface being rusted and then requires ongoing doses of a special liquid to stop the metal from rusting excessively.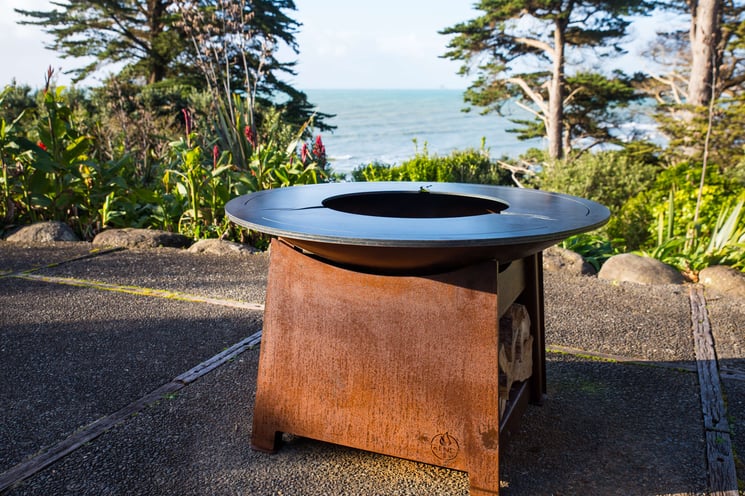 Keeping the hotplates wiped down (with a kitchen cloth while slightly warm) will ensure food residue doesn't attract insects and while it's a good idea to keep a bit of ash in the bowl it's good to clean this out periodically and to empty entirely if this ever gets wet.
At the end of the day your choice in fire pit comes down to whether you just want something warm for people to sit around or if you want a featured centrepiece that's a talking point for the entire night. And unlike Pizza Ovens, a luxury fire pit can often be taken with you when you go on trips away or when you move, meaning it's not an investment that's tied to the house.
If you're considering a premium fire pit to jazz up your outdoor space this summer, then download our brochure to learn more.