Twin Peak Outdoor Fireplace and Expedition Earth | A Collaboration
Posted by
Ashley Lawry
on
November 24, 2021
Located at Cavalli Coast in the Far North of New Zealand and hidden beneath a canopy of ancient pohutukawas and panoramic views, lies the breathtaking luxury cabin Faraway Cove. The cabin is located near to Kauri Cliffs Golf Course, a course ranked #37 in the world, and is alongside Mahinepua Walkway, one of the most spectacular walkways in New Zealand which winds its way for 7km through golden and black sand beaches, sheltered coves, and distant islands.
Faraway Cove is owned by Expedition Earth duo Bridget and Topher. The couple are both from New Zealand and have spent three years travelling the world, during which time they lived in their Jeep, Gunther, as they explored 67 countries while promoting environmental issues. Over the years they have documented their journey and shared their findings through multiple global media outlets, as well as their own social media channel. They have also generated a lot of media exposure worldwide as channels and followers frequently ask about their experience of living 'tiny'.
When Covid put a halt to their travels the couple headed back to New Zealand where they built a tiny home. Located on a section with three private beaches, bordering untouched Department of Conservation land, it's a small slice of paradise in an idyllic part of the country.
During their travels, the couple stayed at some of the most luxurious retreats in the world. Inspired by their adventures, the couple created Faraway Cove at the most idyllic location they could find in New Zealand.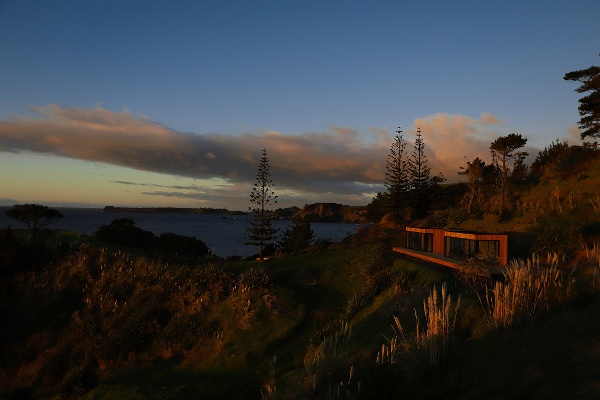 The home was built as a debut concept home by Isaac Lindesay of Makespace. The contemporary layout and design of each cabin is 7200 (w) x 3600 (l) x 3000 (h), and the total internal floor area is 50m2.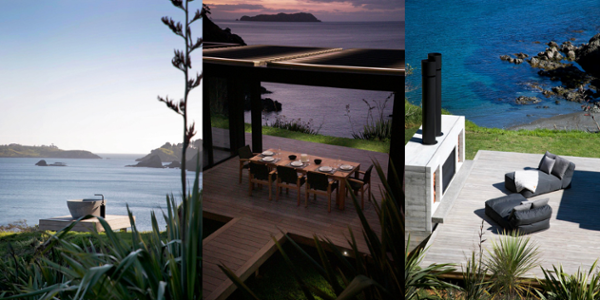 Trendz Outdoors was approached to work with the globe-trotting couple. We caught up with the pair to learn more about their latest build and why they chose to include our new outdoor fireplace, the Twin Peak. Here is what they had to say:
Tell us a bit about yourselves.
We are Bridget and Topher from New Zealand. On our second date, we were having a winter picnic in -5°C underneath Mt Cook when we realised we shared a mutual passion for adventure and exploration. That night we shook hands and made a pact that one day we would drive the world together. Now, four years later, we have driven across 67 countries in our Jeep named Gunther. Our journey, known as Expedition Earth, is currently on hold due to Covid travel restrictions. Gunther is parked up in an open-air car park in Moscow Airport waiting for us to return.
Tell us more about the project.
On our global adventure, we were invited to stay in some of the world's most spectacular accommodations, from luxury tree huts in Sub-Saharan Africa to cosy lake-side cabins in Scandinavia. We had drawn a lot of inspiration from these incredible places and wanted to create something special of our own once we returned to New Zealand; The Cabin at Faraway Cove.
What made you decide to build a tiny home?
After living inside our Jeep for a number of years, we have become acclimated to living in small environments and with this, realised that there can be a lot of unnecessary excess in life. We have definitely understood the saying "less is more".
How important was it to have an outdoor fireplace as part of the overall outdoor design?
Because of the size of the cabins, we do rely on an indoor/outdoor living configuration which means without an outdoor fireplace, almost a third of our living area would be redundant after sunset. We enjoy entertaining so the only way we can do this is by sitting outside. Even if you're out of range of the fire's heat, being able to see its flames can be enough to warm the body. It must be a primal instinct, everyone loves our Twin Peak!
What made you choose the Twin Peak Outdoor Fireplace?
We confess, aesthetics are important to us. We had been to see and feel every prefabricated fireplace available on the New Zealand market but none had the twin flu or scale we were looking for. Eventually we began designing our own custom fireplace but when we had it priced up and quoted from our builder, it was a very abrupt end to that road. When Trendz released Twin Peak earlier this year it was exactly what we were looking for.
Were there any challenges? If so, how did you overcome them?
Because our house is positioned on a steep bank overlooking the ocean, we knew it would be a precarious operation getting the Twin Peak into position. We arranged for a 12-tonne digger to be on site but when the Hiab turned up, the driver was able to reverse his back in and install the huge concrete profiles directly. It was actually a very quick and efficient process with only two or three people needed on site.
So there we have it. No matter the size of your home, a Trendz Outdoor fireplace can be the perfect addition to your outside space. If you're interested in following Expedition Earth's progress across the world once borders open up then follow them on Instagram. You can also keep track of how the pair are enjoying their Twin Peak from the official Faraway Cove Instagram page too.
Click here to learn more about the Twin Peak fireplace, or contact us to discuss how a Twin Peak fireplace can complement your new construction project or backyard setting.
Professionals used on this project:
Makespace, Fisher and Paykel, LouvreTec, Stuv, Rosenfeld Kidson, RAW concrete design, Plumbline, Coast New Zealand, Caesarstone, Devon, Kamado Joe.