Introducing our new outdoor fireplace: The Single Peak
Posted by
Ashley Lawry
on
June 8, 2022
Outdoor fireplaces are a functional and eye-catching addition to any outdoor entertaining space, and they come with a whole host of exciting features. Since launching our luxurious Twin Peak model we've received feedback from designers and homeowners wanting an equally striking option that is just one size smaller. We took that feedback on board, and are now excited to introduce our new Single Peak fireplace.

What's the difference between the Twin and Single Peak?
The Single Peak outdoor fireplace is designed to have a smaller footprint in your outdoor area, but that doesn't mean it has any fewer features than its Twin counterpart. The Twin Peak is known for its bold, elegant design and the Single Peak is no different. If you are looking for the impressive Twin Peak style but can't make the size work, you need to see how the Single Peak fireplace creates the same dramatic and beautiful focal point.
Size
If you are deciding between the Twin Peak and Single Peak outdoor fireplaces, the main difference you'll need to factor in is size.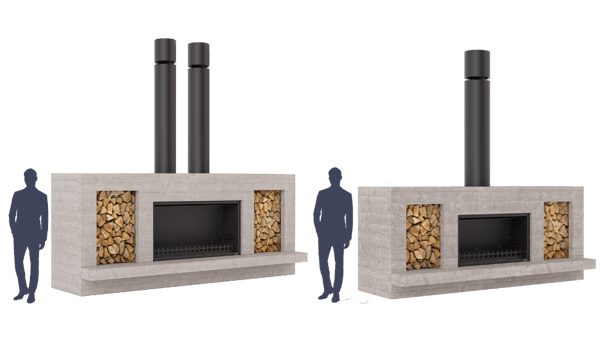 Twin Peak (left), Single Peak (right), side-by-side comparison.
The Twin Peak weighs a substantial 7000kg while the Single Peak weighs 6200kg. This is worth considering depending on how you plan to seat your fireplace. The Twin Peak is also 4150mm wide, compared to the Single Peak which is 3500mm wide. For a smaller garden space, you'll want to ensure your fireplace is proportional, so a Single Peak could be a better option.
With size, also comes heat. Even if your space can fit a Twin Peak fireplace, it's important to consider the amount of heat the fireplace will pump out, which for both the Twin and Single is a significant amount. It's important you balance the size of your outdoor setup with the size of your dream fireplace and desired heat levels to find the optimum balance.
Single Chimney
Both models have the same matte black stainless steel chimney flues, and matching rain caps to keep the inner workings of your fireplace dry. The difference - the Single Peak only has one while the Twin Peak has two. Due to its size, the Twin Peak needs two chimneys to effectively draw smoke, but the smaller Single Peak can draw it with only one and boasts a uniquely iconic look of its own.
Single Peak Features
In terms of size, the Single Peak is an innovative design, but we wanted to ensure it still had all the best features of the Twin Peak. It's an accessible alternative and gives you all the elegance and performance of its larger counterpart. The New Zealand lifestyle is centred on outdoor living, so an outdoor fireplace is a crucial addition to make the most of it. We're excited for you to see this new model in action, and all the benefits it has incorporated. Let's take a look at what they are.
Swinging cooking grill
The swinging cooking grill is a popular addition to our outdoor fireplaces because it makes al-fresco cooking simple and safe. The stainless steel grill is built to pivot in and out of the fireplace on hinges so that you can prepare food and tend to it with ease.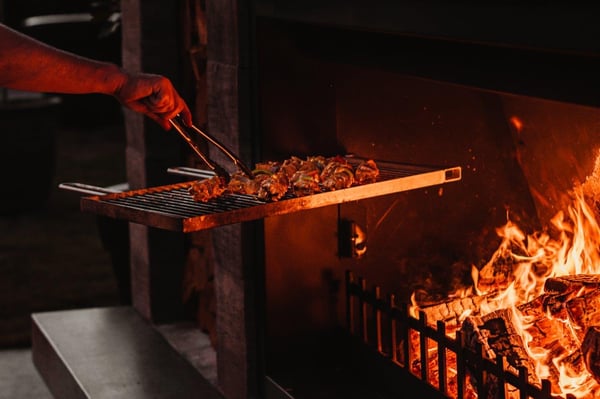 The swinging grill comes as a standard inclusion with the Single Peak outdoor fireplace and is easy to tuck away when not in use. This addition to the Single Peak means you can cook at a safe distance from the flames, or fold it back in to just enjoy the ambience.
Wood-grain finish
This outdoor fireplace comes as a complete concrete structure with a unique wood-grain finish suited to all styles. The texture adds a layer of sophistication and charm to any outdoor space, no matter your aesthetic preferences.
The concrete is poured into unique timber moulds to achieve the distinct appearance of the wood-grain, meaning no two finishes are ever the same.
Hearth
For the Single Peak fireplace, we've used the popular salt and pepper polished concrete hearth to contrast the look of the steel firebox. To add subtle colour tones, we've embedded river stones into the concrete which complements the grey and black of the overall fireplace appearance. Some designers have even added lighting beneath the hearth to add another dimension.
Not only does it look fantastic, but the smooth surface of the polished concrete is also easier to clean in case of any food that might drip off your swinging grill. Alternatively, if smooth isn't your style, the hearth is available in a raw concrete finish too.
Steel firebox
The Single Peak is engineered to heat a large space thoroughly, which is why we've designed it with a Trendz TF1200 steel firebox. This comes with a galvanised mesh door painted black to blend seamlessly, and also match the matte black stainless steel flue.
This fireplace might be smaller than the Twin Peak, but it still heats an outdoor space as far as 5m away when stoked up. You'll be able to entertain in any season and rely on the Single Peak to warm your guests all night long.
Wood boxes
One of the defining features of the Single Peak outdoor fireplace is its symmetry, highlighted by the built-in wood boxes on either side of the firebox. These wood boxes span an impressive 910mm high and 700mm wide, which means you'll have enough wood to burn for hours. Your wood will be dry, close to hand, and will even double as a decorative feature within the fireplace itself.
If you want to create an outdoor space with a warm atmosphere, next-level cooking capabilities, and style to match, then you can't look past the Single Peak outdoor fireplace. To visualise our fireplaces in your next outdoor project, you can download our DWG files or discuss your preferences with our team. You'll find all the FAQs, downloadable 3D designs, as well as the information pack on our new Single Peak fireplace page.