New Zealand's top home & outdoor shows
Posted by
Charlie Lawry
on
August 13, 2019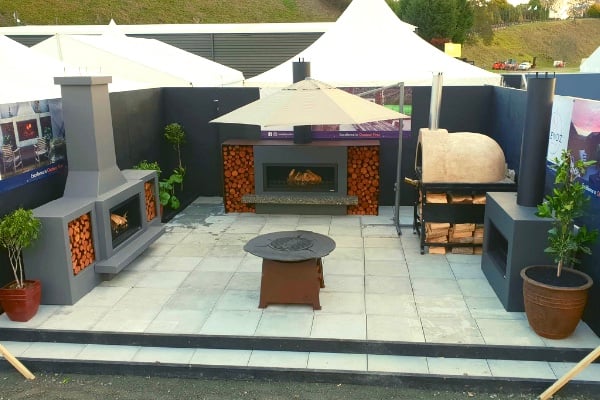 Outdoor living is interwoven into the fabric of kiwi culture. Did a summer even happen if there wasn't some backyard cricket (BYC to those in the know), an epic roadie or an absolute earwig of a summer song released by Six60 or Drax Project?
Many of these memories centre around hanging out with friends and the backyard is the perfect spot to create a memorable summer. Chances are you've wanted to make some upgrades to your outdoor area but you either struggle to find the inspiration or lack the motivation, and this is where going to one of New Zealand's home and outdoor shows can help.
Dotted throughout the year and across the country there are several major events to choose from. Each is well timed to give you the information and inspiration you need to get your backyard or outdoor area up to scratch before next summer.
So, in no particular order, here are the top home and outdoor shows across New Zealand for you to find everything you need to create more summer memories.
---

Auckland Home Show
With over 500 exhibitors (including Trendz Outdoors of course) this show hosts the latest design trends, services and innovations for your home and garden. From kitchens, bathrooms and appliances to lighting, home entertainment and outdoor fireplaces you can find everything you need to get your imagination fired up.
If you're not based in Auckland then don't worry, the rest of our suggestions are dotted around the country ensuring everyone can find a show near them.
---

Canterbury Home Show
The Canterbury Home Show is part of a 2 show series in Christchurch which includes the Christchurch Home Show in March of 2020.
With a focus on renovating and building this show features over 150 exhibitors specialising in kitchen, bathroom, new home building, furniture, interiors and, of course, outdoor living. With live demos and interactive displays this is a great event for getting hands on with products and trying before you buy.
---

Mystery Creek Fieldays
One of New Zealand's largest national events the Mystery Creek Fieldays attracts hundreds of thousands of visitors and exhibitors showcasing tractors, stock handling gear and more. Almost every major kiwi brand exhibits at Fieldays and it's a great chance for anyone looking to upgrade their outdoor area to find a great variety of potential options.
You may have guessed but this is a show that Trendz Outdoors also exhibits at! See us at the next event to see the latest outdoor fireplaces and fireplace accessories.
---

Queenstown Home Show
Although not quite on the scale of the previous shows this one is ideal for some South Island trend direction with an alpine lifestyle twist. If you're looking to build in Queenstown then this show will help you identify some local suppliers and businesses that have adapted to the extreme yet beautiful lifestyle unique to the central Otago region.
---
Tauranga Home Show
Filling the calendar of home and garden shows we round off our list with the Tauranga Home Show. Held every year it's packed with over 250 exhibitors covering all budget options. It can be a great way to spend a wintery weekend as the show is spread over two halls.
---
Is there anything we've missed?
If there's a show you highly recommend as a must visit for outdoor style inspiration let us know in the comments. Likewise if you feel there's a national show that Trendz Outdoors should exhibit at but are not currently displaying let us know.
Can't wait until the Auckland home show for a little inspiration? Download our style guide to see some stunning examples of well styled outdoor areas and be sure to get some ideas for your outdoor space.