Our favourite outdoor fireplace projects from 2020
Posted by
Ashley Lawry
on
December 17, 2020
As 2020 is coming to a close, the team at Trendz Outdoors has taken the time to review and reflect on their favourite fireplace projects from 2020. Narrowing down the selection wasn't an easy task, as so many were standout projects, but a few have stuck out as being particularly memorable.
Of course, this year hasn't come without its challenges, but the team has been fortunate enough to be able to build, ship and deliver a record number of fireplaces to homes all across New Zealand. The team is also excited to have an Australian supplier that has also been busy delivering to households over the ditch. Below are five of their favourite projects for 2020.
Dalefield Road – Dalefield, Queenstown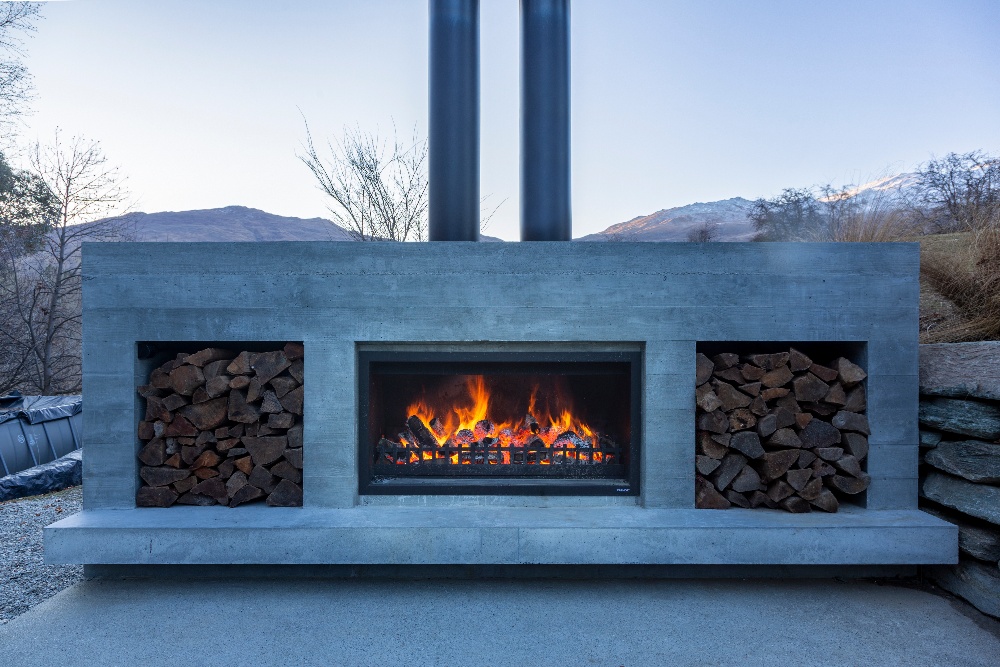 This fireplace was a custom project, it is also the largest free-standing fireplace that the team has ever created! When the client asked for a big firebox that could throw out a generous amount of heat to keep the large scale entertaining area heated, the team were excited about the challenge, and the end result was truly exceptional.
This project was a ground-up custom solution. It included the development of the new Trendz TF1600 extra large firebox and a double chimney feature which ensures effective smoke draw without sacrificing heat output. The Trendz team consulted on the free-form surround's design and construction to support the firebox. Trendz Outdoors worked alongside Bennie Builders to create the fire, and by lending their expertise on the fire-related aspects James from Bennie Builders was able to focus on building the stunning surrounding structure.
This project proved that anything is possible with a little imagination and decades of experience building industry-leading fireplaces for discerning customers.
Alpine Estate – Wanaka, Central Otago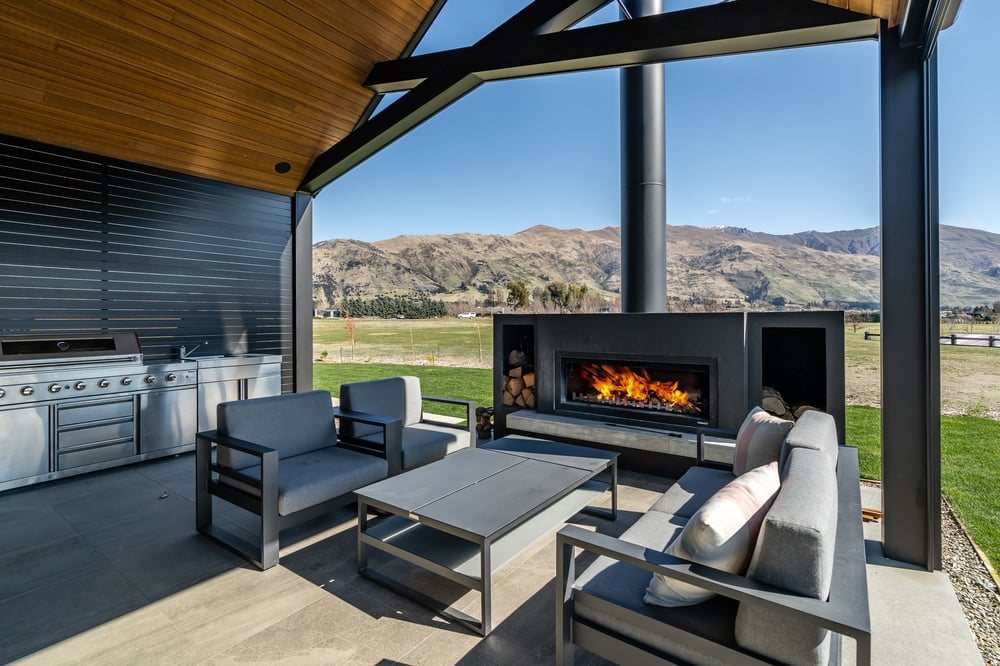 This fireplace is located in the newly developed Alpine Estate on the outskirts of the stunning town of Wanaka. The Burton fireplace was chosen for this popular development in Central Otago, which first came about when two good friends, Jim Ledgerwood and David Reid, were walking through Heritage Park admiring Jim's vision for the land with that vision being 'houses within a park'.
The land now realises that vision with a residential precinct set in a park-like setting. The owner of this particular new build home has captured the essence of this development and created a warming and inviting entertaining area by adding a free-standing fireplace, with 600mm wood boxes and GRC Hearth. This outdoor setting is a picturesque site and the project was completed by Level Construction.
Stoneridge Estate – Lake Hayes, Queenstown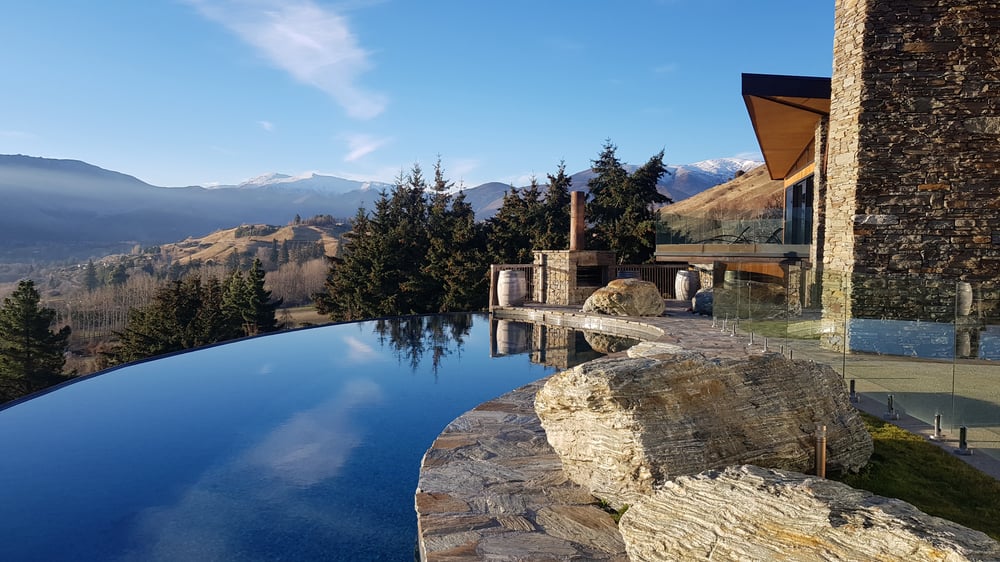 Classed as one of the most spectacular luxury lodges this wedding and event venue, nestled on the shores of Lake Hayes, is iconic. Stoneridge Estate is only 15mins from Queenstown and the team were very excited when an order was placed to deliver a Burton fireplace to this breathtaking setting.
The fireplace was clad in schist to match the main elements of the estate while a Corten steel chimney cover was selected to really pay homage to the heritage aspects of the stunning five-star establishment. Guests are welcomed to soak up the peace and tranquillity of this spectacular part of the world and experience authentic New Zealand hospitality, now with the added feature of a stylish outdoor fireplace to really enjoy the setting.
Falconer Rise – Jacks Point, Queenstown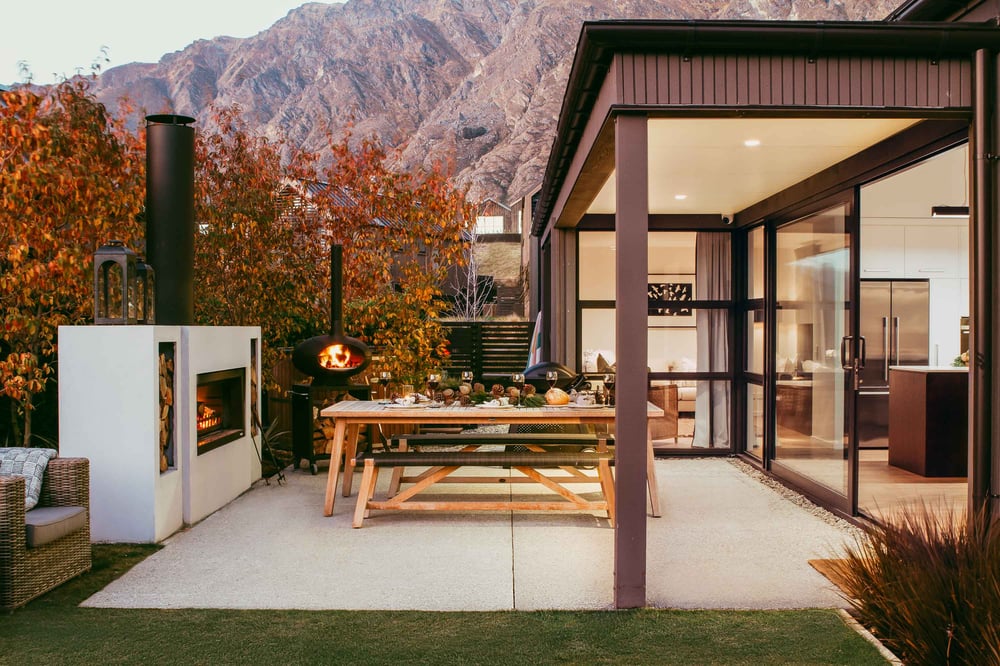 This fireplace is truly remarkable, and not because the Remarkables are framing the beautiful scenery but because this simple yet statement fireplace really makes this outdoor entertaining area complete. The cosy yet well thought out space means that the owners will be able to enjoy entertaining outside all year round.
The owner chose the Burton fireplace with 600mm wood boxes painted with a clean sand toned paint. It was installed by the fantastic team at Falconer Homes, and this exact setup was put in five other neighbouring houses in the same development.
The architects for this project was MATZ Architects.
Ferguson Builders – Jacks Point, Queenstown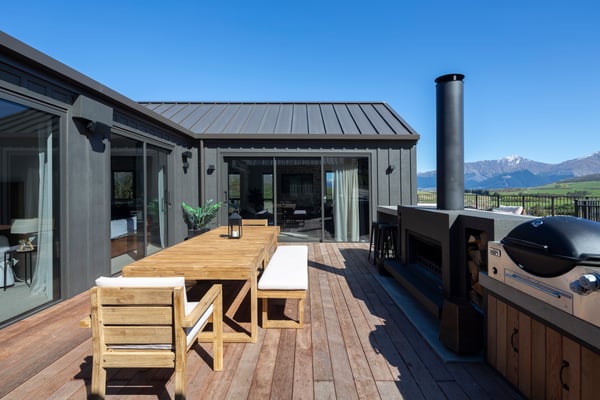 Finishing off the 2020 projects list we have another stylish outdoor area setting, this time featuring the Mini Burton fireplace. This area is the epitome of entertaining with a built-in BBQ on one side and a bar leaner on the other, perfect for enjoying the stunning views with a beverage in hand.
The fireplace includes 500mm wood boxes and is finished in plaster with black paint to match the main house. Complemented with natural wood accents, this space is modern, fresh and will enjoy many summer evenings hosting friends and family.
Even though only a handful of projects made the list this year, there were still many that should have. If you would like to view more Trendz Fireplace projects then we suggest visiting the gallery page or downloading our free style guide. Both are loaded with a large selection of fireplaces sure to get you inspired and excited for the new year ahead.