Top outdoor fireplace trends for 2020
Posted by
Charlie Lawry
on
December 12, 2019
2019 brought many changes in outdoor style trends and an increased focus on improving the value of properties. As places like Auckland and Queenstown rocketed in price it became challenging to give one premium property an edge over others in the eyes of buyers.
We saw many outdoor fireplaces and pizza ovens added to houses going on the market, creating an additional wow factor with potential buyers. We also saw home renovators choose to add an outdoor fireplace before the homeowner sold or put the property on the rental market. For only a few thousand dollars, an outdoor fireplace added an additional selling point on the sales or rental listing. For some houses, the $5,000 or less investment in an outdoor fireplace helped to add $10,000 plus to the selling price of the home.
We also saw new designs and styles emerge as outdoor style trends evolved. At the top end of the price bracket for designs this came in the form of more integrated designs, while several homeowners also chose to integrate things into their fireplace as well. That's why we expect a major design trend for 2020 to be further integrated and in this blog, we'll highlight how this trend might materialise in 2020.
Outdoor fireplace lighting integration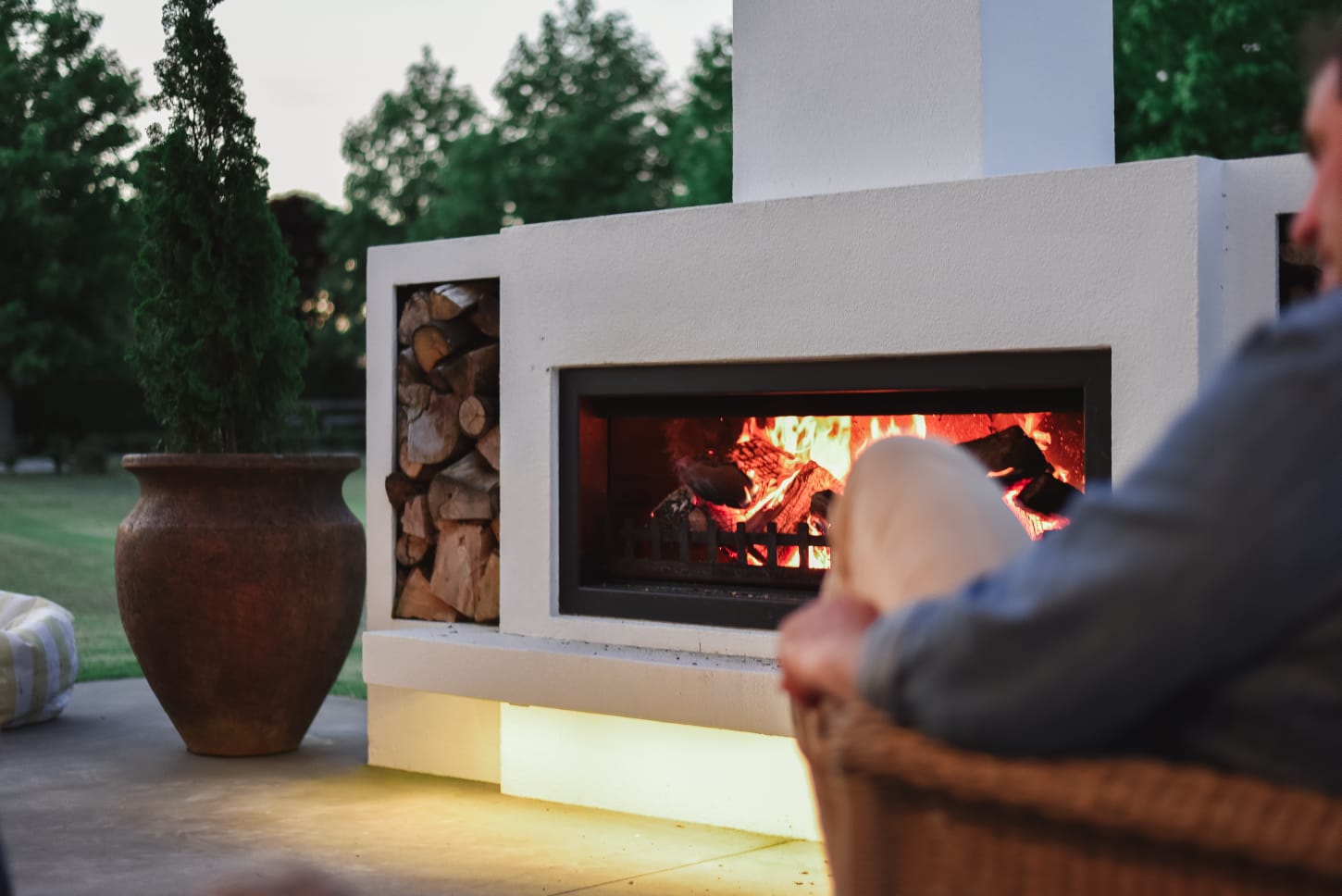 We've seen a few fireplaces with integrated downlighting beneath the plinth and even some with integrated lighting in the woodboxes. This trend is likely to continue into 2020 as homeowners choose to give the traditional feature of a wood-burning fireplace a modern twist. Adding feature lighting has the advantage of making the outdoor fireplace a feature even when it's not in use, and increasing the versatility of an outdoor fireplace is a very attractive trend.
Integrating cooking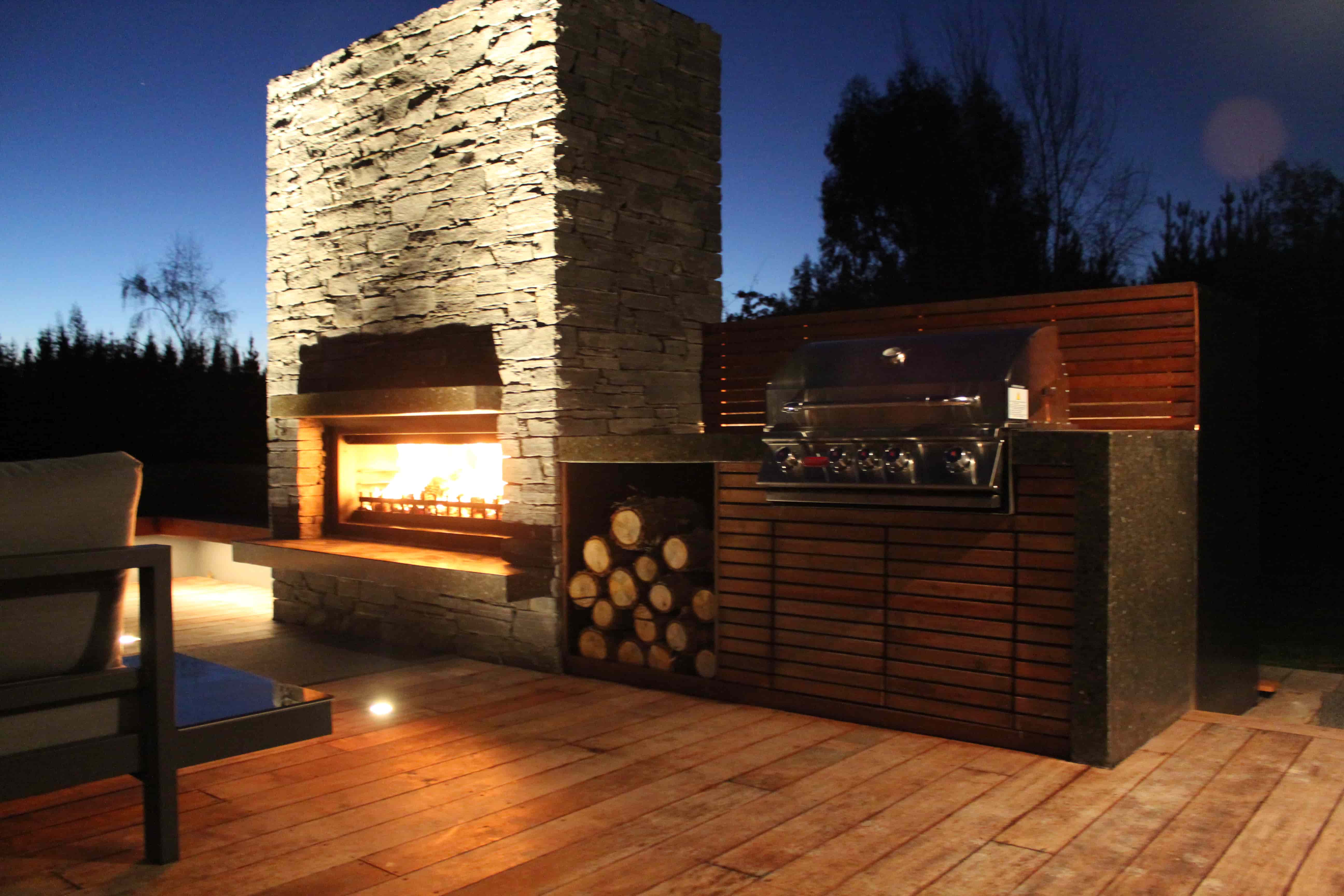 Not everyone knows that every Trendz Outdoor fireplace comes with a stainless steel cooking grill, which helps make a set-up like the above even more perfect. Designing an outdoor space around cooking means that light bites can be grilled on the open fireplace while the BBQ does the heavy lifting. It also means that everyone feels part of the action while the cook is at work with the added twist that once the plates are clean no one needs to move to enjoy the ambience of a post-dinner wine in front of the fire.
Outdoor rooms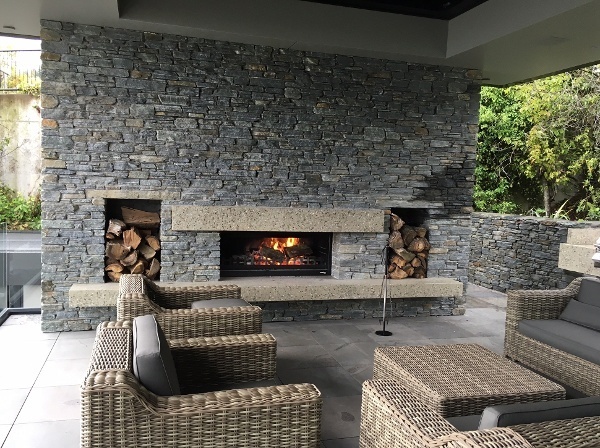 Integration doesn't stop in the outdoor environment. We saw a few high profile cases in 2019 where builders were integrating an outdoor fireplace with an outdoor room as it gave them greater flexibility in design. Because an outdoor fireplace is a standalone unit the wall can be built around the concrete chimney, unlike an indoor fireplace where the wall becomes structurally integral to the fireplace. With outdoor rooms, you may not want much of a wall at all, if any. An outdoor fireplace can easily be built into an outdoor room, or beneath a pergola with motorised louvres to give you ultimate flexibility.
Technological integration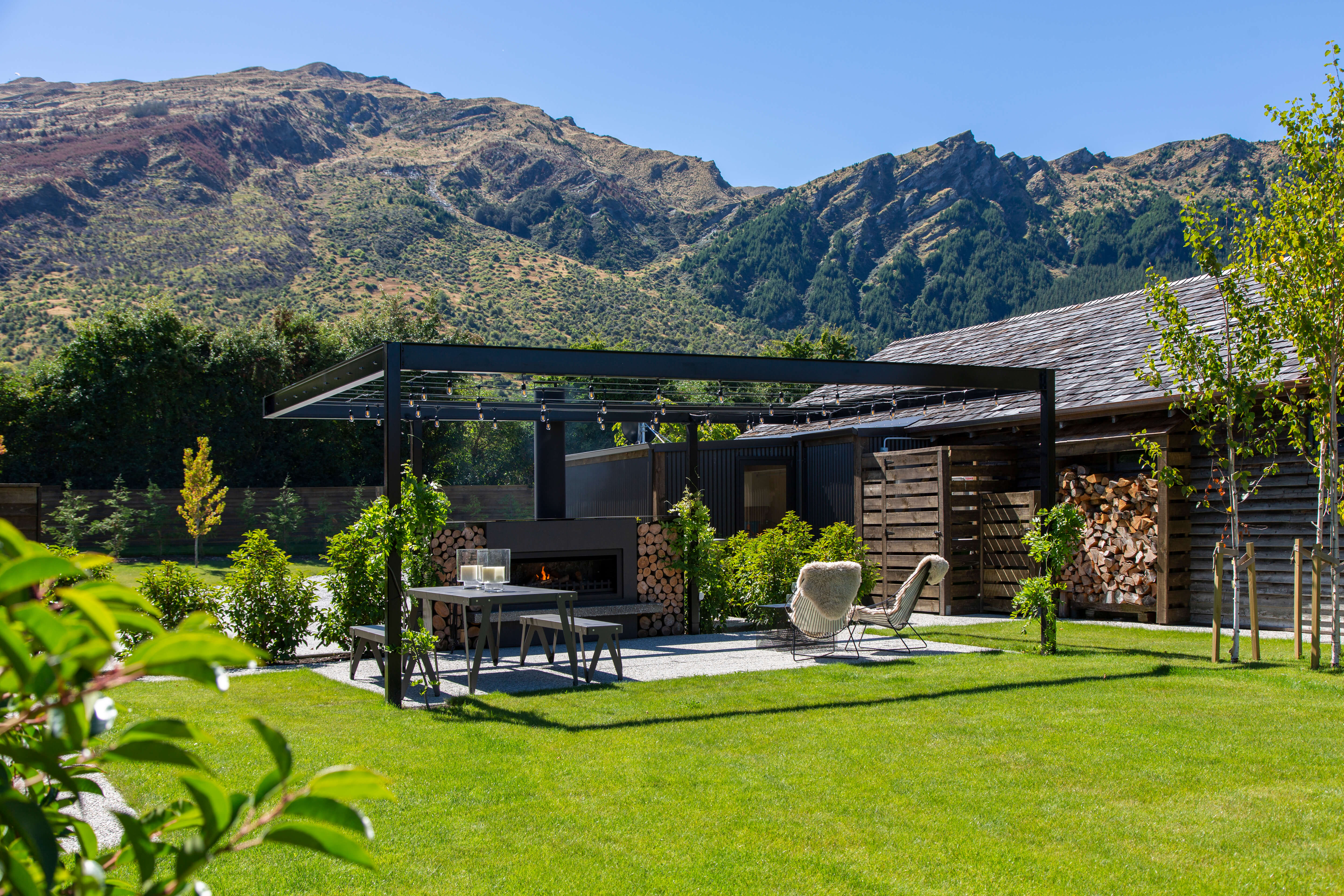 We may see technology become a part of how we enjoy our more rustic pursuits. With homeowners looking for more convenience, the slow creep of technology into everyday living may become more readily present. Controlling your louvre roof through an app may be just the beginning as technology enters the market enabling you to start your gas fireplace from your phone.
There are limits, however, to how far technology can integrate with something as rustic as an outdoor fireplace. Some of its charm, after all, is in the primitive pleasure of throwing a few logs onto the fire and appreciating the crackle and its warmth.
Having said that convenience will likely become an ever-present trend into 2020 and we've done our best to make the ambience of a wood-burning glow more accessible with the launch of our new fire pit. Not only does the cooking disc make it the perfect social centrepiece but the canvas cover means it can be left outside if space allows. If space is tight, or the outdoor area doesn't suit a permanently placed fire pit then its slot together assembly means it's incredibly easy to pack away during the winter.
For more outdoor fireplace inspiration download our style guide to see how our Trendz Outdoors customers have designed their entertaining area.