Outdoor heating options
Posted by
Ashley Lawry
on
May 22, 2022
Outdoor entertaining is a central part of the New Zealand lifestyle. But even on the warmest of days, once the sun goes down evenings can become chilly. If you're wanting to socialise outside and spend more time enjoying your beautiful outdoor space, adequate outdoor heating is a must. Looking for the best outdoor heating solution can be overwhelming because the options often seem endless. However, we have a few helpful tips to ensure you find the best one for your outdoor setup and lifestyle.
What to look for when choosing outdoor heating
With an incredible range of outdoor heating options available, it can be tricky to determine the best one for you. To help narrow down the options it's worth asking yourself the following:
Does it provide a comfortable amount of heat to an outdoor space?
Is it efficient? How does the energy rating stack up against alternatives?
Do you prefer infrared heat or conventional heating?
Is it compatible with the design of your outdoor space?
Does it create a welcoming atmosphere? Will it encourage you to use the space more frequently?
Will it be effective in all seasons and climates?
Will it stand the test of time?
Each outdoor heating solution has its own unique features and potential problems. However, there are a number of popular outdoor heating products on the market. Ranging from conventional heat sources to modern solutions. To help you make an informed decision, we have put together a list of pros and cons for each of the common types of outdoor heating available in New Zealand.
Gas patio heating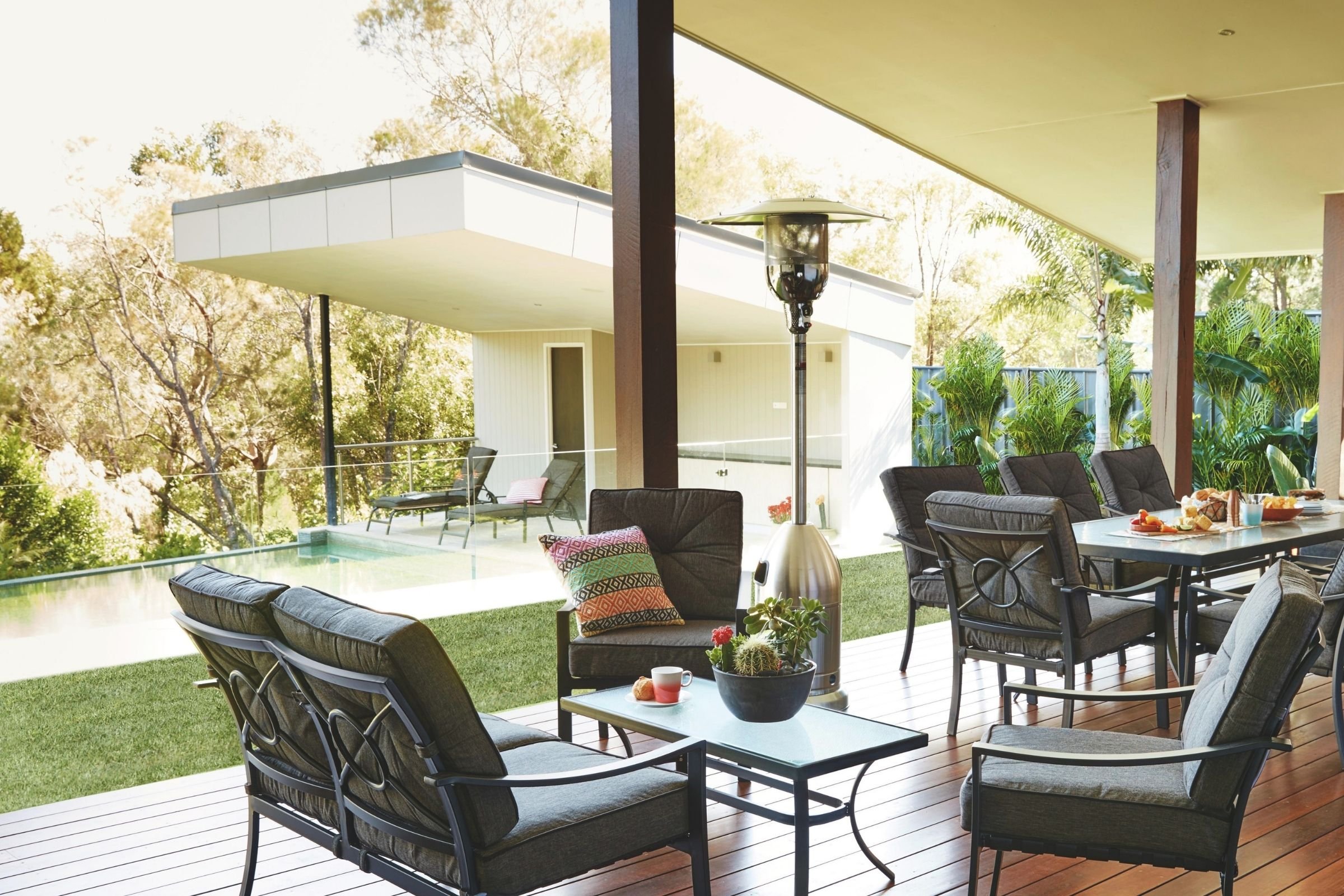 As the name suggests, a patio heater is primarily designed to heat an outdoor space, including a patio, deck, courtyard, or outdoor room. They are most commonly made of stainless steel and generally have wheels for portability. Gas patio heaters typically burn propane or butane to radiate heat to large outdoor spaces. It is also worth noting that some options are unvented — if you have safety concerns you'll need to keep this in mind, especially for an outdoor room.
Pros of a gas patio heater
Large heat output to effectively heat outdoor spaces.
Easy to transport.
Generally heats faster than electric alternatives.
Cons of a gas patio heater
Uses gas which is not a renewable energy source.
Can be an eyesore for your outdoor design.
Some are unvented, which can make them unsuitable for enclosed areas such as outdoor rooms.
Heats the air around the unit, which can be wasteful and inefficient on windier days.
Freestanding units take up floor space.
Electric patio heaters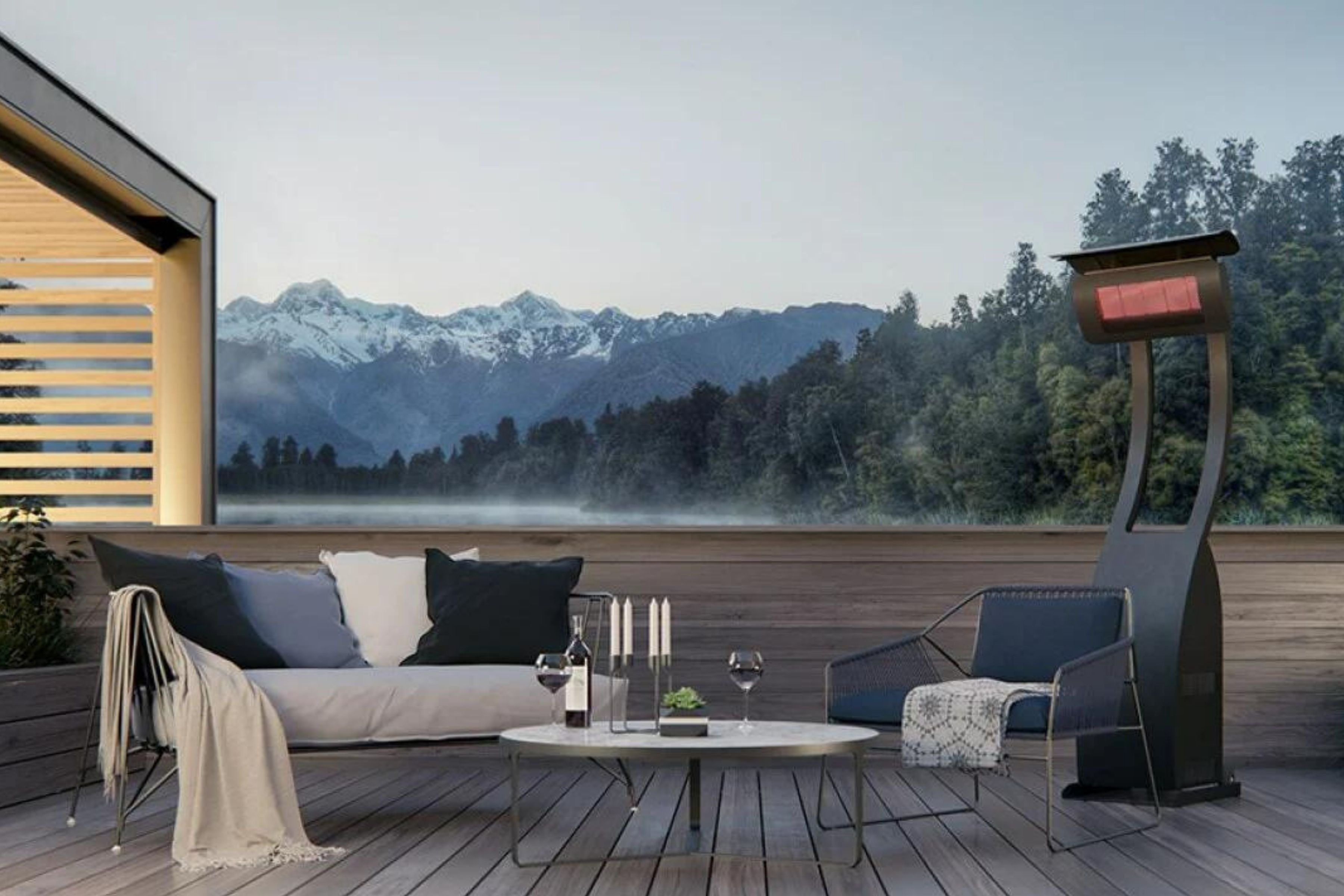 Similar to a gas patio heater, the electric option can heat outdoor spaces effectively. Unlike their gas counterparts, electric heaters can emit infrared heat which targets the people, furniture and objects in the space without wasting energy on the surrounding air. They come in a range of shapes and sizes and are easy to move around.
Pros of an electric patio heater
Can be more efficient in windier locations.
Easy to transport.
Comes in a variety of shapes and sizes. Some designs can be attached to other outdoor features like umbrellas or pergolas.
One of the safest options for children or busy areas.
Cons of an electric patio heater
Often a slower heating option than gas or wood burning alternatives.
Can be an eyesore for your outdoor design.
Are often the most expensive option to run.
Fire pits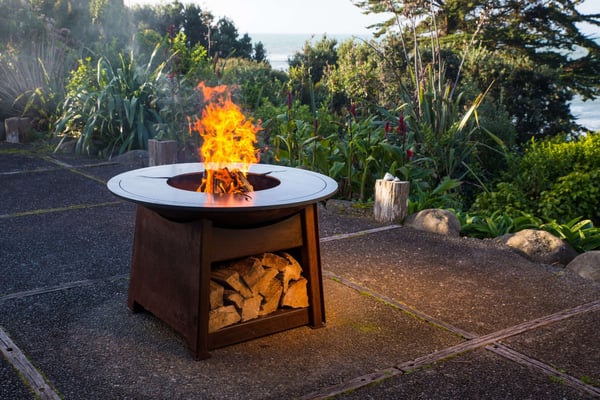 Fire pits are a bowl and base structure designed to be a centrepiece of an outdoor entertaining area. They are increasingly popular because they create space for people to gather around for warmth, dining or just ambience. Our fire pit includes a cooking plate to prepare meals and give you that warm, wholesome feeling of sitting around a campfire.
Pros of a fire pit
Portable and easy to assemble as needed.
Great for cooking and dining together. The Trendz fire pit comes with a groove around the edge to stop any messy drips.
Suitable for all climates — ours come with a weatherproof canvas cover to protect them from the elements.
A striking focal point for any outdoor space.
Can use wood which is a renewable fuel choice.
Designed for groups to surround it, which can be more effective than clustered beside a built-in fireplace.
Cons of a fire pit
Smoke is more of an issue with an open fire pit because there aren't any chimneys to redirect it.
Requires extra care for safety, especially around children.
Some designs are focused more on aesthetics than heating capabilities. Luckily for you, our design still packs a punch!
Fire bowls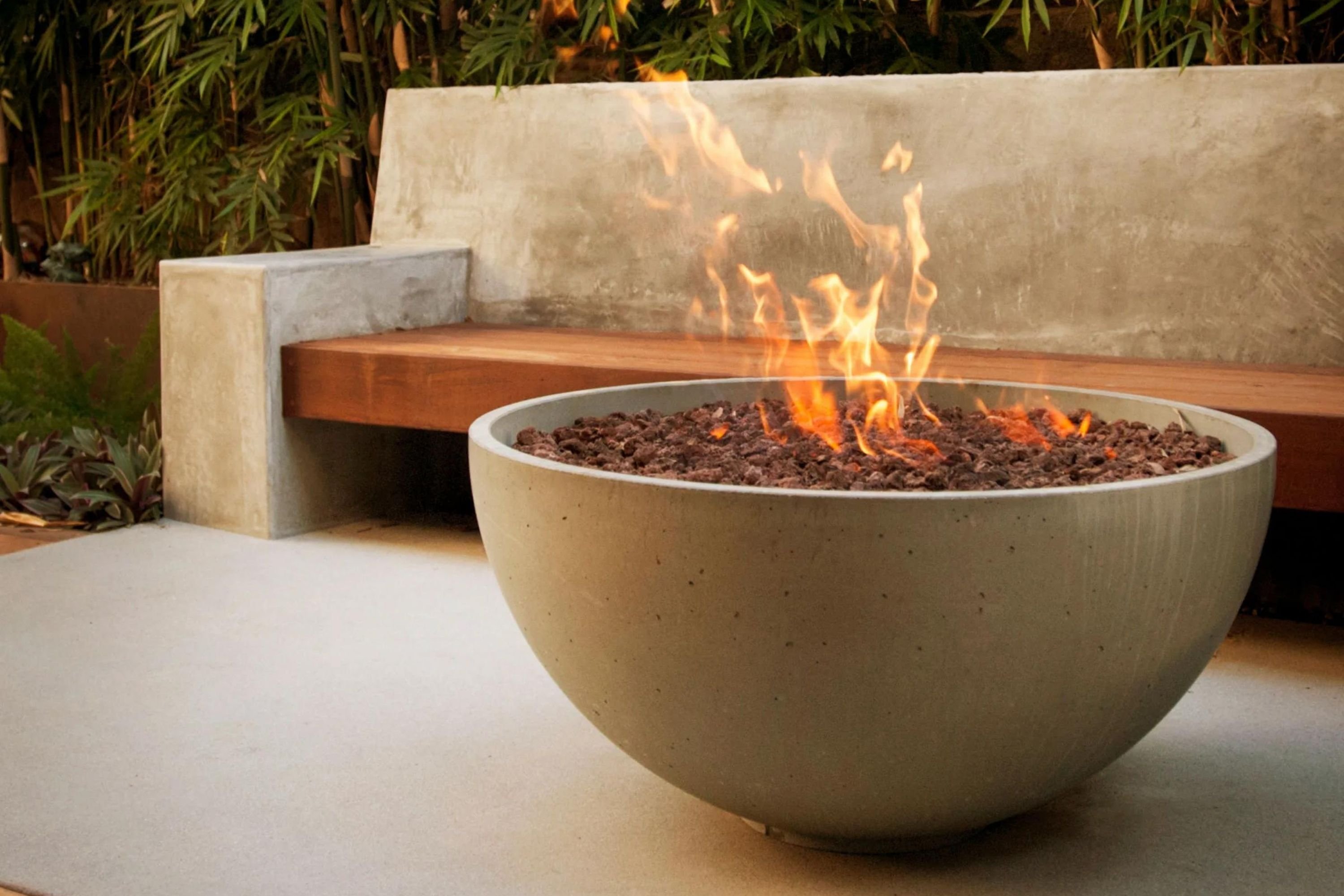 Image sourced from Architectural Digest
A fire bowl is a creative take on the fire pit. Unfortunately, they are primarily designed to add an artistic flair to outdoor areas and are not as effective at heating as something like a fire pit. If you're looking for an eye-catching design feature but don't need any heating capabilities, a fire bowl might be the perfect option for you.
Pros of a fire bowl
Adds to the atmosphere.
A striking design feature.
Often uses wood which is a renewable fuel choice.
Generally low cost.
Cons of a fire bowl
Not effective for heating a large outdoor space.
Can't be used for cooking.
Outdoor fireplaces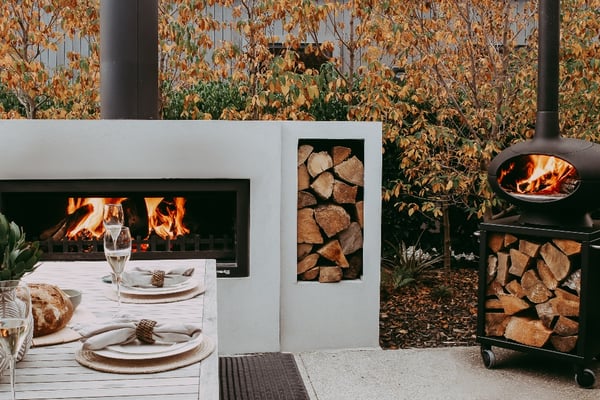 Outdoor fireplaces are the show-stopping option for outdoor heating. They're multi-functional and designed to impress. Our gallery shows how they can tie a space together and create an unforgettable focal point. If you are looking for a heating option that ticks all the boxes, you can't look past an outdoor fireplace. An outdoor fireplace is a winner for almost every outdoor area. They meet the most criteria across the board and give you the ability to enjoy your backyard all year round. A statement fireplace will level up your outdoor living game and give you an extra edge.
Pros of an outdoor fireplace
Impressive and designed to be a feature.
Efficiently heats large outdoor spaces.
Available in a variety of shapes, styles, and sizes.
Can be customised to fit the design of your space.
Smoke is drawn up through the chimney to ensure you and your guests can enjoy its heat without any unwanted wafts of smoke.
You can cook food with the removable grill rack or upgrade to the new

swinging grill,

which makes for an exciting and wholesome dining experience.
Uses wood which is a renewable fuel choice.
Adds significant value to your home.
Cons of an outdoor fireplace
Is not portable.
Some designs are too large for small outdoor spaces.
Requires extra safety precautions in smaller areas, and with young children.
The right outdoor heating can elevate your entertaining space by adding a whole new level of comfort and atmosphere. Making the right choice can mean you'll continue to use the space throughout the winter months without having to worry about the weather forecast. Electric or gas patio heaters, fire pits, and outdoor fireplaces each have something unique to offer, and the perfect solution will be different for everyone. If you're interested in an outdoor fireplace, then you're in the perfect place. For more information, speak to one of our specialists or see our full range in the Trendz Outdoors product catalogue.