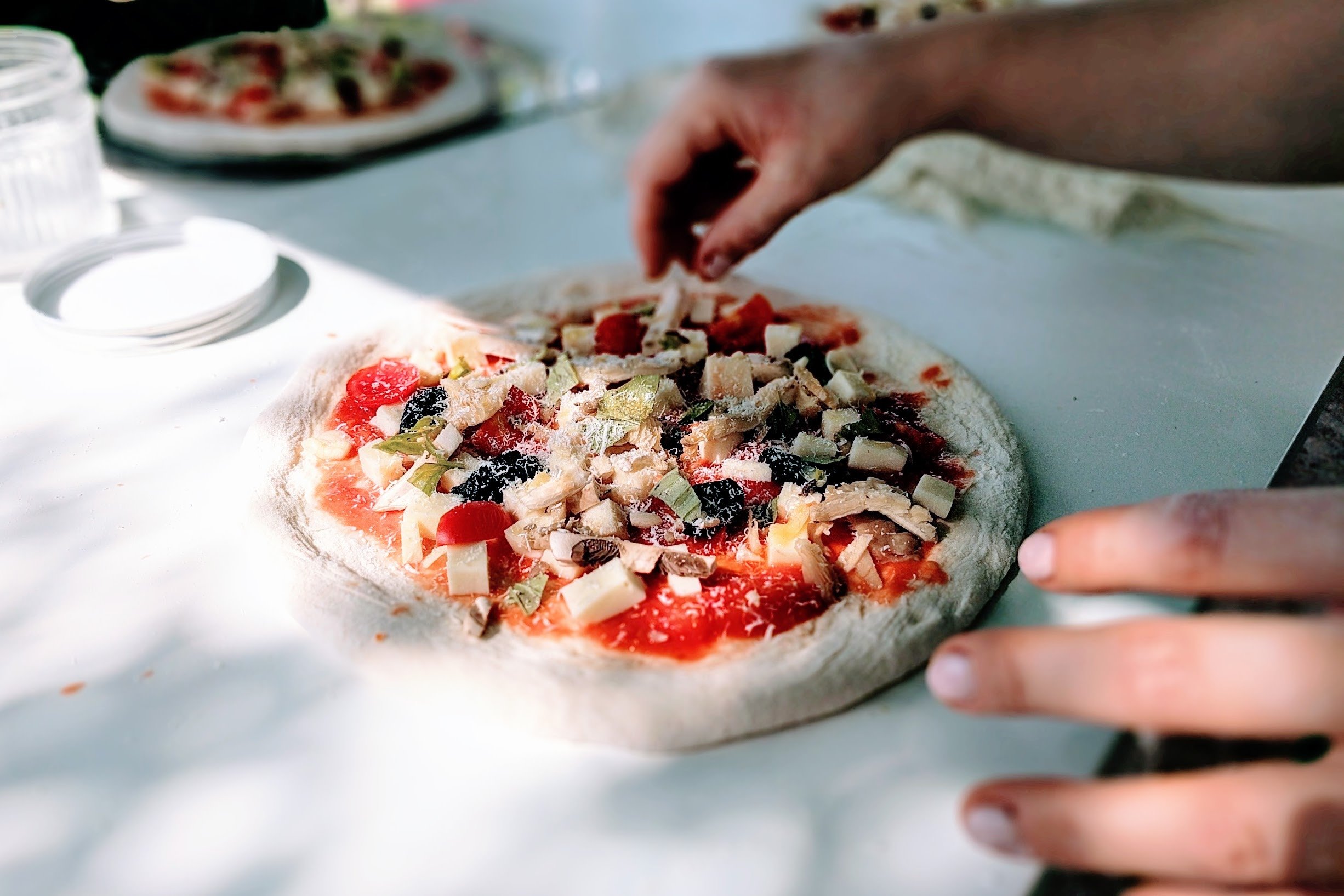 What makes a great pizza? Ask anyone you will get a unique answer, everyone has their own personal preferences but some things are standard. A crisp crust with a soft, chewy interior, perfectly melted cheese, signature tomato sauce... There are the pineapple haters, and the ones who swear by adding the fruit to create a perfect meal. Some love strong flavours like anchovies and garlic, others prefer more subtle notes. Everyone becomes their own best chef when given limitless topping options, and some go as far as adding almost every option, stacking their pizza as high as they can!
In this article we'll do our best to (impartially) guide you towards a great wood-fired pizza.

Why a wood-fired pizza oven?
Wood ovens are usually dome-shaped and made of some form of clay or concrete to retain the heat. A fire is then lit inside using hardwood, which gives a slower and more consistent burn, this enables the oven to get to a nice even temperature.
Getting your oven started
Getting your pizza oven going can take a couple of hours, but is well worth the effort.
Load kindling-sized logs and firelighters at the front of the oven and light
Check back in 10-15 minutes
Add more kindling-sized pieces of wood
As these burn spread the glowing wood slightly
Add slightly larger pieces of wood
As these burn down spread the wood slightly
Over roughly 1-2 hours add wood and spread
Roughly 30 minutes before cooking stop adding wood
Minutes before the first pizza is ready push all embers and burning wood back to create a clear space for the pizza


How to cook pizza in a pizza oven
This part is equal parts, fun and nerve-wracking! First, sprinkle a good amount of flour on the pizza paddle so the pizza slides off when it goes into the oven.
Next, slide the pizza into the oven a good distance from the still-burning wood.


How long does a pizza take to cook in a pizza oven?
Depending on the temperature it can be anywhere from 20 seconds. However with a good fire should they should take around 1-2minutes to cook.
Because this isn't an exact science you'll need to keep your eye on the pizza and watch for the cheese to bubble slightly. The edges will get hot first so make sure you turn the pizza using the paddle for a nice, even heat distribution.
Your first pizza may be your worst so you may want to consider taking one for the team and making that one your pizza!
If you're cooking a lot of pizzas you may need to add more logs to keep the heat going.


Toppings, is too much topping too much?
Without wanting to start a war of words, there is such a concept as too much of a good thing when it comes to pizza toppings.
Stacking your favourite toppings thick and high will prevent the heat from getting to the inside of your mushroom mountain. Your crust may be crisp, but the innermost items could still be a little soft.
Be kind to the pizza cooker and create a nice, even layer of toppings. You'll also enjoy the experience a bit more. Instead of having so many flavours that your mouth doesn't know what's hit it you can create great combinations from fewer items.
You also won't experience half your toppings sliding off the first time you pick up a slice.


Benefits of using a pizza oven over a traditional oven
There are few measurable benefits. A kitchen oven heats up in less time, can do 2 or more pizzas at once and takes a pretty standard amount of time to cook (making it easier to plan).
However, a wood-fired pizza oven creates a unique and authentic taste to each slice, it creates a social hub as people watch their pizzas get the genuine treatment, and the amount of effort invested makes for a more memorable experience.
It's the lifestyle a pizza oven creates that makes it so desirable. Friends and family will ask when your next pizza party is, and as it's an easy meal to cater for you may even find yourself wanting to fire it up of an evening.
There are many reasons why a pizza oven is a great investment, but it may take tasting your first wood-fired pizza for you to fully realise its full potential. And if you need to convince your partner that you NEED a pizza oven then we've got the perfect blog for you.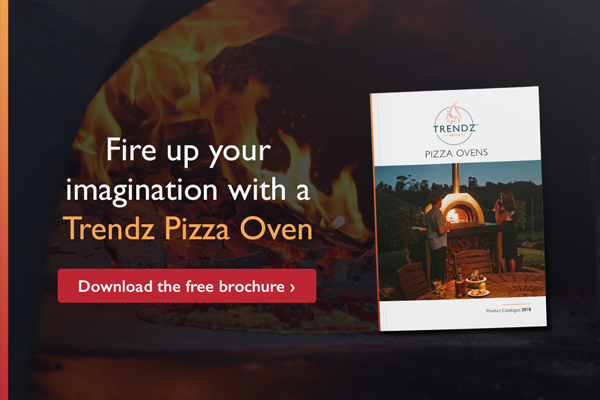 Jamie Oliver's Pizza Oven Recipe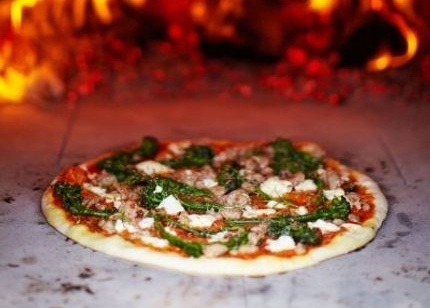 WITH SAUSAGE & BROCCOLI
"Homemade pizza dough makes all the difference – topped with sausage meatballs, broccoli and fennel, this is epic! "


DIFFICULTY:
NOT TOO TRICKY
Ingredients
1 kg strong white bread flour , (or 800g strong bread flour mixed with 200g semolina flour)
1 level teaspoon fine sea salt
2 x 7g sachets of dried yeast
1 tablespoon golden caster sugar
4 tablespoons extra-virgin olive oil
FOR THE TOMATO SAUCE:
4 cloves of garlic
olive oil
1 bunch of fresh basil
3 x 400g tins of whole plum tomatoes
sea salt
freshly ground black pepper
FOR THE TOPPING:
1 small head of broccoli
4 quality anchovy fillets
1 fresh red chilli
2–3 Italian-style sausages
150 g Taleggio cheese
1 tablespoon fennel seeds
Method
For the tomato sauce, peel and finely slice the garlic, then fry in a good amount of olive oil until lightly coloured. Pick and tear the basil leaves, then add to the pan with the tomatoes. Using the back of a wooden spoon, mush and squash the tomatoes as much as you can. Season to taste.
As soon as it comes to the boil, remove the pan from the heat. Strain the sauce through a coarse sieve into a bowl, using the spoon to push any larger bits of tomato through. Discard the basil and garlic left in the sieve, but scrape any tomatoey goodness off the back of the sieve into the bowl. Pour the sauce back into the pan, bring to the boil, then lower the heat and simmer for 5 minutes. Cook until it's the perfect consistency for spreading on your pizza bases.
For the pizza dough, sieve the flour and salt onto a clean work surface and make a well in the middle. In a jug, mix the yeast, sugar and olive oil into 650ml lukewarm water and leave for a few minutes, then pour into the well. Using a fork, bring the flour in gradually from the sides and swirl it into the liquid. When it all starts to come together, work the rest of the flour in with your clean hands. Knead until you have a smooth, springy dough. Place the ball of dough in a large flour-dusted bowl and cover with a damp cloth and place in a warm room for an hour until the dough has doubled in size.
Remove the dough to a flour-dusted surface and knead it around a bit to push the air out. You can use it immediately, or keep it, wrapped in clingfilm, in the fridge (or freezer) until required. If using straight away, divide the dough up into 6 to 8 balls.
Timing-wise, it's a good idea to roll the pizza bases out about 15 to 20 minutes before you want to cook them. Stack the pizza bases, with a square of oiled tin foil between each one, cover them with clingfilm, and pop them into the fridge. Now's the time to get your wood-fired oven, or conventional oven, heated up to full whack. Place a couple of heavy baking trays in the oven to heat up, too.
Meanwhile, click off the broccoli florets and roughly chop (using the stalk, too). Blanch in boiled salted water for 1 to 2 minutes, then drain. Tear the anchovies into small pieces, then deseed and finely chop the chilli. Squeeze the sausage meat out of their skins, then roll into small, rough meatballs.
When you're ready to assemble your pizzas, remove a tray from the oven, put a pizza base on it and assemble it quickly – smear tomato sauce on the base and dot with broccoli, torn up anchovy fillets and sausage meatballs. Tear over the Taleggio cheese and sprinkle with chilli. Crush and scatter over the fennel seeds. Place in the oven immediately while you prepare the remaining pizzas. If you're using a wood-fired oven the pizzas should cook, one by one, in about 3 to 4 minutes – you want them to be puffed up, crispy and delicious. In a regular oven, they'll take 8 to 10 minutes. Serve hot.
ENJOY!