10 things you need to know about installing a custom outdoor fireplace
Posted by
Alex Lawry
on
May 14, 2017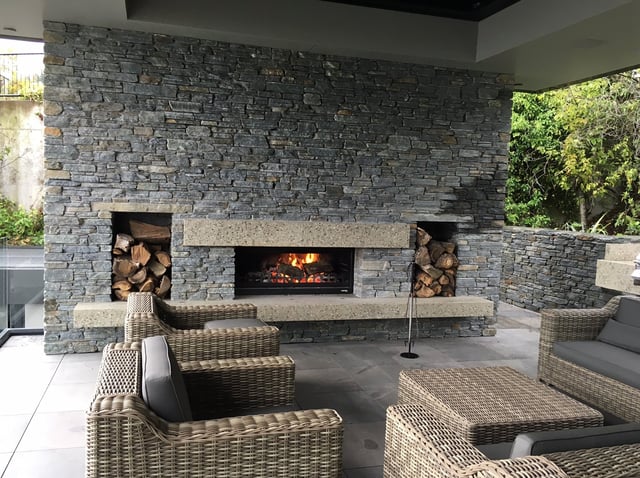 Fireplace installation is easier than you'd think. Whether you're looking to have an intimate entertaining area or a statement outdoor piece there are a few considerations to be made when installing your fire. Check out our list of things to consider when installing an outdoor fireplace and you'll be ready in no time to enjoy your first fire.
1. A concrete pad is usually required as a base but it can sit on decking. Outdoor fireplaces range from 1200kg to 1900kg in weight, about the same as a spa pool, so consider whether your deck has been reinforced before adding a fireplace to it
2. All Trendz outdoor fireplaces can be lifted over most single storey houses, so even if there's limited side or rear access that doesn't mean you can't enjoy an outdoor fireplace.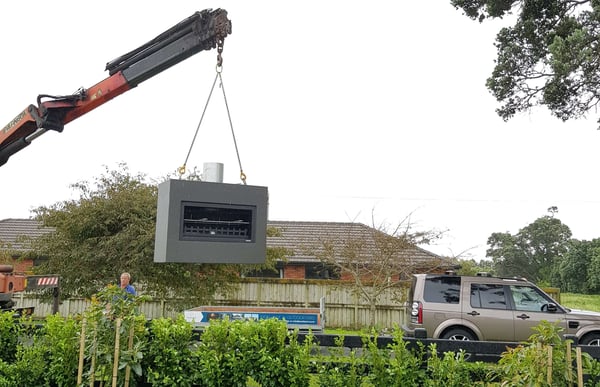 3. Remember that all Trendz fireplaces are delivered as a concrete shell with firebox. They are ready to be used as is but you may want to finish them in a custom style. Render, painted, stone or brick are some of the most common finishes. Check out our blog "outdoor fireplace finishes for the ultimate wow factor" for some more inspiration.
4. If you want a fireplace built into a part of your outdoor space, or have the chimney flue go off at an angle or even add a chimney and flue extension to get through your roof or pergola this is ALL possible. We don't just build ready-to-install fireplaces but can tweak designs for custom installations too.
5. Proximity to boundaries needs to be considered before installation. In regions you may need to have a distance from fireplace to buildings unless the fireplace is gas (all of our fireplaces come in either gas or wood burning). We can help guide you on local requirements.
6. Flight paths may require a gas unit. In some regions proximity to airports, roads or other facilities may require you to fit only a gas burning outdoor fireplace. We can again help guide you on local requirements so make sure you talk to us if you're looking to install an outdoor fireplace.
7. Style and design is a major consideration when fitting or installing an outdoor fireplace. Use our online design tool to upload an image of your outdoor space and then put one of our fireplaces where you're looking to go so there aren't any surprises come installation day. Click here to try it out.
8. When the Trendz fireplace arrives you will need to fill up the bottom 400mm of the fire with concrete and bolt together the steel firebox inside. Once this is done you'll be ready to light your first fire.
9. It's a good idea to either seal the concrete if being left bare or have the finish applied at the earliest opportunity, this will help preserve the finish and keep it looking gorgeous for years to come.
10. It's now compulsory for you to host a new fire party. What's the point in having a beautiful new centre piece for your outdoor enjoyment if you don't invite others to join you? Consider grilling a meat pack from Green Meadows Beef on you fireplace grill (included with every fire) while enjoying your favourite drinks. Learn more about cooking on a Trendz Outdoors Fireplace here.