7 ways an outdoor fireplace can increase your income
Posted by
Charlie Lawry
on
May 12, 2019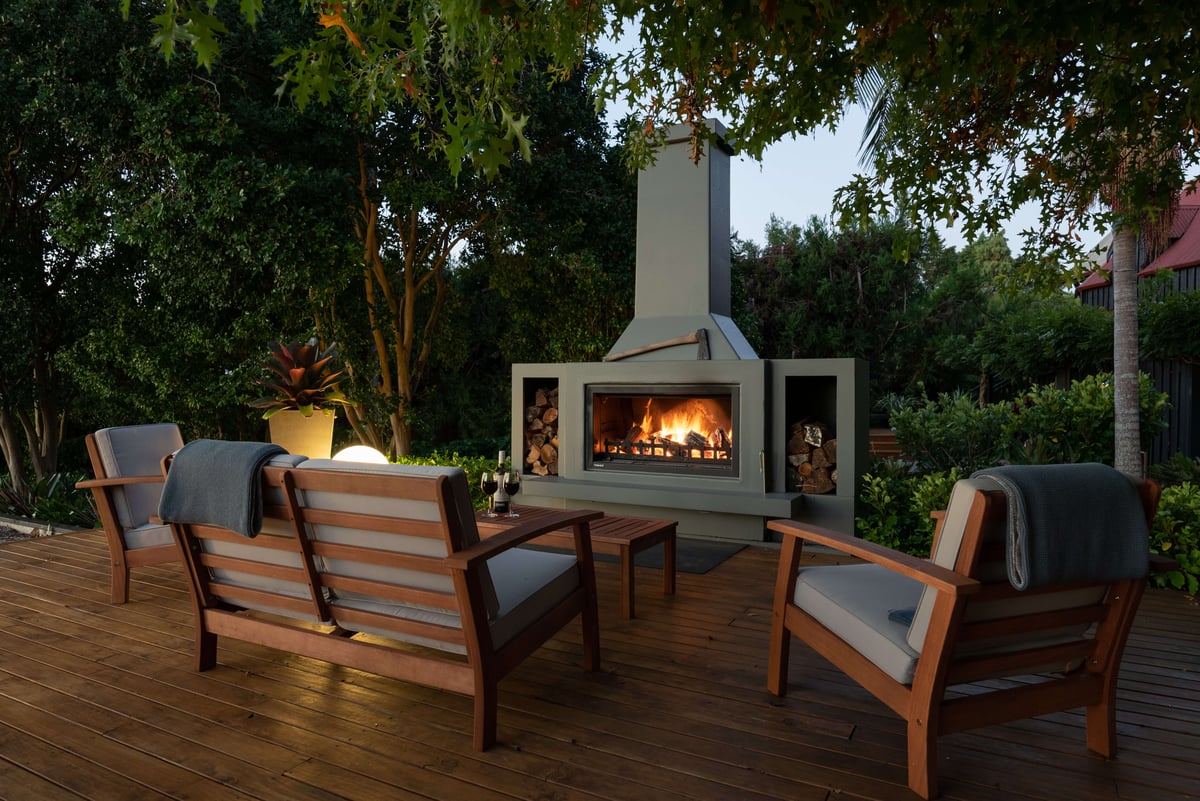 An outdoor fireplace is a great addition to almost any home. It creates a focal point for friends and family to gather around while creating everlasting memories before the flickering flames.
But an outdoor fireplace is more than just a pretty feature, it can also unlock additional revenue potential for investors, hospitality business owners, as well as people looking to sell the property. To help see a fireplace in a different light, we have created a list of the top 7 ways an outdoor fireplace can help you to increase revenue in almost any market.
1 - Earn more per stay
No matter whether you own an Airbnb, holiday bach, or a rental property, an outdoor fireplace gives you a premium feature which can justify an increased cost of stay per night.
In competitive holiday destinations or rental markets, guests are looking to get as much as possible for their spend. Having a unique feature like an outdoor fireplace helps them justify spending slightly more. Failing that, it can help you stand out in a crowded or competitive marketplace by providing a point of difference.
2 - Point of difference
Standing out against the competition gives you a head start. Attracting more attention enables you to earn more. Hotels, bars, and restaurants with an outdoor fireplace in their promotional photos grab attention. This attention comes from having a point of difference which can increase foot traffic, and therefore sales.
Get the photos of people enjoying the outdoor fireplace on social media, as well as on your website or listing, to show people that you're more than just a typical bar or restaurant. This will show customers that you're an experience that they won't forget, and one they will want to share with others.
3 - INSTAGrammable
Word of mouth is one of the most effective sales tools. With the advent of the digital age, there are now more platforms than ever for people to share their experiences with hundreds (if not thousands) of people. On Instagram alone, there is an abundance of people willing to post images of food, locations and experiences to their legions of followers.
You may be surprised at how many people search for a restaurant or hotel on Instagram, just to see the posts 'grammers' have put up previously to see if it's worth a visit. An outdoor fireplace gives a unique centrepiece to your venue. This increases the chance of an extra post going out to a social network, and influencing your next visitor's decision.
4 - Useable space
An outdoor fireplace turns any outdoor area into a feature space. For bars and restaurants, this means extra useable seats, even during winter, as people move outside to enjoy the fire.

For a show home, rental property, or a home about to go on sale, an outdoor fireplace helps potential buyers envisage their new social lifestyle surrounding the outdoor fireplace. The outdoor area becomes an extension of the indoor and helps people see the indoor-outdoor flow.
5 - Seasonal shifts
Winter is coming, which means restaurants and bars loose the valuable external space (which was crucial in the summer) to the cold. It's likely that most venues will also see a reduction in sales as tourists or locals choose to stay in the warmth, rather than venture out for a meal and a drink.
An outdoor fireplace, as well as an indoor one, shows guests that a drink or a meal while sitting out and enjoying a snowy view, can be an experience in its own right. Combine an outdoor fireplace with blankets and a winter's beverage to create a new experience that makes use of our starry skies and impressive winter views.
6 - Increase spacial ROI
When leasing a commercial space, reclaim what may have previously been a neglected outdoor area (due to size or location), with an outdoor fireplace! The addition of an outdoor fireplace can inject life into a forgotten space. A neglected nook or secluded corner may not be attractive without the views, but an outdoor fireplace creates a new focus for this space. Increase the useable square meters of your lease or property by refurbishing the area with a fireplace at its heart.
7 - Summer socialising
If your holiday accommodation is popular in the summer but lacks the interior space for guests to have friends and family over for entertaining, then an outdoor fireplace can fix this issue! By creating an outdoor area that more than accommodates friends and family, you enable guests to see your place as the heart of their memory-making.
When someone is looking at a getaway bach, they're often searching for that one location that can serve as a hub for socialising. An outdoor fireplace enables potential guests to look past the smaller kitchen or living area and see the potential for some back yard cricket and a few glasses of wine in the evening.
No matter whether you're a budding property investor or an experienced hotelier, the team at Trendz Outdoors are ready to show you how an outdoor fireplace can help you get more bang for your buck.
To see our range of fireplaces you can download our style guide here. Or to discuss the space you have in mind, and receive advice on which fireplace would best suit your vision, contact a consultant by clicking the button below.