New product: Swinging cooking grill
Posted by
Ashley Lawry
on
April 21, 2022
Outdoor cooking is a fun, creative, and practical way to spend more time outside whether alone or with others. It's also an excellent way to provide friends and family with memorable and exciting outdoor experiences whatever the season. We've seen our customers enjoying cooking a variety of tasty food on their Trendz Outdoors' fireplace throughout the years. That's why we're thrilled to announce the arrival of our new product, the swinging cooking grill. This new accessory will enhance your outdoor cooking experience making outdoor cooking easier and more versatile.
Our current cooking accessory, the stainless steel grill, can still cook everything from exquisite appetisers to fully fledged meals. The main distinction between the current grill and our new swinging cooking grill is that the new grill pivots in and out of the fireplace on built-in hinges for added ease. Different to our already well-utilised cooking grill, the swinging grill comes with many benefits. We explore these more below.
Please note: The swinging grill comes as a standard inclusion when you purchase a Twin Peak fireplace but it is only available as a premium upgrade for all other fireplaces at an additional cost.
Hidden hinge for easy removal and stowing away
This innovative swinging cooking grill has a hidden control panel made of hinges that seamlessly turns your fireplace from a cooking device to an outdoor fire in seconds. It can be removed when not in use and clipped back in when you're ready to cook another tasty meal. Made entirely of stainless steel, heat is evenly distributed and food cooks quickly without sacrificing design or flavour.
Visually this means that when the swinging grill is removed only the pin hinges on one side are visible.
The ability to control the distance from the flame
The main difference is that the new swinging cooking grill pivots in and out of the fireplace for ease of use. The swinging cooking grill can swing in a 90-degree radius, giving you the option of grilling over hot flames or slowly cooking at a cooler distance.
Top tip when it comes to open-fire grilling: Make a small fire with kindling and smaller logs for a starter fire. Allow at least 30 minutes for this to burn, adding larger pieces of wood as needed. When you're ready to cook, you'll have a beautiful, warm foundation of coals and plenty of direct, even heat. It also guarantees that you'll have plenty of wood to burn all evening.
Better accessibility
Our current cooking grill occupies the full width of the firebox - which is great for maximising the cooking area for your food. However, it's not so convenient when you need to add more logs to the fire. This is because you need to work around the cooking grill or remove it entirely to perform this task.
The swinging cooking grill improves accessibility and convenience as you're able to swing the grill out of the way momentarily while you add more logs to the fire before returning the grill to the cooking position. This added convenience makes living with an outdoor fireplace even easier.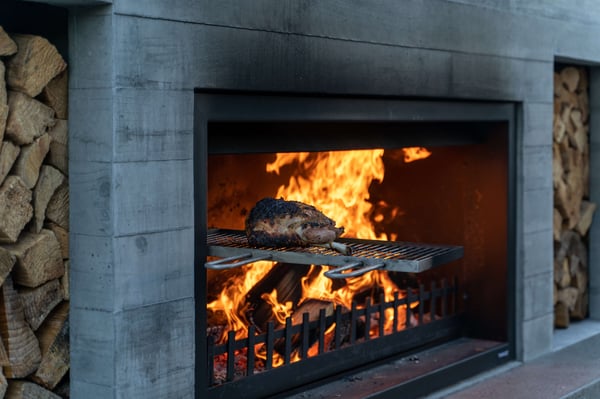 Easy access to turn over food without getting too close to the flames
Cooking food is a time-consuming process that requires frequent inspection. It is fairly normal to need to be close to the fire in order to turn the food before it starts to burn or check the progress on a regular basis. Because our fireplaces come in many different sizes, being close to them for a long time can get rather hot. This is where our swinging grill can be a game-changer. Simply rotate the grill away from the flames before turning your food.
With our current cooking grill, the chef had to stand directly in front of the flames to insert the rack or remove it. This could prove quite toasty when the fire is at full force. The new swinging grill overcomes this issue by enabling the chef to stand to one side, avoiding the full force of the heat.
Different cooking heights
Our swinging cooking grill has been thoughtfully built to sit at a convenient and comfortable height, and our Twin Peak design provides two distinct cooking height options so you may cook at the top of the flame or closer to the embers depending on the type of meal you're cooking. If you're feeling daring, you can also cook on both grills at the same time.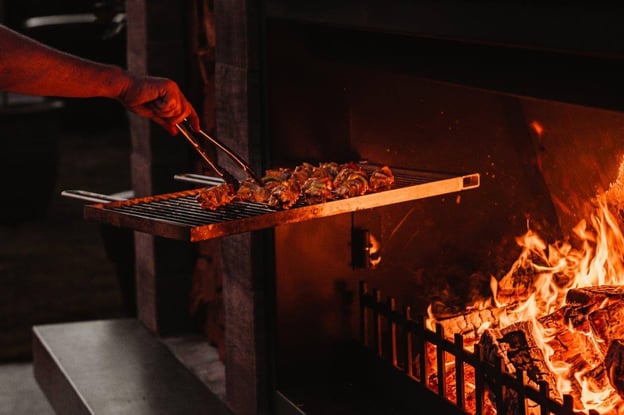 What else do you need to know?
Do all Trendz Outdoors' fireplaces come with a swinging grill?
The Twin Peak is the only fireplace in our range that comes with a swinging grill as a standard inclusion. All our other outdoor fireplaces come with a sliding stainless steel cooking grill as standard. The swinging cooking grill is an additional upgrade and can be added to your order for an additional cost.
Can I purchase the swinging grill for my existing outdoor fireplace?
If you have previously purchased an outdoor fireplace from Trendz Outdoors then you can purchase the swinging grill and have it delivered to your door ready to go. However, minor engineering work may be required. Our staff will gladly walk you through these simple adjustments.
Do I need to use specific types of wood for cooking on my outdoor fireplace?
Remember, when cooking on your outdoor fire, don't use mouldy or musty wood as it results in an unpleasant smell that will taint your food. The best wood to use when cooking is dry hard words from fruit or nut-bearing trees as they burn hotter and longer.
Why are Trendz Outdoors' fireplaces different to cook on compared to other outdoor fireplaces?
​​A Trendz Outdoors' fireplace, unlike many other outdoor fireplaces, has a 6mm steel firebox rather than a brick interior. The advantages of this one-of-a-kind design are numerous. The fact that the firebox heats up quickly allows for oven-like cooking, which enables the meat to be cooked thoroughly and evenly. You may be able to start cooking sooner because you aren't waiting for the bricks to warm up. Use the built-up heat in the steel and the embers below to cook a delicious pizza as the fire fades. Smoke fish, bread, and other foods on the grill, and wow your visitors by cooking their main course right in front of their eyes.
The swinging cooking grill is a game-changer for the Trendz fireplace range and we are looking forward to being able to launch further cooking utensils for this grill in the near future.
If you would like to talk to our trusted team about adding a swinging cooking grill to your outdoor fireplace order, then contact us to find out more. If you're interested in learning more about our range of outdoor fireplaces, then download our current product brochure today.